Sunday, February 12, 2006:
5:26 AM PACIFIC TIME: I arrived at the Moscone center around 3 PM, picked up my press pass, and proceeded into the main convention hall. I went straight to the DC Comics booth and checked out a few things as well as chatted up a few of the people manning the booth.

By 3:30, I head upstairs to room 2000 for the Brian Singer/Warner Bros. presentation. They guys fro Pixar were still on stage and I had a chance to see two extended clips from their upcoming CARS. Iíve enjoyed all of their projects, TOY STORY and THE INCREDIBLES in particular, and this one looks to be on the same level. Pixar finished up by showing an award winner short of theirs titled ONE MAN BAND which was quite funny and very good as well.

Then came the moment I imagine most people were waiting for -- SUPERMAN RETURNS director Brian Singer.

Singer came out alone -- to a standing ovation -- and made a few comments to the crowd before introducing the short teaser clip from the film. This was the same one shown last summer in San Diego that received so much attention online. And Iíve got to say that I can certainly see why. It looks really, REALLY good. I canít wait to see it this summer!

Singer then took on questions from fans and members of the press -- but mostly fans. He then stopped and said that there was someone there who worked on the film with and out came Brandon Routh -- the star of SUPERMAN RETURNS.

From that point on, both Routh and Singer answered the questions asked together. I was very much impressed with Routh and one can tell he cares about this role tremendously.

After answering several more questions -- some good and some bad (ďWhy is the ĎSí so small?Ē) -- Routh and Singer bid the crowd adieu to another standing ovation.

Warner Bros. ended their presentation with trailers for THE FOUNTAIN and V FOR VENDETTA. Both look interesting, especially the latter film (which BOF is covering by the way).

At that point I made my way back down to the main convention hall to mingle with the crowd and check out several of the booths. I even picked up a rather cool T-shirt with the early 40s Batman logo across the chest. Sweet!

Donít worry, Iíll have a detailed report on the Singer/Routh appearance at Wonder Con this week on BOF.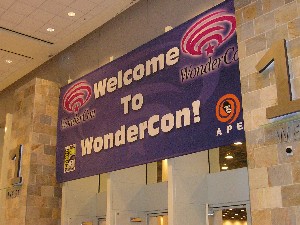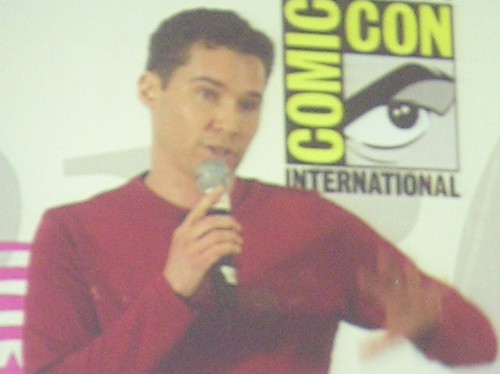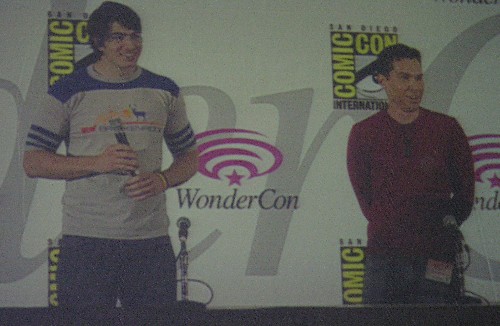 8:00 PM PACIFIC TIME: The stories will come later. The Singer/Routh presentation was very good. I saw the clip from SUPERMAN RETURNS that they played last summer in San Diego. My initial take -- SUPERMAN RETURNS is going to kick ass! More later. I've got a movie to see.
Somewhere over the U.S., but 10:25 AM Pacific Time: Alright, I made it to Dallas to change planes and I'm on my way straight to San Francisco. The main thing on my agenda is to attend the Warner Bros. presentation with SUPERMAN RETURNS director Brian Singer. I'll hopefully have something here on that as soon as it is over, and then a more formal article this upcoming week over at my SUPERMAN RETURNS sub-site...
I wanted to attend the Kevin Smith thing today, but this AM's plane fiasco screwed me on that one I think...
I'm attending something tonight that I can't talk about right now, but let me tell you, I'm fired up as hell for it! More on that later on down the line.
Saturday, February 11, 2006:
8:03 AM TEXAS TIME: Itís been a hell of a day already -- and I donít mean that in a good way. I get up early and hit the gym. Get back to the house and prepare to leave for the airport. My flight is leaving at 6:55 AM so Iím gone by 5:40. Iím only about a half hour tops from Bush Intercontinental, but thereís road construction which causes a delay. Anyway, I finally get to the airport and Iíve still got about 20 minutes before the flight leaves as I check in and head to security.
The line is LONG and extremely SLOW! And on top of that, Iím selected for an extra security search! To make a long story short, I miss the flight. So I head back to ticketing -- none too happy -- and get on a flight that will get me to San Francisco around noon Pacific time.
So, Iím about to head out. Check back here as I plan to update all day!
"Jett" is the editor-in-chief of BATMAN ON FILM and BATMAN IN COMICS.
&copy 1998-present BATMAN ON FILM. All rights reserved. Material from BOF may not be reprinted without permission.