A few months ago,
BOF
'er Casey Michel shot me an email saying that he was teaching a "Batman Class" at
Rice University in Houston
. Not only that, he wanted me to come visit as a "Guest Speaker!"
I wondered, can I really get up in front of a class -- a college class mind you -- and eloquently lecture on The Dark Knight?
You bet your sweet buns I can!
If you're a longtime BOF'er, you know that I'm a longtime history teacher and football coach down here in TEXAS (Yes, I used all caps on purpose -- that's how we do it in TEXAS). So standing in front of a bunch of folks and talking is old hat to me.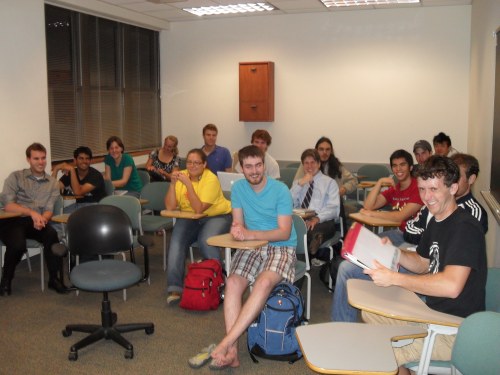 Rice U's "The Bat-Class, 2010"
This time, instead of discussing Thomas Jefferson or how to properly execute an offensive play, I get to talk about The Caped Crusader!
Teaching a class about Batman? Wow! What I wouldn't give to be a "Batman Professor."
(If anyone out there wants to hire me to teach a Batman class, let's talk!)
Anyway, I got to ask this particular Bat-Professor and ask him about this wonderful class…
JETT: How in the hell do you get to teach a Batman class?!
Casey Michel: The class is part of Rice's student-taught course program, which allows students to teach a one-hour, one-credit course to fellow students. You can't get grades -- you either pass or fail -- so it doesn't affect your GPA.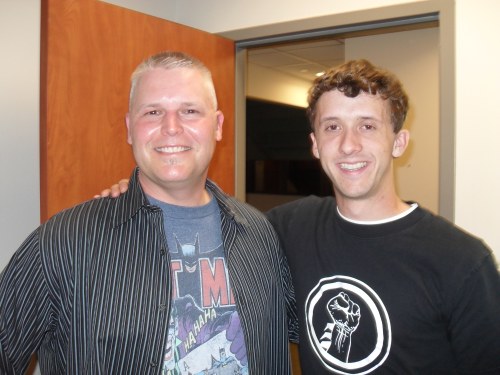 Me & Rice's "Bat-Professor," Casey Michel
JETT: So give me an overview of what this class is all about.
CM: In terms of the structure of the course, I'll just lift what I wrote on the syllabus…
"We will look at the cultural brew that initially inspired Kane and Finger; the philosophies that forced Batman into the cowl; the necessity of the Joker; the theories of the rogues gallery; the viability of the Bat-family; Frank Miller's 1980's modernization; the translation into animation; the audacity of Tim Burton and clarity of Chris Nolan; and the notions of criminality, lawfulness, (super-)sanity, and duality. By the end of the course, you will see that Batman isn't just a crazed brute tormenting his victims out of nihilistic hatred -- or that perhaps he is just that. It all depends, as you will see by the end of the course, on your interpretation."
Basically, the course is about how and why Batman is so freely interpreted -- as you've said, everyone has their "own" Batman. I'm trying to help the kids find theirs, to get them in tune with the different options, and the societal critiques Batman's creators have put forth through their work. And, I mean, we get to talk about Batman for an hour every week -- what more could you ask for?
JETT: Indeed, my friend, indeed. Since the class has been meeting for while, let me ask you a few questions. First and foremost, were most of the class "Batman fans?"
CM: Most of them were, but not all. Everyone is now!
JETT: The favorite Batman story?
CM: In no particular order, BATMAN: YEAR ONE. Followed by THE LONG HALLOWEEN, DARK VICTORY, and HUSH. Most despised THE KILLING JOKE.
JETT: I *think* I already know the answer to this one. Fave Bat-Film?
CM: THE DARK KNIGHT…predictable, but true!
So I get up in front of these young men and women and give 'em a quick history of BOF. You know, how I got BATMAN BEGINS made and all of that. *wink*
I then asked the class for questions, and they did indeed have 'em!
While some delved into the comics and the various animated Bat-series (I did HIGHLY recommend BATMAN: THE BRAVE AND THE BOLD), most wanted to know about BATMAN 3. Since I was in a good mood, I blabbed everything!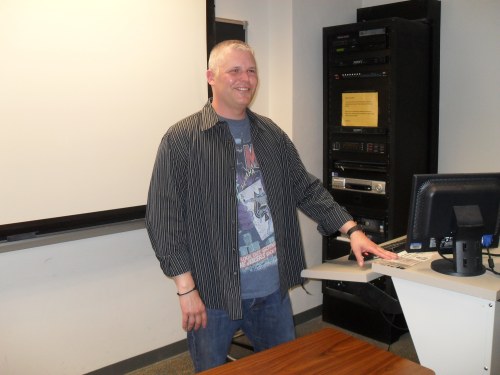 I could teach Batman...FOREVER!
I kid, as I know nothing (*wink*) about B3. But I did give 'em my takes on where I thought the story might go (due to the events of THE DARK KNIGHT), who the villian(s) might be, and where I think the Batman film franchise is headed in the future.
All in all, I had a GREAT time and hope that the students did as well. And if what I had to say helped make just one of these kids a lifelong Batman fan, then I consider it a job well done.
Hopefully, there's a little "trickle-down" effect as well, you know what I'm sayin'?
(Again, if anyone out there reading this is hiring one of these "Batman Professors," LET'S TALK!)