A BOF Exclusive: "The Joker" by Lee Bermejo
Posted by: Bill "Jett" Ramey (@BATMANONFILM)
June 8, 2013

Back in 2006 -- after BATMAN BEGINS and before THE DARK KNIGHT -- artist Lee Bermejo produced a piece of "Joker Art" for BOF. This was his take on what The Joker should look like in the next Batman film -- which ultimately became 2008's THE DARK KNIGHT. Here it is below...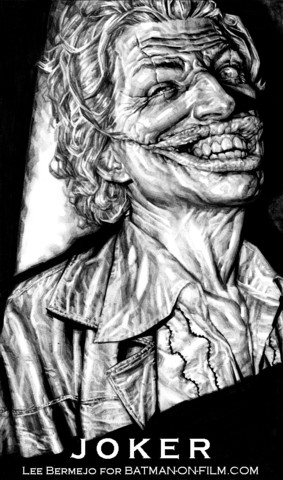 Rumor has it that this drawing was one, of many, visual inspirations for The Joker in THE DARK KNIGHT. Here's what Lee had to say about this drawing...
"The most interesting thing about the Joker for me was always the mystery that surrounded the character. He is a bit like Hannibal Lector in the sense that it isn't so important in SILENCE OF THE LAMBS to know where he came from. It's what he IS that makes the character amazing. In many respects, The Joker is a radical, a serial killer, and a social revolutionary. I'm really hoping that Nolan and Goyer play him more as such instead of going for the over the top, comedic opportunities they approached The Joker with in the 1989 BATMAN."
And...
"Visually, I like the idea of the character being played a lot darker and more disturbing as well. It's difficult to realistically explain why the guy would have a huge grin on his face all the time. This is why I came up with the idea to actually scar his face to mirror the Joker smile. I remember seeing some police photos of the Black Dhalia and being genuinely disturbed by how her face was cut to look like a killer smile. After all, if this character was truly a crazy maniac why wouldn't he do this to himself? Add a little smeared lipstick, white face paint, and purple eye-shadow and you have yourself one demented looking dude. I also gave him some scarring around the eyes to mirror clown makeup a little more. I don't know about you, but clowns have always been a bit scary to me (the John Wayne Gacey angle doesn't help). As far as clothing, maybe push the character a little more in the Tyler Durden direction. Give him a wardrobe that could be a little over the top but not look completely fabricated and silly."
Hmm...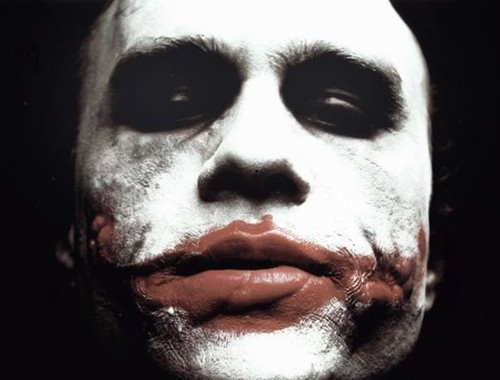 Look for the combined "Absolute" treatment of Lee and writer Brian Azzarello's JOKER and LUTHOR graphic novels this coming Fall (2013). CLICK HERE FOR MORE DETAILS
!



comments powered by