Christopher Nolan is set to return as director of the film. His brother Jonathan, AKA "Jonah," is writing the screenplay. David Goyer is credited for writing the story along with Chris Nolan.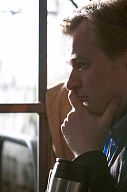 Christopher Nolan on the set of BATMAN BEGINS
The title of the film is THE DARK KNIGHT. This is the first Batman film without "Batman" in the title.
Christian Bale will reprise his role of The Batman/Bruce Wayne (This is the first time the same actor has played The Batman in back to back films since Michael Keaton did so in BATMAN and BATMAN RETURNS).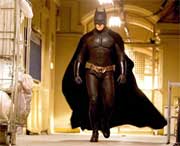 Christian Bale as The Batman in BATMAN BEGINS
Heath Ledger will portray The Joker.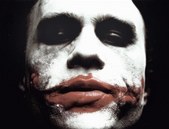 Heath Ledger, The Joker and Heath as "The Joker"
Sir Michael Caine will reprise his role as Alfred Pennyworth.
The character of Harvey Dent will be in the film.
According to producer Chuck Roven, a preshoot will take place in
January '07 with full production set to begin in April.
Hans Zimmer confirmed that he and James Newton Howard would return and score TDK.
TDK will be released JULY 18, 2008.
Lindy Hemming will return as costume designer for TDK.
Wally Pfister will return as the director of photography for TDK.
Nathan Crowley will return as the productin designer TDK.
TDK will return to Chicago, Illinois, USA for location filming during the summer of '07.
Katie Holmes will not return and be a part of the cast of THE DARK KNIGHT.
Aaron Eckhart will portray Gotham D.A. Harvey Dent.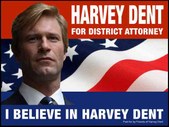 Aaron Eckhart as "Harvey Dent"
Maggie Gyllenhaal has joined the cast as "Rachel Dawes" in TDK.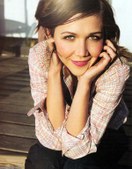 Maggie Gyllenhaal
Morgan Freeman is returning to reprise his role as "Lucius Fox."
Chris Corbould is the F/X Supervisor for TDK. Nick Davis will supervise Visual Effects.
William Finchtner is portraying a "bank manager."
Eric Roberts is portraying mob boss Sal Maroni.
THEDARKKNIGHTMOVIE.COM goes live, 5/11/07.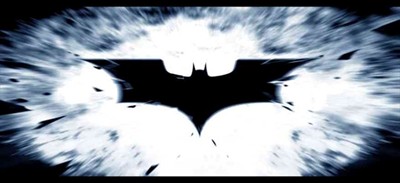 Official TDK Logo (&copy Warner Bros.)
Nestor Carbonell is portraying the mayor of Gotham.
IBELIEVEINHARVEYDENT.COM goes live, 5/17/07.
IBELIEVEINHARVEYDENTTOO.COM goes live, 5/19/07.
Anthony Michael Hall has been added to the cast.
Bruce will live in a downtown penthouse ala the 70s comics.
The Batman will wear a new Bat-Suit in TDK.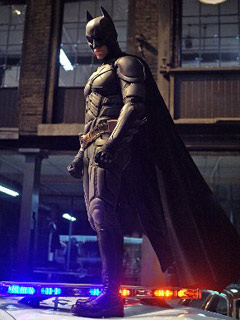 The Batman's New Threads (&copy Warner Bros.)
A new Bat-Vehicle will be used in TDK -- The Batpod.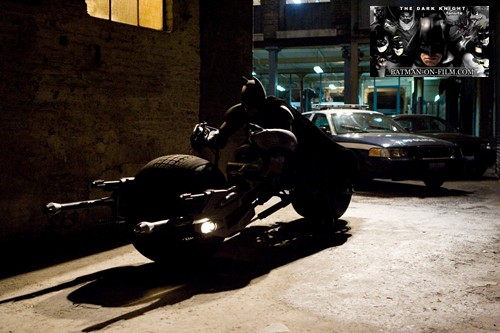 The Batpod (&copy Warner Bros.)
Melinda McGraw and Nathan Gamble have joined the cast as Jim Gordon's wife and son, respectively.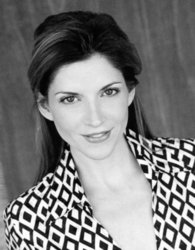 Melinda McGraw
Michael Jai White has been cast as the gangster "Gamble."
Monique Curnen has been cast as "GPD Detective Ramirez."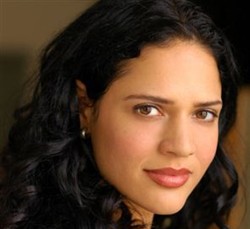 Monique Curnen
Vincenzo Nicoli has been cast as a "Mob Boss."
Nydia Melroy has been cast as a "Gotham Judge."