REVIEW: "Rise of the Blue Beetle!"
Author: Bill Ramey (Follow @BATMANONFILM)
Retrospective Date Date: June 24, 2017
Original Date: October 23, 2008

CLICK HERE for BATMAN: THE BRAVE AND THE BOLD on BOF!
INFO
Season: 1
Episode: 1
Original Airdate: November 14, 2008

CREDITS
Written by Michael Jelenic
Directed by Ben Jones

CAST
Diedrich Bader as Batman
Will Friedle as Jaime Reyes/Blue Beetle
James Arnold Taylor as Green Arrow
Dee Bradley Baker as Clock King and the Gibble Leader
Jason Marsden as Paco Testas
Marc Worden as Kanjar Ro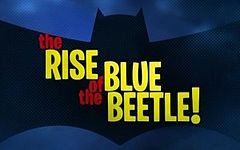 RETROSPECTIVE: As you can see below, while I admitted I was wrong about BATMAN: THE BRAVE AND THE BOLD after viewing the screener of episode one, I still believed that this series wouldn't be for me.
Boy, was I wrong.
I ended up loving BTBATB rather quickly and by the end of the series (which occurred too soon), it had become my favorite animated Batman TV series.
This first episode – "Rise of the Blue Beetle!" – is good, but it doesn't go down as one of the best of the series. The opening segment – which became one of the best parts of each episode and the entire series – does a great job of establishing the tone of the show. Batman finds himself in a deathtrap and the hands of an obscure (and goofy) Batman/DC Comics villain. On this inaugural episode, it's the Clock King who has captured Batman and the Green Arrow, tied them to a giant clock, and plans to dunk the duo in acid when the clock strikes 12 o'clock.
Of course, The Caped Crusader and The Emerald Archer find a way to escape and lay the hammer of justice (see what I did there?) to the dastardly villain!
The main part of the episode revolves around Jamie Reyes' origin as the Blue Beetle. Subsequently, he teams up with Batman, heads into outer space (see, I didn't even blink) to prevent an asteroid from hitting a space station, but end up going up against the space pirate, Kanjar Ro. A powerless Reyes' heroic actions to take down Kanjar Ro (who had taken the Blue Beetle scribe from Jaime) proved to Batman that Jaime was a worthy partner.
Like I said, the main story in the episode wasn't the series best, but the series was about to get good really fast!
My original review of "Rise of the Blue Beetle!" from 2008 can be found below. - Bill "Jett" Ramey
SERIES SYNOPSIS: Building on the iconic character of Batman, this latest interpretation of the classic Batman franchise finds Batman teaming up with heroes from across the DC Comics Universe, delivering nonstop action and adventure with a touch of comic relief in this new animated series.
Light in tone, Batman: The Brave and the Bold will introduce younger viewers to a famed hero while still offering plenty to excite diehard fans--the visual style of the series has been inspired by the look and feel of the work of '40s and '50s classic comic book Batman artists. Fans of all ages will cheer the caped crusader as he battles crime and injustice.
Best of all, Batman isn't going at it alone! Blue Beetle, Green Arrow, Aquaman and countless others will get a chance to uphold justice alongside him. Though still based in Gotham City, The Caped Crusader will frequently find himself outside city limits, facing situations that are both unfamiliar and exhilarating. With formidable foes around every corner, Batman will still rely on his stealth, resourcefulness and limitless supply of cool gadgets to bring justice home!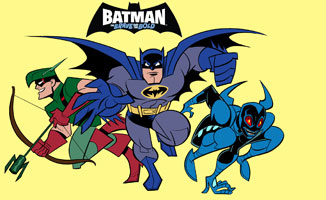 Everyone has their own idea of what Batman "Is" in their head. For example, "My Batman" exists in the real word -- one without super-powered heroes or villains. Basically, what you saw in BATMAN BEGINS and THE DARK KNIGHT is my preferred take on The Caped Crusader.
Batman the Superhero…
Batman partnering with super-powered beings…
Batman fighting super-powered villains…
Batman doing comedy…
"Batman…IN SPACE!"
This is NOT my idea of Batman and it's exactly what you will find in the new animated series BATMAN: THE BRAVE AND THE BOLD.
Now just because this particular version of Batman isn't my cup of tea, doesn't mean that the show isn't any good. Let me tell you all about a lesson I learned recently….
When THE BATMAN premiered a few years ago, I regularly gave it less than favorable reviews here on BOF. Because it was aimed at a young audience and didn't match my personal Batman sensibilities, I often dismissed THE BATMAN as not being "Batman."
And you know what? I was wrong.
As time went by, I came to appreciate and even enjoy the show. Yes, it was more "kiddified," if you will, than it's animated predecessor BATMAN: THE ANIMATED SERIES. Yes, the inclusion of Batgirl and Robin and their portrayal on the show often made me wince and roll my eyes. But never once was the show disrespectful to the character and more times than not, each episode was very well done. And when the show ended, I was sad to see it go and said as much in an article here on the website.
So when I first heard that there would be a new animated Batman series titled THE BRAVE AND THE BOLD and that it would air on THE CARTOON NETWORK, I figured it would be something aimed at kids.
I saw a screener of the first episode today and guess what? I was right.
And I'm OK with it.
The episode I watched was titled "The Rise of the Blue Beetle" and it paired The Batman up with, well, The Blue Beetle. And that's the basic premise of the show as each episode will feature Batman teaming up with another DC Universe superhero and them taking on various supervillains. Here's a quick rundown of the show I saw and it should give you an idea of what to expect…
The Batman -- voiced by Diedrich Bader -- and the Jaime Reyes version of The Blue Beetle head into outerspace, through a worm hole, and ultimately help the inhabitants of an alien world (who look like little transparent hands filled with goo) defeat the villain Kanjor Ro (who looks a little like Mongul).
Yes, it's "Batman…IN SPACE."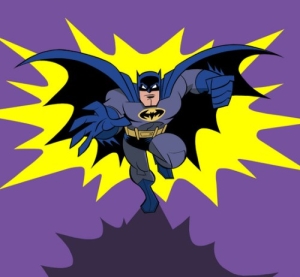 Look, this show is very Silver Age-ish and definitely is NOT BATMAN BEGINS or THE DARK KNIGHT. It's also much more kid-friendly than two previous animated Batman series. In fact, it appears that the 1960's BATMAN TV series was a strong influence on this show. For example, the opening credits features Batman walking up a wall with a rope as well as a red and black Batmobile that is very similar to its 1960's TV predecessor. Also, the opening sequence had Batman and Green Arrow (who looks exactly like he did back in the 60's comics) tied up and facing imminent doom at the hand of The Clock King -- just like Batman and Robin often did as part one of BATMAN ended.
For me personally, I had a hard time sitting through the entire episode -- not because it's bad, but simply because it's not "My Batman." However, if you are a fan of the Silver Age version of the character or enjoy Batman stories that place him in fantastical situations, THE BRAVE AND THE BOLD just may be your cup of tea. But I think we need to look at the bigger picture here and acknowledge that Batman isn't just for grown ups.
I was once told by film producer and Batman guru Michael Uslan that all comic book films didn't have to be BATMAN BEGINS. On a similar note, everything Batman doesn't have to be dark and adult either. Kids need a conduit into the world of Batman as well -- I know I did.
Perhaps BATMAN: THE BRAVE AND THE BOLD will be for many kids what that 60's TV show was to me -- and many of YOU as well. - Bill "Jett" Ramey
BATMAN: THE BRAVE AND THE BOLD will premiere Friday, November 14, 2008 at 7:30 PM (Eastern/Pacific) on CARTOON NETWORK.

comments powered by