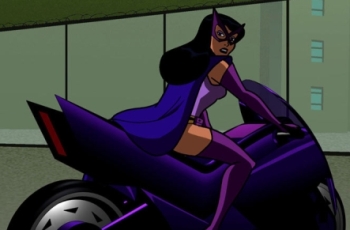 The Huntress makes her appearance on the latest episode of
BATMAN: THE BRAVE AND THE BOLD
titled "Night of The Huntress."
My first introduction to the character of The Huntress was back in the 70s when DC "killed" the Golden Age Batman. This was the Helena Wayne version of the character who was the daughter of Bruce Wayne (The Batman) and Selina Kyle (Catwoman). Honestly, that's really the only comic book version of The Huntress that I know as I had stopped reading comics when the Helena Bertinelli version was introduced in the DCU.
Oh yeah, I am familiar with the TV version of the character from the short-lived BIRDS OF PREY TV show. This version of the character was also the offspring of Batman and Catwoman ala the aforementioned 70s comic book version. Anyway, enough of the history lesson…
THE BRAVE AND THE BOLD's version of The Huntress is Helena Bertinelli, professor at Gotham University. Teacher by day, crime-fighting ass-kicker by night. She's not the focus of the episode -- The Batman is. Yet, she's not a sidekick ala Batgirl (who is mentioned). The Huntress is presented as a very self-assured and confident Gotham crime fighter -- who just so happens to have the hots for Batman. Anyway…
Story-wise, "Night of The Huntress" felt a lot like an amalgamation of Batman, 1930s gangster flicks, and DICK TRACY. You've got Batman, Blue Beetle, and The Huntress teaming up to bring down the criminal mastermind Baby Face, his wife Mrs. Manface, and their gang.
Despite Baby Face's very old school gangster look and approach, he's somehow able to accumulate this Iron Monger-ish like suit to take on Batman and his allies. Of course, The Caped Crusader has his own super-suit -- just wait to you see where it comes from! Think Batman meets TRANSFORMERS.
What is becoming a B:TBATB trademark, there are guest-appearances by both the good and bad members of the DCU (Black Canary and Solomon Grundy), nods to the Batman mythos, and crazy-ass deathtraps.
Really, you can't beat a nod to The Weather Wizard -- unless it's a giant hourglass designed to kill our heroes!
While I quite enjoyed "Night of the Huntress," I didn't find it to be on the level of some of the previous episodes -- such as that 2-parter featuring The Joker. But that's really a petty nitpick because this show has already proven to grade out with nothing but B's and A's since it premiered. Really, this was yet another well-written and enjoyable episode that I suspect just about everyone will like.
And remember kids…
"The hammer of justice is unisex!"