Yes, I was wrong about
BATMAN: THE BRAVE AND THE BOLD
. And yes, I've become a huge fan of this show. But…
It's episodes like "The Menace of the Conqueror Cavemen!" that remind me why I was leery of this show in the first place.
"The Menace of the Conqueror Cavemen!" brings the character Booster Gold into the world of THE BRAVE AND THE BOLD as he teams up with Batman to take down the villainous Kru'll The Eternal (AKA "The Conqueror Caveman"). To be honest here, I know virtually nothing about Booster Gold other than the fact that he exists in the DC Universe. Here, he was portrayed as time-traveling "super hero" who is more about marketing himself and making a buck than he is in fighting crime.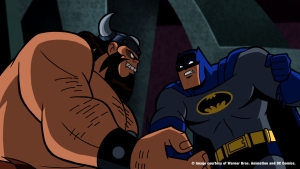 Like I said, I don't know much about Booster Gold, but if B:TBATB's interpretation is spot-on, I don't think I like this character. He's tremendously obnoxious and irritating -- but perhaps he's supposed to be. Maybe I need to see the character in his own setting and without Batman to get a better look at Booster Gold. (I did ask our friend F.J. DeSanto -- a Booster Gold fan -- what he though about the episode and he loved it. So I assume that they nailed the character here.)
As far as this Kru'll The Eternal…meh. I'm just not into immortal cavemen turned 21st century criminal mastermind out to conquer the world. (I may be wrong here, but I think this Kru'll is based on the DCU's Vandal Savage.)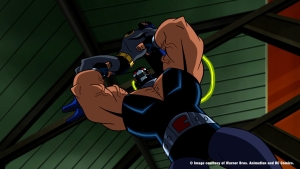 Though this episode revolves around the aforementioned Booster Gold and Kru'll the Immortal, we are introduced to B:TBATB's version of Bane during the opening sequence. I may be mistaken, but it seems that this take on Bane takes its cue from the film BATMAN AND ROBIN.
Overall, just a little too much obnoxiousness (Booster Gold), ridiculous rogues (Kru'll), and "Daytime Batman" for me. With that said, "The Menace of the Conqueror Caveman" is yet another well-written and quality addition to this series. Though this is a review, keep in mind that B:TBATB does severely clash with my personal Batman sensibilities. Some episodes -- like this one -- are just hard for me to get into. However, if you are a fan of the show, I certainly don't think you'll be disappointed with this one -- even though it isn't on par with the show's best episodes.
"Menace of the Conqueror Caveman!" was written by Matt Wayne and directed by Ben Jones. It stars Deidrich Bader as Batman, Tom Everett Scott as Booster Gold, Billy West as Skeets, Michael Dorn as Kru'll, and R. Lee Ermey as Wildcat.