What do you get when you cross Batman with
PLANET OF THE APES
, Tarzan The Ape Man, time travel,
THE ISLAND OF DR. MOREAU
, and
KING KONG
? Apparently, the latest episode of
BATMAN: THE BRAVE AND THE BOLD
titled "The Last Bat on Earth!"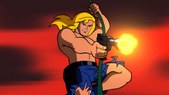 This week, Batman travels into the future (An alternate reality future?) to bring Gorilla Grodd (Isn't he a Flash villain?) to justice. See, this damn Grodd commandeered this time machine in Gotham and got himself involved with some sort of Earth domination battle between talking animals (DR. DOOLITTE anyone?). In fact, he not only got involved, but becomes the leader of these futuristic, war-mongering apes.
Here's the deal here: In this future Earth, animals have evolved into the dominate species and humans are used as slaves. The one human that seems to have any snap left and isn't some sort of imbecile is this Kamandi character -- "The Last Boy on Earth." Kamandi, his dog-friend/master, and a royal Tiger-dude ally, keep fighting the good fight to bring harmony and species equality to this future alternate reality Earth.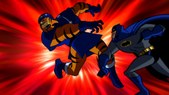 Anyway…
From what my comic book guru friends have told me, this episode was a big homage to comic book legend Jack Kirby. Look, I've NEVER said I'm a comic book historian (Though I do have a degree in history!) -- I just know Batman. Regardless, if that's the case, very cool and so be it.
I only know that I liked it!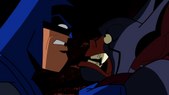 From the great opening sequence that guest-starred Mr. Miracle (Now that was some damn good stuff!) to Batman winning the respect of these Man-Bat dudes that exist in the future, this was one enjoyable episode. In fact, I was SO happy that this episode included several funny/classic one-liners -- those have been missing as of late. And when you got those, you can trust that you got a top-notch edition of this very soon to be classic animated Batman series.
(I know this'll come off as "blasphemy" to many fanboys (Like I care!), but if BATMAN: THE BRAVE AND THE BOLD keeps it up, it's going to give the classic BATMAN: THE ANIMATED SERIES a run for it's money.
Now, I'm off to find me a deathtrap to escape from! And then … *sigh* … clean out the damn garage per "Mrs. Jett."
"The Last Bat on Earth!" was written by Steven Melching and directed by Ben Jones. It's original airdate was June 19th, 2009.