My love affair continues -- but takes a bit of a hit -- with
BATMAN: THE BRAVE AND THE BOLD
and this week's episode, "Hail the Tornado Tyrant!" Red Tornado is the guest DCU star of this episode that also features cameos by Green Arrow, The Joker, and a non-speaking Catwoman.
GA, The Joker, Catwoman appear only during the opening sequence, as these mini-episodes within an episode are a standard with B:TBATB. This particular one only derived a "Meh" out of me as the GA/Batman "rivalry" is a little tired. Plus, I'm just not a fan of The Joker's Jokermobile, sorry -- especially one that ejects giant popcorn out its back. WAY too little of Catwoman -- perhaps on purpose? Could this be a tease for a future episode featuring the feline fatale? Here's hopin!
The plotline in short has The Red Tornado creating a "son" that lacks what he doesn't have: feelings and emotion. Once "online" -- in a very FRANKENSTEIN-ish manner -- the newly dubbed Tornado Champion teams up with his Pop and Batman to take down C-list villain Major Disaster. The only problem here is that Tornado Champion ("Tornado Champion." Really? WTF?!) doesn't appear to have any of the emotion that Pops Tornado programmed him with…yet. Yikes!
"Major Disaster?" Whatever. This dude's no Crazy Quilt that's for damn sure. Anyway…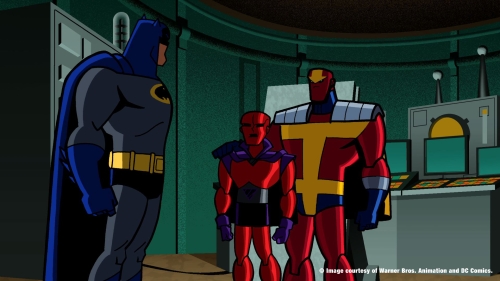 During the course of this battle, the Frankenstein Monster -- err Tornado Champion -- is zapped by some sort of lightening/electrical current which apparently activated his emotion program. One thing lead to another (I'm not going to spoil it for y'all) and Tornado Champion becomes the villainous Tornado Tyrant.
Of course, he's got to go down, which causes a "morality" problem for 'ol Pops Tornado and Batman.
While I thought that "Hail The Tornado Champion!" was well-written and I certainly see what they were going for here, it was a little too depressing for me. The way B:TBATB won me over was with the lack of heaviness and its light and fun atmosphere. When you get away from that -- in my opinion -- the show stops working. You know what I mean?
And I sure as heck didn't want to see the B:TBATB version of OLD YELLER for cripe's sake!
Sadly, no one-liners with the quality of "I thought you liked the sidecar?" and "The hammer of justice is unisex!" to bring to your attention this week. When I can, it usually comes with a positive review. And when I can't, well….
"Hail the Tornado Tyrant!" was written by J.M. DeMatteis and directed by Brandon Vietti. It originally aired on June 5, 2009. It stars Deidrich Bader as The Batman, James Arnold Taylor as Major Disaster/Green Arrow, Corey Burton as Red Tornado, and Carl Lumbly as Tornado Champion/Tornado Tyrant.