In this week's episode of
BATMAN: THE BRAVE AND THE BOLD
-- titled "Duel of the Double Crossers!" – features The Outsiders, the villainous Mongul, and primary guest star/hero Jonah Hex.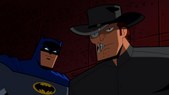 In short, here's the plot: While Batman's fighting Zebra-Man, the time-lost bounty hunter Jonah Hex arrives to capture him and bring him to War World. Why? So he can fight in its arenas for the pleasure of the ruler Mongul. However, when Mongul double-crosses Hex, the bounty hunter switches sides and allies himself with The Dark Knight to take Mongul down!
Meh.
Didn't care too much for this one my friends for various reasons. Probably at the top of the list was that it was too sci-fi for my Bat-Tastes. While that's probably more on me and my personal biases, "Duel of the Double Crossers!" still wasn't up to par with show's best episodes.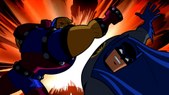 With that said, I did like the opening sequence featuring Batman training The Outsiders (Metamorpho, Black Lightening, and Katana) on the "streets of Gotham." I also dug Jonah Hex – both his interaction with Batman and his characterization for B:TBATB. Like to see more of him in the future – maybe in a little more "serious" episode set in Gotham and Gotham only. (I'm also quite looking forward to the upcoming live-action JONAH HEX film starring Josh Brolin as the former Confederate bounty hunter.)
Overall, another solid – but average -- episode of BATMAN: THE BRAVE AND THE BOLD. I reckon fans of the DCU and Batman will enjoy this more than the "Just Batman, Please" fans like yours truly.
"Duel of the Double Crossers!" was written by Todd Casey and directed by Michael Chang. It originally aired on June 12, 2009. It stars Deidrich Bader as The Batman, Phil Morris as Jonah Hex, and Gary Anthony Williams as Mongul.