"When OMAC Attacks!" What a way to start off season 2 of
BATMAN: THE BRAVE AND THE BOLD
with a…
DUD!
Just about everything I don't like in a Batman story was found in this episode – Batman in space in particular. Really, does The Batman need to be some sort of interplanetary diplomat?
In the midst of all this excitement, this lame and boring character called Equinox shows up to thwart Batman and OMAC from taking down Kafka/Shrapnel. If Batman and OMAC are successful, the scales of the universe(s) will be unbalanced.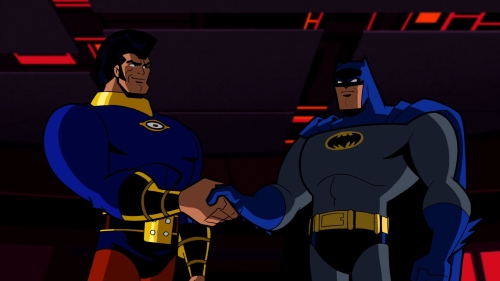 In short, the plot has Batman ending an intergalactic war with the help of Hawk and Dove. Batman then is ordered by a group of A-holes called the GPA – "Global Peace Agency" – to take down General Kafka (who looks like Castro and has a Russian accent). The GPA give Batman a partner – a janitor named Buddy Blank. With the aid of a satellite called "Brother Eye," the hapless Buddy is transformed into OMAC, the "One Man Army Corps." Batman and OMAC eventually take on Kafka and Shrapnel – the giant Terminator-like monster that Kafka transforms into with the help of some silver goo.
Whatever.
Fans of the Kirby universe may dig this episode, but I certainly didn't. "When OMAC Attacks!" was way, WAY too sci-fi, if you will, for my liking. In addition, it was also so far from "My Batman," I never could invest in it as a Batman story.