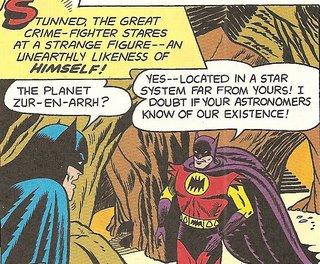 I'm not sure when I first became aware of "The Batman of Zur En Arrh." I'm thinking it had to be at sometime back in the early 70s. DC use to put out these big, oversized comics that featured reprints of old Batman stories.
Did any of y'all reading buy those sort of comics back in the day? The Batman one I'm referring to had pictures of live-action Batman on film/TV on the inside back cover. The front cover featured a classic Neal Adams 70s Batman.
Regardless, at some point early in my Batman fandom, I came across this bright and colorful Batman of Zur En Arrh from the 1958 story "Batman: The Superman of Planet X" in BATMAN #113.
The Batman of Zur En Arrh made a comeback thanks to Batman comic book scribe Mrant Gorrison. If you've read BATMAN, R.I.P., you know that Mr. Morrison reintroduced the character as The Batman's psychological "safe room," if you will. The Batman of Zur En Arrh is what you get, according to Grant, when you remove Bruce Wayne from Batman. Anyway…
B:TB&TB's Batman of Zur En Arrh (voiced by the great Kevin Conroy) is not of the Morrison persuasion, but of the 1958 comic book kind. In fact, this episode -- "The Super Batman of Planet X!" is a HUGE homage to the aforementioned comic book story.
In this installment, Batman flies through a wormhole and lands on an alien planet where he meets an alternate version of himself -- The Batman of Zur En Arrh. Our Batman then teams up with his doppelganger to take down the latter's arch-enemy, the evil genius Rohtul.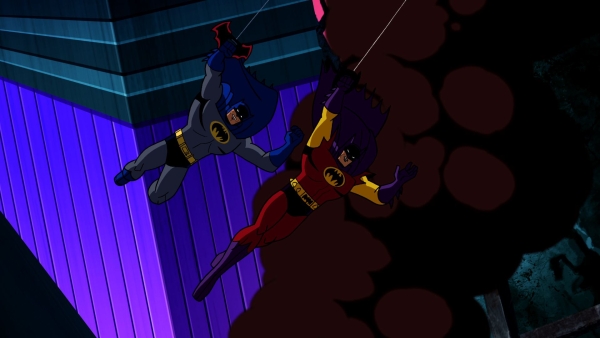 The Bat-MEN
Here's the deal, the Batman of Zur En Arrh is sort of an amalgamation of Superman and Batman. While he has no superpowers and has an origin (implied) similar to Earth's Batman, his world and life have more in common with Clark Kent than Bruce Wayne.
The villain Rohtul (voiced by Clancy Brown) is basically Zur En Arrh's Lex Luthor. The Batman of this world's alter ego is that of a bespectacled, mild-mannered reporter for a major metropolitan newspaper. And his co-worker is a sassy female reporter named Vilsi (voiced by Dana Delany).
Sound familar?
Speaking of The Man of Steel, the Batman of Earth finds that he's acquired Superman-like powers on Zur En Arrh -- powers he quite digs actually.
Overall, a pretty good episode here. Fans of DC's Silver Age will probably get the biggest kick out it. Also, having Clancy Brown, Dana Delany, and, of course, Kevin Conroy voice characters was rather cool too.
On the other hand, this episode is VERY heavy on the sci-fi and, quite obviously, features "Batman…IN SPACE!" If you're a Batman fan who has not been able to buy into this show so far, I'm thinking that "The Super Batman of Planet X!" isn't going to help. I'll admit that B:TB&TB's Caped Crusader isn't "My Batman" either, but this show is so good and so respectful to the character's history and mythos, I can't help but love it.
(FYI: You Bat-Fans who are still turning your nose up to B:TB&TB, there's an episode coming up -- "Chill of the Night!" -- that I think will definitely be up your alley. And one that just might change your mind about this show once and for all.)