Back when I was a kid, I remember how "shocked" I was when I discovered that another DCU existed
before
the one that I was accustomed to reading.
There were these comics that I bought that included reprints of old stories from back in the day. So…
This "Alan Scott" person was the first Green Lantern?!
Jay Garrick was the first "Flash" and he wore a metal hardhat just like both my grandfathers did at the refinery?!
Oh, the confusion!
The GD "Multiverse!" Whatever. Which brings me to…
"The Golden Age of Justice," the latest installment of BATMAN: THE BRAVE AND THE BOLD…
LOVED it!
This episode -- featuring The Justice Society of America and Black Canary -- was much more grounded than most of it's recent predecessors. Not too heavy on the fantastical, and absolutely no "Batman, IN SPACE" -- MUCH to my liking. It's simply a good old fashioned super hero story -- with an emphasis on old.
"The Golden Age of Justice!" is really the JSA and Black Canary's story -- especially the latter. BC's looking to gain the acceptance of her mentors as well as avenge the death of her mother.
And speaking of mentors, it seems that the Batman of the B:TBATB universe was once tutored by the heroes of the JSA himself. Gotta say, it was really cool to see the "young" Batman all decked out in a Bob Kane/DETECTIVE COMICS #27 Bat-Suit, c. 1939.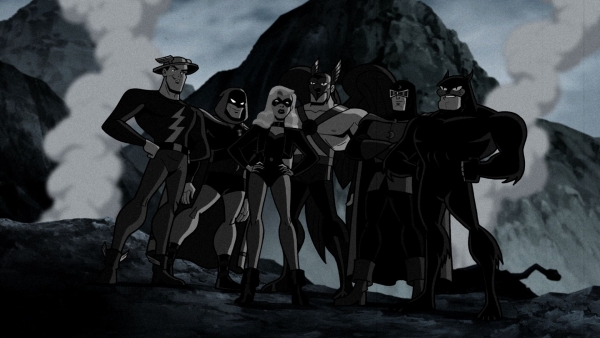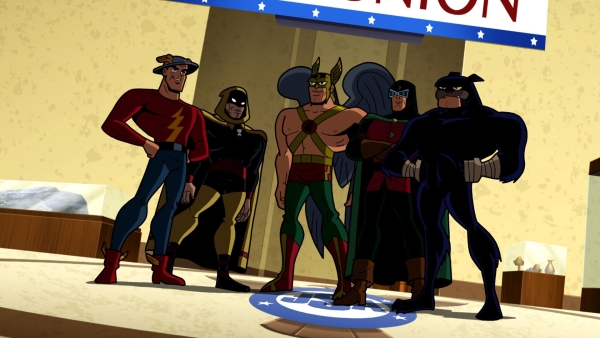 The Justice Society of America...
then and now!
The villain de jour was a character called "Per Degaton." To be perfectly honest, I had not a clue who he was despite the fact that I've been reading DC comics since the late 1960s -- albeit mostly those featuring The Dark Knight. Regardless, my Per Degaton research found that he was used faithfully by "Team Brave-Bold" -- as they always do. Consequently, Per Degaton fit perfectly within the context of this ep's story.
As far as the show's opening -- which is a fave of mine -- Detective Chimp is the star. I never thought that I'd enjoy seeing Batman solving a crime and kicking ass with a chimpanzee sleuth. But thanks to the aforementioned "Team Brave-Bold," I did.
*shakes head*
What's my Bat-World coming to?! Anyway…
"The Golden Age of Justice!" is very good and I enjoyed it immensely. Batman fans will get a kick out of the previously mentioned "1939 Batman" cameo, but aficionados of the Golden Age DCU will probably dig the heck out of this episode even more.