Nightwing -- I mean Robin -- fans are
really
going to like the newest episode of
BATMAN: THE BRAVE AND THE BOLD
, "Sidekicks Assemble!"
Why? More on that in a bit.
In short, Robin, Aqualad, and Speedy demand that their mentors allow them to participate as partners, rather than subordinates. Batman agrees (sort of) and sends the trio on a mission to a seemingly uninhabited island, while he, Aquaman, and Green Arrow take on The Dark Knight's arch-nemesis, Ra's Al Ghul. However…
What seems to be two separate missions turns out to be just one, as both heroes and sidekicks attempt to stop The Demon's Head from destroying Coast City.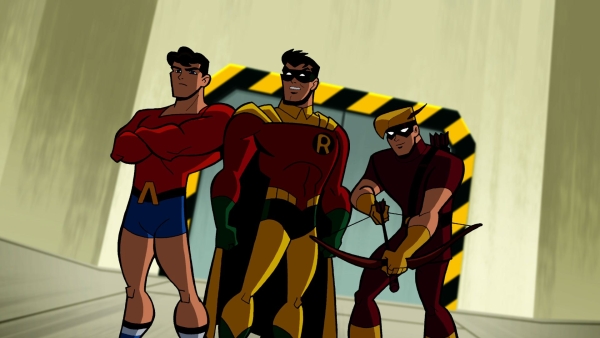 The Teen Titans?
WHAT'S TO LIKE
Lots -- especially for DCU fans.
The show's opening segment features a flashback with the members of The Justice League (including the lesser two of "The Trinity," Superman and Wonder Woman) meeting at their space headquarters.
The great Batman villain Ra's Al Ghul (as well as daugher Talia and servant Ubu) makes his first appearance in this series. This version of Ra's is very much inline with his comic book counter part, though the focus is on the eco-terrorist aspect of the character.
Though I'm not a big fan of sidekicks, the banter between the three featured here was well written and darn funny.
Aquaman! This character pretty much steals the show whenever he's in an episode.
The Hall of Justice!
And finally, Disco Nightwing is back! As I alluded to above, Robin finally becomes Nighwing in B:TBATB -- disco-looking high collar suit and all.
WHAT'S NOT TO LIKE
Not much actually, other than Ra's Al Ghu's WMD -- a cannon that produces Venus Flytrap/LITTLE SHOP OF HORRORS-looking plant monsters -- was rather silly.
A flying island? Really?
And yet again, Batman is only a guest star in his own show -- but that's how B:TBATB rolls.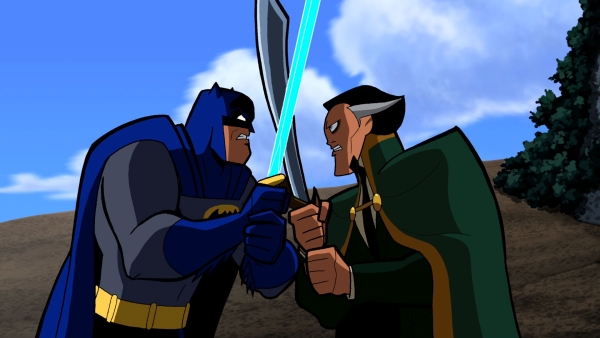 Where's the frozen lake?
THE BOTTOM LINE
Yet another very solid installment of B:TBATB. Like I said, fans of Robin/Nightwing and the DCU overall are probably going to enjoy this one a tad more than the "Batman Only" crowd.
Truth be told, the series is actually a showcase for the DCU (especially second tier characters) from a Batman point of view.
And I'm cool with that.