"He drives us bats. Drives us bats. He really drives us bats, bats, bats. He drives us bats!"
I just viewed one of the best animated Batman TV episodes I've ever seen – all the various shows included. It's at least on par with anything from the great BATMAN: THE ANIMATED SERIES -- and that's saying a lot.
BATMAN: THE BRAVE AND THE BOLD's "Mayhem of the Music Meister!" is flat-out brilliant.
In this episode, Batman takes on The Music Meister (excellently voiced by Neil Patrick Harris) – a villain who has the ability to put people in a trance with his singing and make them do his evil bidding. Once under The Music Meister's spell, both heroes and villains alike help him carry out his dastardly plan, all the while singing and dancing.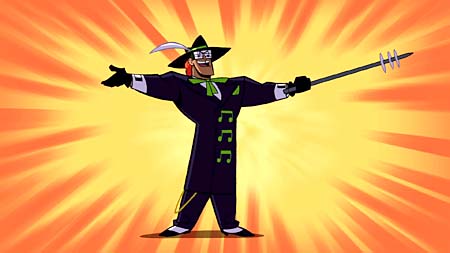 The Music Meister
Yes, this sounds nuts, but it works. There's action, drama, and even romance – as well as song and dance numbers for each part of the plot.
There are 6 songs in this episode, 2 of which really stand out – "Drives Us Bats" and "Death Trap." Trust me, after hearing "Drives Us Bats," it'll be stuck in your head for days!
Just in case you are wondering, Batman does not perform a song nor does he dance. But he does sing, and I certainly won't spoil it for you by revealing the details. Just know it's cool, cleaver, and sort of funny.
Trust me, if you are a Batman fan, do not miss this episode – it's the best one the show's produced. "Mayhem of the Music Meister" is going to make Batman history and will certainly go down as a "Batman Classic."