"Inside The Outsiders!" is one of the darker episodes of
BATMAN: THE BRAVE AND THE BOLD
to date. Well, "dark" for
B:TBATB
that is.
In this installment, Batman and The Outsiders take on yet another semi-obscure (and goofy) DCU villain, the Psycho Pirate. The Outsiders – Black Lightening, Katana, and Metamorpho – have been kidnapped by this dastardly scoundrel and is feeding off their anger caused by their crazy nightmares. Batman joins in and goes inside their minds/bad dreams to save them. There's a cool little twist at the end involving Batman and his "happy thoughts."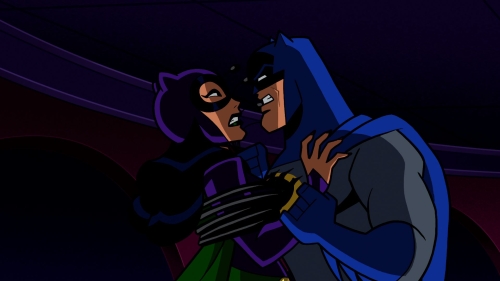 Yes, Batman does have things that make him happy I guess.
Not that the main story was bad or anything, I enjoyed the opening the most as it featured one of my favorite Batman villains, Catwoman. Even in the BRAVE AND THE BOLD universe, Batman and Catwoman apparently have the hots for each other – the source of Batman's "happy thoughts" methinks.
Chalk up "Inside The Outsiders!" as one of the series' above average endeavors.