My first experience with DC's The Metal Men came sometime during the early 1970s when I purchased an issue of
THE BRAVE AND THE BOLD
. As a kid, I loved that title -- mainly because it featured Batman in every issue. But also liked to see Batman team up with another DC hero other than Superman. I remember team-ups with Green Lantern, Green Arrow, Deadman, and of course, the aforementioned Metal Men.
I bring up this bizarre group of crime fighters because they were featured on this week's episode of BATMAN: THE BRAVE AND THE BOLD tilted "Clash of the Metal Men!"
This was a rather goofy episode to be honest. Basically you had The Metal Men vs. The Gas Gang. Heroes of metal taking on villains made of gas.
Alrighty then. Anyway…
This "Gas Gang" were once colleagues of Metal Men creator Dr. William Magnus. A lab accident turned them into these big balls of, well, bad gas. As their gaseous states of being are slowly dissipating, they turn to Doc Magnus to provide them with "bodies" before they disappear into thin air.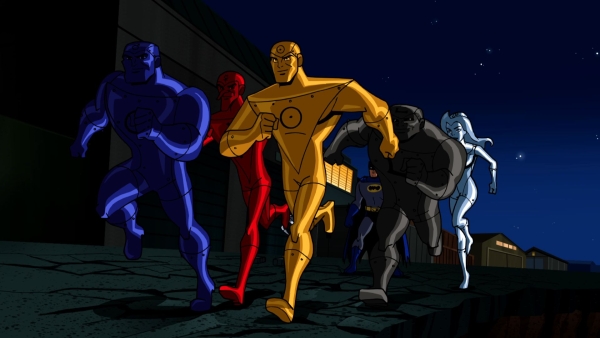 The Metal Men
On the Batman front, we get more of The Dark Knight in this one. While not the complete secondary character he's sometimes reduced to, the primary focus here is on Doc Mangus and his Metal Men.
As far as this week's opening segment, we get another one of those "To Be Continued…" deals with the starros. This time they come to Atlantis and take control of its inhabitants -- the Aquaman family included. I assume we're heading for a showdown between Starro The Conqueror and Batman.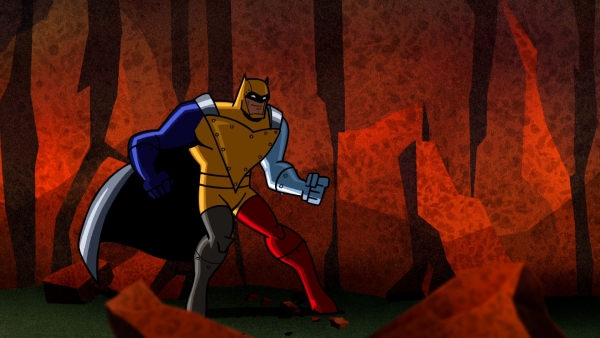 Batman + Metal Men = Metal Bat-Men or Batmetalman?
THE BOTTOM LINE
I'd place this episode in the "It was OK" range. It definitely wasn't a clunker, but it isn't up there amongst the best either. Look, the bar has been set high for this show, as there are already episodes that will be considered classics. "Clash of the Metal Men!" was entertaining, but simply isn't on the same level as B:TBATB's best.