Just when
B:TBATB
turns out a less than stellar episode -- such as last week's "Revenge of the Reach!" -- they turn right around and give us one that's simply fabulous. In this case, it's the latest episode titled "Aquaman's Outrageous Adventure!"
Am I the only one who thinks the more preposterous the better when it comes to B:TBATB?
From an opening segment featuring time-traveling Batman battling Enemy Ace in a WWI-era biplane, to an underwater nod to the 1966 BATMAN movie, this definitely the best episode I've seen so far this season.
In a nutshell, this week's episode features "The Aquaman Family" RV'ing around the country (albeit the DC Comics version of the U.S.) on vacation. 'Ol Arthur has promised his wife Mera "no heroing" during the holiday, but Aquaman just can't seem to be able to leave the office behind -- much to the chagrin of the Missus.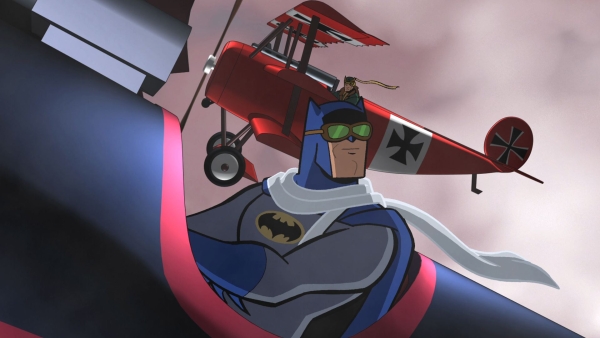 The Bat-Biplane?
On the Batman front, it was certainly cool to see The Penguin make his first real appearance on the show. Like The Joker and most of the other classic Batman villains, B:TBATB's version of Cobblepott is heavily influenced by his Silver Age comic book counterpart.
"Aquaman's Outrageous Adventure!" was terrific! Smart, funny, and very "DCU-ish" -- just as you would expect from this show's best episodes.