In another quite enjoyable episode, The Batman -- make that The Bat-
MEN
-- team up with Firestorm to take down Dr. X/Dr. Double X.
While this episode featured the origin of Firestorm, the focus was actually more on Batman (for a change). The three different versions of Batman -- based on the different parts of his personality -- was done quite well and was pretty darn funny. The idea that "Slacker Dude Batman" is what holds The Caped Crusader together and makes him whole was rather clever.
As far as this week's "Team-up Hero," I sorta liked this Firestorm -- in particular the "Coach Raymond" part of the character. Maybe it's the 'ol football coach in me, but I liked him nonetheless.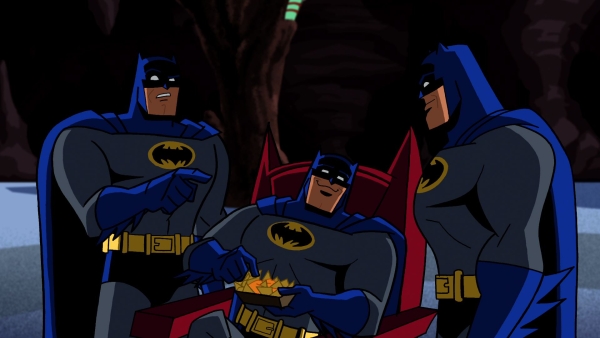 The Bat-MEN
WHAT'S TO LIKE
First and foremost, this week's opening segment featuring The Riddler -- what an absolute blast! I won't spoil it, but The Riddler has Batman in a deathtrap on his "game show" -- RIDDLE ME THIS! -- and it's up to Booster Gold to solved Nigma's riddles before the villain fries him to a crisp. Booster Gold solving riddles? Classic!
Also -- and surprisingly -- "Slacker Dude Batman" was a lot of fun. I'd like to sit down and have beer and nachos with him.
And I've got to mention "Kick Ass Batman" and his bar fight with a saloon full of crazy-ass and obscure DCU rogues. Awesome! DCU nerds/fans are going to get a hell of a kick out of this scene.
WHAT'S NOT TO LIKE
There's nothing not to like with this one, so I'm not going to nitpick just to have something negative to say. This one was all good.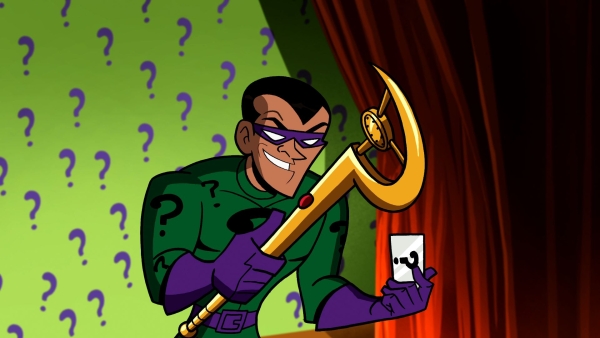 "Riddle Me THIS!"
THE BOTTOM LINE
I know I'm getting redundant here, but "A Bat Divided!" was yet another well-written and fun episode of B:TB&TB. Honestly, I watched it three times back-to-back before writing this review. Not for reviewing purposes, but because I genuinely liked it a lot.
It isn't a "B:TB&TB Classic," but it's certainly just a notch below that level.