BOF
's visit to San Diego Comic Con International 2007 was almost completely from a fan standpoint. The fact that there would be no visit by the cast and production team of
THE DARK KNIGHT
pretty much eliminated the need for me to be there on a "professional" level. However, that crazy
TDK
viral marketing campaign did show up on Friday, so thankfully,
BOF
had a Bat-reason to be there.
Thursday was a total fan day for the BOF team -- which consisted of Mrs. Jett and myself. There was a third member of the team there as well -- Gregg Bray -- who will share his experience at the Con in a separate article(s) later.
Upon entering the convention center floor, we headed immediately over to the DC Comics area to see what was going on…which was quite a lot actually. Video monitors were playing an episode of THE BATMAN animated series (which featured The Penguin -- go figure!). Fans were lined up to get drawings and autographs from various members of DC's talent pool -- as well as from the Vertigo and Wildstorm labels. There was also an area promoting the DC Direct's line of action figures and statues.
After taking in the happenings at DC, we headed over to the Warner Bros. area which was sheer chaos! The new PG-13 animated film, SUPERMAN/DOOMSDAY was being screened later that night and people were trying to secure passes to the event (Gregg Bray attended it and hopefully will provided us all with a review shortly).
http://photos.imageevent.com/batmanonfilm/conventions/icons/jett_mach5_sdcc-2007.jpg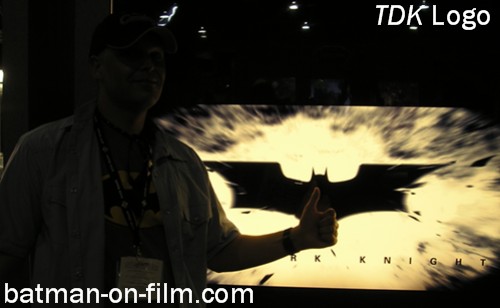 Sadly, but as expected, there was nothing TDK-related at Warner Bros. area (Boooo!) However, I did get to see Mach 5 from SPEED RACER! Loved that show as a kid! They even had Chim Chim in a cage! OK, I'm kidding about that last one.
From there, I wanted to hunt down some of the writers and artists that I know. Rather quickly, I found Matt Wagner and Tim Sale who were appearing in a both together, along with a few other people. I chatted with Matt briefly about Grendel and told him that he absolutely HAD to return to Gotham at some point I the future! I then took a picture with MW which you can see below (And NO, I am not drunk, LOL!). MW also signed copies of BATMAN AND THE MAD MONK and BATMAN AND THE MONSTER MEN TPB's for my two sons.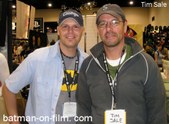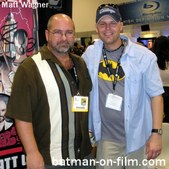 I then visited Tim Sale, who signed my copy of THE LONG HALLOWEEN and took a pic with 'ol Jett to put on BOF. Both Tim and Matt are very cool guys, so my thanks for time.
We then wandered around the convention for an hour or two before making our way back to the DC area once again. There, I saw DETECTIVE artist Don Kramer signing for the fans. I waited for a few minutes until he wasn't busy to approach him. Don remembered me from the interview he did with me for BOF a few months back, and Mrs. Jett snapped a pic of the two us to include on the site.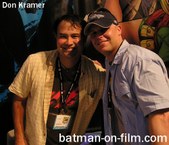 We left Comic Con for the day and proceeded to take in a few of San Diego's fine watering holes located in the Gaslamp Quarter. After attending the IGN party atop of a downtown San Diego hotel, we called it a day.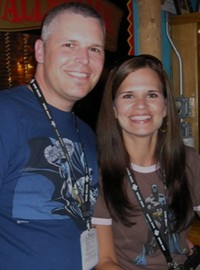 First up Friday would be whatever TDK event was being planned across the street from Comic Con. According to the website WHYSOSERIOUS.COM, "The Joker" was looking for "volunteers." The countdown clock on the aforementioned website was set to expire at exactly 10 AM San Diego time. Upon arriving at the preordained destination, about a 100 -- give or take -- Bat-Fans has congregated waiting to see what "The Joker" had planned.
At precisely 10 AM, jets flew overhead and spelled out an 800 number -- obviously wanting those there to call. The jets then spelled out "HA HA HA" before disappearing.
When calling the number, someone who had been "captured" by The Joker provided a few cryptic clues that marked the beginning of a scavenger hunt that took place in downtown San Diego. Brilliant! To make a long story short, the people that took part in the event ended up getting "Jokerized" and a new picture of The Joker (Heath Ledger) and Rachel Dawes (Maggie Gyllenhaal) was revealed. But that was not it, at the end of the hunt, the first teaser trailer for TDK was officially released online.
Because of this unexpected and very cool marketing stunt, I spent the day Friday at a bar following the events of "Why So Serious" and relaying them to the BOF'ers. I also got the chance to finally meet longtime BOF'er and site contributor Gregg Bray.
Saturday was spent at the convention again partaking in the "Fan Thing." I did attend the DC panel that afternoon where not much was revealed as I expected. Basically you had Dan DiDio and the rest of the DC gang hyping up the whole COUNTDOWN event that is currently going on -- as well as teasing about what sort of event will take place at the end of the countdown. And they are about to change the name of it to "COUNTDOWN: THE FINAL CRISIS." Another friggin' Crisis? Geez.
Following the DC panel, we headed back to the DC area as I was hoping to catch someone there that I really wanted to meet in person. And luckily, the dude was going to be there in about an hour. This guy is someone I've chatted with online for a few years now and whom I've interviewed twice for BOF. He also provided me with two exclusive drawings of The Joker (which was based on Lachy Hulme) and Two Face (which he based on Denzel Washington). Obviously, I'm talking about Lee Bermejo!
Lee was signing at the Vertigo table as he's doing the covers of HELLBLAZER. Several people were waiting to get an autograph and drawing of Lee, so I waited with them. As I stood right in front of him, he looked up and said, "I know you!" I then shook his hand and told him, "Of course you know me!" We chatted briefly about THE DARK KNIGHT. "I heard that there is a new picture of The Joker and the teaser's out," he asked me -- which I confirmed. Mrs. Jett then took a quick pic, and I left Lee to his line of fans.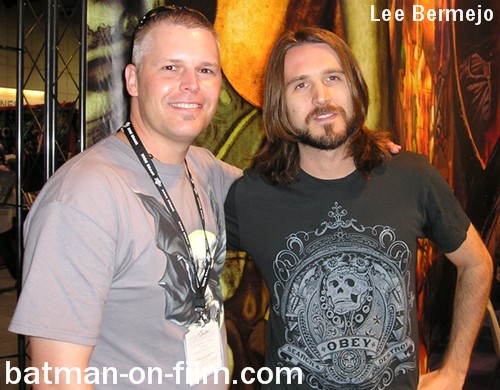 After that, the rest of our time in San Diego was spent doing the tourist thing for the most part.
Next year, I'm hoping that TDK has a HUGE presence, as the film will have only been out about a week or so once Comic Con rolls around in '08. Here's an idea: Warner Bros. has screening of 300 at Petco Park this year -- why not do that in '08 with THE DARK KNIGHT?
So as San Diego Comic Con International comes to an end, I was still hoping for a little more TDK there than what WB provided. I was hoping to see more than simply the film's logo -- like the Batpod perhaps? The "Why So Serious" viral marketing campaign was very cool, but it's still not the same as having people from the film there.
Next year, there needs to be a big TDK celebration at Comic Con…an OFFICIAL one at that. How 'bout it?
I'm working on the recap of SDCC 2007 and will have it posted later this PM. The whole "Why So Serious" deal -- which was fabulous -- caused me to Rearrange my schedule Friday, as I had to sit in front of my laptop and update as reports came in. I had to miss some of the WB presentation and the
WATCHMEN
announcement.
Anyway, my very fan boy-ish recap will be available for your reading pleasure later today.
After being informed by those officially close to the
TDK
production that
TDK
would not be "at" SDCC,
TDK
was represented there. Sort of.
Here is a reprint of what I reported on the BOF NEWS PAGE:
(7/27)>10:13 AM PACIFIC TIME: OK, jets flew overhead at 10 AM and spelled out this number: 800-395-9646...then "Ha Ha Ha." You get a recording from someone who is being "held" by The Joker, I guess. Obviously, more to come.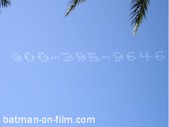 The Joker's Phone Number? (Click to enlarge)
(7/27) 12:24 PM PACIFIC TIME: BOF'ers, I can't keep up with today's Joker campaign in San Diego. BUT, if you are one of those scouring the city, send it a detailed report once finished and BOF will share it with the other readers…
A new pic of The Joker and Rachel can be found HERE.
(7/27) 4:11 PM PACIFIC TIME: The TDK trailer has been released online and you can find it HERE. Just as the BOF scoopers said...no political ads to be found. And a BIG thanks to all of y'all BOF'ers that have been emailing today! What a way to have a presence...but NOT have a presence! Screw IRON MAN!
(7/28) 6:30 AM PACIFIC TIME: BOF'er "Derek M." put together a A NICE DETAILED SYNOPSIS of yesterday's "Why So Serious" viral marketing campaign in San Diego...
A few more additions to the "Why So Serious" website: WANNABES, SURVEILLANCE (I'm in there somewhere!), and a POLICE REPORT...
Alright, we're less than two weeks away from
Comic Con International San Diego
!
Like last year, BOF will be there and will be blogging as much "Batman" news as we can cover back here ASAP. We'll also be covering other films, etc. that are presented during the convention as well. But the bottom line is if it's Batman, we're going to cover it!
Even though there will not be a panel presentation for THE DARK KNIGHT (BOOOOO!), there's been some scuttlebutt that Warner Bros. may premiere the first teaser trailer at the convention.
Coverage begins here on Thursday, July 26, 2007!