Friday, July 28, 2006
SDCC Wrap-Up
9:23 AM CENTRAL: Jett here with a short wrap-up of Comic Con 2006.
I won't reporting any news that I covered, but I will throw out a few thoughts and observations from The Con. It may surprise you to know that this was the first year that I attended this fantastic event. But BOF has grown to the point that I need to be there. Also, I've got ON-FILM up and running, and Comic Con caters to many things that we're doing there.
I thought San Diego was a marvelous city! Both Rachel and I absolutely loved it! The Gaslamp Quarter was a blast and we had a fun down in Old Town as well. I even visited The Whaley House -- which is allegedly the most haunted house in the U.S.
Being from Texas, I'm a Mexican food-oholic, OK? I've got to give a thumbs-up to the grub we sampled in San Diego. In fact, if you are reading this and are from the area, EMAIL ME your recommendations of the best Mexican food joints in town. I'll check 'em out next year.
As you know, on Friday night I was fortunate enough to be invited to a screening of THE FOUNTAIN. Of course, I honor all embargos, so my review will come in October. The next day, I got to meet the director of the film, Darren Aronofsky. The guy was cool as hell and we even chatted a bit about his BATMAN: YEAR ONE project he worked on with Frank Miller. If you scroll down, you can check out the pic Rachel took of me and Darren.
Probably the two best panels I attended were the ones for 300 and SPIDER-MAN 3. There's no doubt in my mind that both those flicks are going to kick ass! I also enjoyed listening to Bryan Singer and Richard Donner on Friday. I do hope another Superman film gets made -- and it looks like it will from what I gathered from The Con. Bryan's got some really good ideas for the next film.
Well that's about it. The next convention that I'll be headed to will be Wonder Con next March in San Francisco. Of course 2007 should be a busy year for The Bat, as the BATMAN BEGINS sequel will be in production. I'm sure at some point there will be a set vist, and I plan on going this time!
Monday, July 24, 2006
MARVEL MOVIES & DC COMICS COMIC BOOK/DVD NEWS
10:18 AM CENTRAL: A wrap-up from Comic Con 2006:
* It seems the Marvel is at it again (Look, I love the Marvel films, OK? But I wish they'd slow down just a bit in terms of cranking out comic book films. But, it does seem the days of ELECTRA and THE PUNISHEr are over). Projects cripting right now are CAPTAIN AMERICA, THOR, and NICK FURY. An ANT-MAN project is in the works. GHOST RIDER is hitting theaters in 2007 (The film's director, Mark Steven Johnson, was joined by stars Nicolas Cage and Eva Mendes at the panel and a new trailer was revealed). IRON MAN, with Jon Favreau is set for a May 2008 release. Louis Letterier just signed to do INCREDIBLE HULK which is rumored to be a BATMAN BEGINS-like film for the character. It's sort of strange the they are restarting a series so soon after the last (and firt) Hulk film..
In November, Superman is hitting the DVD shelves hard! The two most anticipated DVDs are a 4 disc special edition of SUPERMAN: THE MOVIE and SUPERMAN II: THE RICHARD DONNER CUT. The other 3 original Superman films are also getting "SE" releases…
DC COMICS and Warner Home Video have many direct-to DVD films in the works. Among them are DC: The New Frontier, SUPERMAN/DOOMSDAY (a sequel to the "Death" storyline in the comics), and THE TEEN TITANS. It was mentioned, but not announced, that THE DARK KNIGHT RETURNS has been seriously discussed. Paul Levitz says that this is only the beginning.
I'll be back later today with my final thoughts about attending Comic Con.
Sunday, July 23, 2006
Will Eisner's THE SPIRIT
1:06 PM PACIFIC: Saturday afternoon, I attended the THE SPIRIT movie announcement presentation. The panel for this event included producer Michael Uslan, producer Deborah Del Prete, Dennis Kitchen (Will Eisner's longtime manager), and the new writer and director of the film, Frank Miller.
Before taking questions from the audience, Mr. Uslan moderated a Q&A session with the panelists. Here are a few details about the film that were revealed:
* It will not stray far from the source material at all.
* Miller plans to literally transfer Will Eisner's images onto the big screen.
* It will not be a "period piece," but set in sort of a timeless universe.
* No casting yet.
* Could be shot in both black and white and color. There will be green screening and CGI ala SIN CITY.
* Miller plans to go full time with the project right after SIN CITY 2 -- probably May or June of 2007.
* The film's official title will be Will Eisner's THE SPIRIT.
* For more on the history of THE SPIRIT, visit WIKIPEDIA's The Spirit entry.
SPIDER-MAN 3
I'm sure the biggest and most anticipated presentation of Comic Con was Sony's SPIDER-MAN 3 panel. On hand from the cast and crew were director Sam Raimi and producer Laura Ziskin, along with the film's stars Tobey Maguire, Kirsten Dunst, Thomas Haden Church, Bryce Dallas Howard and Topher Grace.
Here's the rundown:
* Raimi finally confirmed that the new villains in the film are indeed Sandman and Venom, and that James Franco's Harry Osborn will not be playing either the new Green Goblin or Hobgoblin in the movie.
* There was footage from the film (albeit unfinished and rough) cut trailer-style.
* The biggest reveal was Venom in all his venomous glory!
I'm telling you right here, this film will be THE biggest film next summer, no doubt (although HARRY POTTER may give it a run for its money). I hope that my friends at Warner Bros. were paying attention because the next BATMAN will be filming this time next year and should be given the same treatment. I'm willing to bet the first look of Heath Ledger as The Joker can be -- and WILL BE -- just as big.
Saturday, July 22, 2006
DARREN ARONOFSKY, THE FOUNTAIN, & YEAR ONE
4:43 PM PACIFIC: I'm sure you figured out which movie I saw last night, right? Anyway, I met Darren Aronofsky today. Cool as hell guy y'all, really. So I told him I saw the movie last night, and he's like, "So who do you write for?" And I tell him "I run Batman on Film." And Darren says, and I was shocked, "So YOU'RE the guy!"
We talked a bit about the movie and I said -- for all y'all -- "I gotta ask you, for the Batman fans, what did you think about BATMAN BEGINS?" "Loved it," he told me, "Chris really did a hell of a job. Doing something different, but finally [nailing] Batman."
He said, "Well, I know that you know that I did YEAR ONE with Frank Miller." "Yes, I read it," I informed him. "What'd you think," Darren asked me. "It was different," was my response. "Hey, I knew it was never going to get made, it was so violent." "We just were trying to do something so opposite [from the previous films]."
At any rate, dude was cool and y'all need to check out that flick this fall.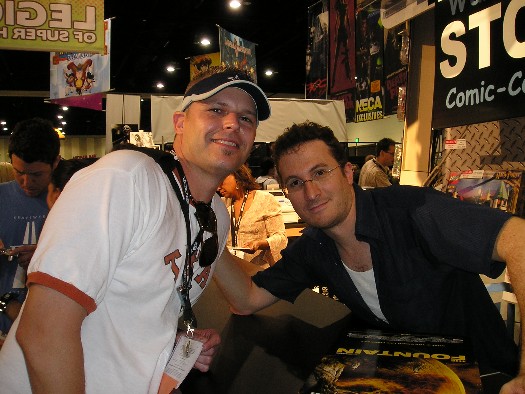 BRYAN SINGER & RICHARD DONNER
12:55 PM PACIFIC: Bryan Singer made another appearance at Comic Con Friday afternoon at the Warner Bros. presentation. Bryan took questions from the audience, most of which were pretty good, surprisingly. He was later joined on stage by director Dick Donner who was there promote the upcoming "Donner Cut" of SUPERMAN II.
Before Bryan came onstage, the presentation began with a blooper reel from SUPERMAN RETURNS which was pretty damn funny to say the least! Then out came Singer and the questions began. Bryan had a lot of interesting things to say and shed a lot of light on why SUPERMAN RETURNS was, well, "Superman Returns."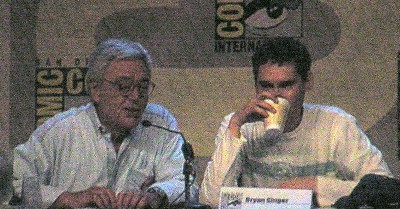 * The "Return to Krypton" scene was cut from the film because Bryan felt it simply "didn't fit." He has no plans to put it on the DVD; however, Singer likes it so much that he thinks it needs to be viewed in "3D IMAX."
* Singer commented on the parallel between Clark Kent being raised by human parents and the half-kryptonian Jason White raised in similar fashion.
* No deal -- yet -- on the sequel. Nonetheless, he is planning it for a 2009 release. My take is that he's negotiating with Warner Bros. at the moment.
* SUPERMAN RETURNS is a set and "re-introduction" for this new series. "Building a foundation" said the director, "You have to care about and invest in the characters first." He plans to go all "Wrath of Khan" with the next one.
* Why a sequel? "He had to 'return' from somewhere," said Singer. He felt that Richard Donner's SUPERMAN was the reason that we have comic book movies today. It was the "ultimate" Superman film and there was no reason to try to re-tell the origin story or re-imagine the character (as many were trying to do prior to Singer coming onboard).
* Singer wanted to make a superhero film that "romantics could embrace," as well as fans.
* Singer obviously thought the marketing sucked, but wouldn't say it flat out. "Some people did their job, some didn't."
* Is the next villain Brainiac? Sounds like it, even though Bryan hem-hawed around the subject. It also sounds as if General Zod could be making a return.
* Why not the modern comic book take on Superman for the film? Singer says continuing from SUPERMAN I & II is the starting point, and now there is room to incorporate some of the modern aspects of the character in future films.
* Young Clark needing glasses = Jason with his inhaler. Both came to the point they didn't need them -- Clark after falling through the barn roof, and Jason after "piano-ing" the dude on the boat.
* Singer: "Comic books and superheroes are our 20th century mythology." These characters will go on forever.
Donner said that he loved SUPERMAN RETURNS and said it was "…pure, honest, and up to date." He then said that Singer deserves a standing ovation -- and he got one.
Mr. Donner showed a clip from "his cut" of SUPERMAN II. It was kick-ass y'all. It features Lois figuring out that Clark is Superman by drawing glasses, hat, and a suit on a newspaper shot of The Man of Steel. She confronts Clark about it and says she's so sure she is right that she'll bet her life on it. And then jumps out of a DAILY PLANET window.
After that, Rachel and I milled around Comic Con for a while and then took off. Was invited to a screening for an upcoming film and that was to start around 8PM at a local theater in San Diego's Gaslamp Quarter. I'll tell y'all more about it later (I honor embargos), but you can check out the trailer for it HERE...
Today, I went to the presentation for 300 -- which I'll talk more about later. The word was -- and I don't know who started the rumor -- Nolan was going to be there and announce the casting of The Joker.
Didn't happen -- not that I expected it.
I asked a few of my Warner Bros. friends last night at the movie screening about that and was told, "Bill, you know more than us!"
Here's a pic of me from day one:

Friday, July 21, 2006
THE REAPING & THE WICKERMAN
1:43 PM PACIFIC: I attended the Warner Bros. presentation Friday at Comic Con. Today they were promoting three films: THE REAPING, WICKER MAN, and SUPERMAN RETURNS.
Of course, SUPERMAN is already in theaters, but the other two have yet to be released. And of the three, which one do you think got the most attention? You, guessed it, the one about the transplanted Kryptonian.
THE REAPING was first up with a panel that consisted of producer Joel Silver, director Stephen Hopkins, and stars Hillary Swank and AnnaSophia Robb. They started off with the trailer (which I saw the other day at the press screening for LADY IN THE WATER. This one looks cool. It's about this doctor (the PhD kind) who goes around and disproves supernatural events. This is Swank's character. It takes place down in Louisiana where there seems to be plagues of biblical proportion taking place.
Next up was director Neil LaBute and THE WICKER MAN. No trailer for it, but they did show the opening of the film. Nic Cage stars in this one, which is actually -- according to LaBute -- a "re-imagining" of the original film. The clip they showed was crazy, but I'm still not sure how excited I am for this one. LaBute was rather funny and clever though.
Then Bryan Singer entered the room to retroactively promote SUPERMAN RETURNS. I've got to tell, y'all, he was great! He talked A LOT about the film and why he did what he did with SR. I'll get to that in a bit -- yes, I'm leaving y'all with a bit of a cliffhanger here. But I haven't ate a damn thing today and plan to take care of that. And have a beer.
Oh, I will say that he did unofficially announce that he will helm the sequel and both he and Warner Bros. are looking at 2009 for the release.
And Richard Donner was there too.
11:01 AM PACIFIC: OK, I'm sitting in Hall H as I type this waiting for the Warner Bros. presentation to begin. I'm not expecting any news regarding Ledger and The Joker, so you shouldn't either. Check back later, I'll be attending some roundtables for THE REAPING and with Bryan Singer.
Thursday, July 20, 2006
6:12 AM CENTRAL: Alright, today is the day. I'm heading San Diego, CA to attend Comic Con.
Here's how I plan on doing this. I'm going to cover several events as well as make the rounds through the convention. I'll blog reports here "Scattershots" style. Then once I get back to Texas late Sunday, I'll post several individual articles and interviews that will be more detailed. I'm also seeing a film Friday night that I know many of you are wanting to see. If I can, I'll talk a bit about it Saturday.
How's that sound? Good.
Anyway, if any of you BOF'ers see me, come say hello! I'll have my camera and I'll snap a few shots that may make it back here on the site.
So again, come here (so bookmark this page!) for our Comic Con Coverage!
Sunday, June 4, 2006
12 PM CENTRAL: Hey y'all! Just wanted to let all of you five readers out there (*wink*) that me and the Old Lady (Actually, she's eight years younger than The Jett Man) are packing the bags and going to COMIC CON out in San Diego!
Now my wife is not a dork/geek like I am, but she's a trooper and does like all the stuff that I do.
Like Elvis. And Batman. And The Dallas Mavericks. And -- THE most important of them all -- The Dallas Cowboys (Well, at least she pretends she does really well!).
Anyway, we're going, and I'll be reporting my ass off for all you BOF'ers and ON-FILM'ers (Are there any "ON-FILM'ers" yet?).
Check back right here this July for my "intensive" coverage!
"Jett" is the founder and editor-in-chief of ON-FILM.NET and BATMAN-ON-FILM.COM.