Thursday, December 14, 2006
12:24 PM TEXAS TIME: It's been years since I've read THE DARK KNIGHT RETURNS. I'm talking at least 15 years.

Anyway, I was making my weekly stop at my comic shop yesterday to pick up BATMAN #660 and I usually check out all the graphic novels and TPBs while I'm there as well. And I've been buying quite a few of them too -- if y'all haven't noticed.

So what does this ramble have to do with the fact that I haven't read TDKR since I was in college? Well, I picked it up yesterday and I'm reading it again -- and man, it seems like I'm reading it for the first time!

So, once I get through it, I'll post some sort of "review" in BOF's "Batman in Comics" subsite.

I'm already through a good chunk of it and I've got to admit I forgot just how good and revolutionary TDKR is.
Wednesday, December 6, 2006
6:46 AM TEXAS TIME: Picked up two more Bat-books yesterday at my comic book shop: BATMAN IN THE 80s and THE BATMAN CHRONICLES, Vol. 2. I'll be reading these over the next few days and will provide y'all with reviews ASAP…
Speaking of going to my comic book shop, I picked up this week's Bat-comics and will have my reviews up shortly. I'm particularly excited to read BATMAN CONFIDENTIAL #1, the new monthly Bat-title. If you dig the "Year One-ish" Dark Knight as I do, this looks to be our book…
How 'bout my Dallas Cowboys! After that first Giants game when we got our ass kicked on MONDAY NIGHT FOOTBALL, I figured the season was done. But this Tony Romo…Wow! This could be one of those years for my Cowboys. I'm just feeling it…
If Mr. Nolan and Warner Bros. are looking for a behind the scenes "cameraman" during the entire production of TDK, I'm volunteering. You know, stuff they can use on the "Special Edition" DVD on down the line. I just got myself a nice Sony digital camera and I'm more than willing to volunteer my services…
I absolutely LOVED that "behind the scenes" stuff in SUPERMAN RETURNS DVD special features. That sort of thing HAS to be done for TDK's DVD release in late 2008. That stuff with Singer and his writers practicing their pitch to Warner Bros. and the production meetings is the kind of stuff I want to see…
So there's talk of a Justice League TV show on The CW -- a spinoff of sort of SMALLVILLE. That's probably a pretty good idea. IMO, a JL movie will not work, but a TV show certainly could. Here's hoping it pans out…
Why do I get the impression that the team behind TDK is kind of F'n with us Batman fans? I don't mean that they are doing it in a vicious way, but they've got to be having a bit of fun with us, don't you think.
Thursday, November 9, 2006
5:46 AM TEXAS TIME: OK, I'm PISSED! I went to my comic book story yesterday, and BATMAN AND THE MAD MONK didn't ship with their regular stuff. So I go back today expecting to pick it up, and the SOB is SOLD OUT! Ahhhhhhh! Consequently, my review will be delayed. I'm going to have to pull some strings on this one…
But I did pick up BATMAN: HAUNTED KNIGHT
TPB by Jeph Loeb and Tim Sale. Read about ¾ of it last night, and plan to finish it off this evening. Expect a review this weekend…
How long does it take for one to become the World's Leading Batman Know-It-All? That's my goal and I think I'm well on my way to reach it…
All you Foreskins fans can go ahead and gloat. That game last Sunday was a flat-out kick in the balls for yours truly. And to T.O., CATCH THE FRIGGIN' BALL! He catches that and it's game over boys. And one more thing -- Tony Romo is a PLAYER! Finally found our QB of the future...
Sunday, October 22, 2006
3:59 AM TEXAS TIME: Yes, I've actually laid down some new SCATTERSHOTS! Let's get on with it…

Just this past week I've received several emails suggesting this bit of casting in THE DARK KNIGHT or a future Bat-film. While I've preferred two other actresses for this particular part, I've got to admit this would be killer casting. Anyway, how about Scarlett Johansson as Selina Kyle? Thumbs up on that one…
If BATMAN BEGINS was the "Year One" of Bat-Movies, I guess THE DARK KNIGHT is sort of like a "Year Two," right? If so, I'm going to recommend some reading material for Mr. Nolan. THE LONG HALLOWEEN is a no-brainer. But I'd also suggest he take in BATMAN AND THE MONSTER MEN and the currently running miniseries BATMAN AND THE MAD MONK. Matt Wagner writes a fantastic and spot on young Batman…
Memo to Mr. Nolan: No "A-Hole" or psycho Batman, please. First and foremost, The Batman is a hero. He was depicted as such in BEGINS -- let's keep it that way…
So I go to the comic book shop yesterday (I guess I'll give 'em a free plug -- Bedrock City Comics -- if you go in, tell 'em "Jett" sent ya!) with my 9 year old son. I'm pretty much caught up with all the recent Bat-Books that I read, so I really went there to let my boy find something to read.
Anyway, being a fan of Matt Wagner's Batman, I picked up his TRINITY yesterday. If you are not familiar with it, it's basically The Batman and Superman's first meeting with Wonder Woman. It also features Ra's Al Ghul and Bizarro. I'm about half way through and I'm digging it as well. I'll be giving it a full review once I'm done over at BATMAN-IN-COMICS.COM…
I haven't given it a full review yet, but THE PRESTIGE is a hell of a film…
Another reading suggestion for Mr. Nolan and company. Take a look at what Paul Dini and Grant Morrison are doing in DETECTIVE and BATMAN respectively...
Whenever you see a movie review over at ON-FILM.NET, read it -- she's a really good writer...
Getting back into the Bat-Comics late last year was one of the best moves I've made in a while.
If you got away from them in the late 90s like I did (I really didn't like the way The Batman was being written -- you know, the whole "A-Hole Batman" thing), now is a great time to jump back in the water, so to speak.
I'd check out the TPB FACE THE FACE (see left) which was the "One Year Later" storyline running in both BATMAN and DETECTIVE after INFINITE CRISIS. It features the return of The Batman to Gotham after a year long absence. While he was gone, he left Harvey Dent "in charge" of Gotham as it's protector. I won't spoil it for you as I'll let y'all find out for yourself whether or not Two Face returns...
OK, the last time "The Player" went to "The Star," I wasn't happy. But this time, it's OK:
Just keep doing it T.O., keep doing it.
Thursday, July 6, 2006
3:37 PM TEXAS TIME: If anyone from WB is reading this, let me wholeheartedly say that the first teaser for the BEGINS sequel absolutely MUST be revealed next summer. If it was up to me, I'd attach it to SPIDER-MAN 3...
The bitching about SUPERMAN RETURNS is killing me! But it's expected, as there was a slew of complaining about BATMAN BEGINS last summer.
I'm sorry, as I said in my MY REVIEW, I loved the film. Admittedly, the original Donner film from '78 is one of my favorite films of all time. And I'm more than happy that Bryan Singer decided to go the sequel route.
But even so, SUPERMAN RETURNS is a hell of a film. I think some of y'all are being a bit tetchy about the movie.
For cripe's sake, I've received email from all over complaining about everything from Routh's "S-curl" to the fact that Clark drank a beer!
Stop for a moment and think about that -- people upset with the direction of Superman's curl.
Look, you can't please everyone, but I willing to guess that this Bryan Singer and co. made a lot of people happy with SUPERMAN RETURNS. It's made, what, well over $100 million during the first week? Come on!
Including this 40 year old geek…
Let me say this again: NO Superman/Batman team-up film is coming anytime soon, no matter what you read on the Net. Trust me.
Of course, I'm really hoping to see one when I'm in my 60s.
Sunday, June 25, 2006
2:29 AM TEXAS TIME: Somebody with some damn sense explain to me exactly why there is this "competition" between the various super hero films?! I'm getting hammered with emails from fellow geeks who love to tell me "Batman sucks," or "DC sucks," or "Marvel rules" and how I'm selling out on The Bat because I'm fired up for SUPERMAN RETURNS!
TO ALL OF YOU DOING THIS: Get a dad-gum! I'm mean, really, please do so ASAP! For Cripe's sake…
And another thing, I'm sorry Katie Holmes fans, BOF is NOT a "Kate" Holmes hater site. She WAS the weak link in the cast of BATMAN BEGINS; but come on, look who was in it! She was more than good, so no more emails telling me I hate her, OK? Thank you…
Speaking or which, I get all your email informing me how she HAS to come back. Fine, just give me a reason why Rachel Dawes should return.
Rachel told Bruce that it's over -- for the most part -- and he's not about to stop being The Batman. So why include her other than to have her whacked by The Joker? And do you acutually want that?
And sorry, they DO NOT make a "cute couple." Bruce Wayne does not make one of those with ANYONE. Mix in a little Batman mythology, OK?
Harvey Dent is coming in and he'll be "The Rachel Character" for the most part in The Sequel. Again, where does she fit in? And I was high (speaking figuratively, OK) when I said there should be a "love triangle." To hell with that stupid idea.
And it is time to bring in Ms. Selina Kyle anyway. Plus, if gossip pans out, Ms. Holmes may not be available anyway.
Let the hate email begin (*rolls eyes*)...
I'm off to see NACHO LIBRE today, which Paul Coffland has been raving about (Read his REVIEW). Taking my 5 year old with me too. He's seen the ads on Nick Jr. and has been on me to take him to see it. He's also been playing some NACHO game on the Nick website and wanting to "wrestle" with me as well. Look, I like Jack Black and I bet the movie is funny as hell, I'm just hoping that this doesn't start a WWE fascination with him. I WILL NOT let that happen! Check back later for my review...
I'm also seeing this CLICK thing today. I've labeled it as having "suck written all over it," but I'm keeping an open mind. It looks as if it is some weird amalgamation of IT'S A WONDERFUL LIFE and MODERN PROBLEMS. Look for that review this weekend.
Wednesday, June 7, 2006
11:12 AM TEXAS TIME: I can't wait to get a copy of LOOK UP IN THE SKY:! THE AMAZING STORY OF SUPERMAN
(see below).
From all that I've heard, this thing looks to kick major ass! Yes, I'm a "Batman Man," but I've always dug The Man of Steel as well. Not as much as The Dark Knight mind you, but enjoyed the character nonetheless.
As I've said many times here on BOF, SUPERMAN: THE MOVIE is one of my favorite films of all time. And I can't wait to see SUPERMAN RETURNS on June 26th here in Houston (Yes, I'm seeing it early and my review will available to read on June 27th).
Now, the main point of today's blog is that I want to see something like this for The Batman! Perhaps the same sort of DVD for The Darknight Detective can be produced and coincide with the release of The Sequel in June of '08?
Come on Warners, DC, the Bat-powers-that-be, make it HAPPEN! Anyway...
Got to dish out props again to my Dallas Mavs for winning the NBA Western Conference! Looking forward to the NBA championship series vs. the Miami Heat.
Wednesday, May 24, 2006
7:37 PM TEXAS TIME: Hell YES! Way to go Mavs!
Got to give props to my Dallas Mavs for winning that absolute GREAT series against the San Antonio Spurs. MAN, what a series! Let's GO Mavs! Two more series to go…
I want to say thanks to all of you who have given ON-FILM.NET a chance. Lot's of positive feedback from you all. Hang in there and grow with us…
I think y'all, that we are in a bit of a dead time as far as any Bat-movie news coming our way. Trust me, I'm getting tons of "scoops," but nothing worth running. As I've said previously, once the summer movie season is done and we get to the Fall, expect some major and official Bat-news…
During this June and July, expect some major additions to BOF's "History of The Batman" section…
That's it for now. It's 7:37 PM here in Texas and the Mavericks/Suns game is about to start. Got to run and go watch the Mavs kick some ass. Late.
Sunday, May 21, 2006
1:29 PM TEXAS TIME: Longtime no talk my friends! Thought I'd throw out a few scattershots this afternoon. I'm actually about to have a meeting with Paul Coffland and Jenn Bobbitt about ON-FILM. Got to take a look at what we want to do the rest of the year. We've got A LOT of plans, so I hope you hang in there with us…
I saw THE DA VINCI CODE (you can read my review HERE). Anyway, had a bunch of protesters at the theater Friday night. None there the remainder of the weekend. The theater was packed actually. Didn't get a gauge on the audience's opinion though. I thought Paul Bettany was pretty good, but he didn't change my mind one way or the other about playing The Joker. I still prefer Lachy Hulme and I do like the idea of Hugo Weaving in the role…
I've had a lot of people ask about the HISTORY OF THE BATMAN section here at BOF. No, I'm not done nor have I quit on it. Got a lot coming this summer, so be looking for it…
I liked OVER THE HEDGE -- I just wish it had a bit more adult humor ala SHRECK and TOY STORY…
I'm looking forward to seeing X-MEN 3 or whatever it is being called. I'm a "DC Guy" and I've never read one single X-MEN comic books, but I've enjoyed all the films. I'll be reviewing that one as well…
Have I said that I've loved reading the Batman comic books of late? I'm glad I got back into reading 'em…
Something else to be looking for over at ON-FILM - another interview with Chris Courbold. I think Paul Wares is going to do it -- at least I've asked him to handle it -- and it will be for the upcoming CASINO ROYALE. And be looking for parts 2 and 3 of our interview with Chris that we are currently running…
I've heard through the grapevine that WONDER WOMAN will hit theaters in '07. I have no idea when, but I'd expect it to be a summer flick…
My damn Dallas Mavs had a 3-1 lead on the San Antonio Spurs and have now lost the last two games! I'm convinced that if Jason Terry had played Friday night (he was serving a one game suspension for hitting Michael Finley in The Jimmy), we'd have won the game. Now it is all or nothing tomorrow night in San Antonio…
Here is an example of the question I get in tons of email: "When are we going to get some real news?" Well, for one thing, you have been getting "real news." If you want "official news," this fall is going to be quite busy I suspect…
Do you think Gary Oldman's Jim Gordon will sport any gray hair in The Sequel? Not a whole head of it, but a few strands here and there. Sort of like in THE LONG HALLOWEEN…
I've got to wonder if The Joker will not be revealed completely until the end of The Sequel? I'm don't know if that isn't a smart idea…
Katie Holmes fans: please chill out. I get your emails and I understand that you want her to return for The Sequel, OK? I'm sorry that I want to see Selina Kyle -- I'm sort of lobbying for that right now. Even if Selina shows up, I still think there is room for Katie's Rachel Dawes -- but not near a big of a role as it was in BEGINS. Maybe it's Dent, not The Joker, who goes off his rocker and whacks Rachel?
Thursday, May 11, 2006
8:13 AM TEXAS TIME: Thought I'd scattershot some of my "updated" casting choices and thoughts about The Sequel. And always, I reserve the right to change my mind at some point down the line.
THE JOKER
I'm still a Lachy Hulme man. I saw that clip that made the rounds online, and liked what I saw. I like his look and intensity which makes me believe that he would make a hell of a Joker. I also still want an unknown in the role for reasons I've talked about ad nauseam. I also understand the concern in going with such a complete unknown for such a BIG role. But remember, it's The Batman who is the star of this film, not who is going to play the villains.
But, if it isn't Hulme, then my #2 choice is Hugo Weaving. Hell of an actor and he's got the right look for the role. He's a tad older than I'd like, but no doubt in my mind that he'd be fantastic.
Paul Bettany, *sigh*. My #3 if I had to rank Hulme, Weaving, and Bettany. I like him as an actor, but he just doesn't scream "Joker" to me. I certainly wouldn't be disappointed if he is cast (and BTW, there is no such word as "casted").
The recent rumors that the role of The Joker would be mysterious and smaller (in comparison to BATMAN '89) was music to my ears! Let's keep the guy hidden in the shadows and mystifying as can be. And nothing over the top either. We already been down that road before.
One last comment for "The Powers That Be:" You DON'T need a "name" for The Joker. Trust me -- I'd tell you otherwise.
HARVEY DENT
I'm now a full-fledged Josh Lucas guy. Dude is a good actor and he wants the role. Plus -- and more importantly -- he gets the character. Cast this man as Dent!
With that said, I wouldn't be upset in the least if Mr. Liev Schreiber gets the part.
SELINA KYLE
Nolan and company, put this her in this film! She doesn't have to be Catwoman (yet), trust me. And add her ala THE LONG HALLOWEEN and DARK VICTORY. No one gives a damn -- or even remembers -- the gosh-awful CATWOMAN film.
Oh, I'd definitely dig Kate Beckinsale as Selina.
THE PENGUIN
I'd love to see him in The Sequel. He sucks as a main villain (IMO), but would fit fabulously as a secondary baddie. And remember, there is a void in Gotham's underworld now that Falcone is done. I think Oswald Cobblepot would make a play to become Gotham's crime boss. I also like the rumor of The Penguin being a British arms dealer.
Oh, Robin Williams would be perfect for the role! I know many think "zany" when it comes to Williams, but dude has proven in the past that he can do serious and do it well. I would think he'd jump on board because Mr. Nolan is directing.
JIM GORDON
He was done awesomely in BATMAN BEGINS. Now, expand his role in The Sequel. And make him a bit more of a badass -- not that he wasn't in BEGINS. Y'all know what I'm talking about here I'm sure.
One more thing about Lt. Gordon. I would love to see him promoted to police commissioner at some point during the next two films -- and not at the very end.
GOTHAM'S CRIME-FIGHTING TROIKA
The team of Dent, Gordon, and The Batman is a must-have. THE LONG HALLOWEEN nailed it and we need to see them make their "pact." This has to be in The Sequel.
SALVATORE MARONI
Sal's got to be in the next film, as according to the comics, he is responsible for scarring Harvey Dent. As mentioned previously, there is a void in Gotham's organizes crime element. Maroni would want to take Falcone's place as the top mafia dog in the city. You can't go all "freaks" yet, and having Maroni would make tons of sense.
As for casting, I'm sticking with my previous suggestion of Ray Liotta.
FREAKS VS. GOTHAM'S TRADITIONAL CRIMINALS
I've got to refer back to THE LONG HALLOWEEN and DARK VICTORY yet again. I'd love to see a bit of this in the sequels. I believe that this would allow many of The Batman's classic rogues to be used in cameo-esque type roles. The "war," if you will, between these new "Freaks" and Gotham's traditional criminal element would be a fantastic component of the storyline.
And maybe there would be some mysterious, green-haired and white-skinned individual behind the scenes, playing the two sides against each other? Just my thoughts on the sequel...
Alright, I read the entire INFINITE CRISIS series which recently end with issue #6. While I was virtually clueless when I started reading, I slowly began to catch on to what was happening. I liked the way it ended -- sort of. It did give a nice re-boot to the DC Universe and looks to be a good starting point for those (like me) who haven't read comic in a while.
At any rate, if you didn't read it, I recommend doing so. You can probably still pick all issues up at your local comic book store. And I'm sure that a book will soon be released that features all six issues together.
Friday, May 5, 2006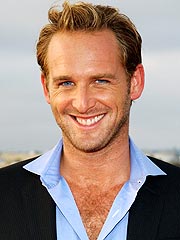 2:03 AM TEXAS TIME: I must admit that Josh Lucas' very public desire to nab the role of Harvey Dent -- and eventually Two Face -- in The Sequel is nice to see. I'm sure -- in fact I know -- that there are many actors and actresses who want desperately to be in the next Bat-film. But to date, Lucas has been the only one to campaign in the public eye.
And you know what, I'm all for him getting the role. In fact, I'm on the verge of campaigning for him her on BOF. I still like Liev Schreiber, but you got to like Lucas' passion.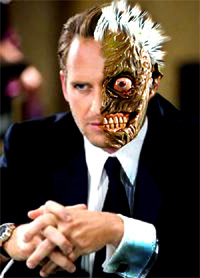 Furthermore, I'm going to make another pubic shout out -- this time to Josh Lucas himself. Dude, if you want this role and want the fans to back you, you are more than welcome to come here to BOF and plead your case. Just contact me and we'll set up an interview.
Hey, you never know. The last time I tried that I got the chance to talk to and interview the great Michael Uslan!
I included a manip of Lucas as Two Face above and left by BOF'er Andre L...
We should have ON-FILM.NET fully live by Monday morning, FYI. Don't expect anything big -- yet. But I hope you'll give us a chance and stay with us as we grow.
>> SEND ME FEEDBACK <<
Thursday, May 4, 2006
6:20 AM TEXAS TIME: I just watched that video of Nolan and Goyer (again) over at IESB.NET and it has damn near laughing! I'm not knocking the guys over there that got the interviews -- props to them. Maybe it's just me, but I found both those dudes -- especially Goyer -- funny. Did you see the look on Goyer's face? He was really fired up to do that interview wasn't he? Nolan shouting "Don't say ANYTHING," and Goyer's "I'm NOT" response was classic!
Anyway, I did enjoy what they had to say, which confirms that The Sequel is much further along than Warner Bros. and others let on. They've got their story, the script is being written, and casting is being discussed. And as reported earlier, once Nolan is done with THE PRESTIGE, he'll go into full Bat-mode...
What to see a clip of Lachy Hulme practicing his craft? CLICK HERE. This is, I believe, from FOUR JACKS.
>> SEND ME FEEDBACK <<
Wednesday, May 3, 2006
6:20 PM TEXAS TIME: So I was searching the Net the other day for some artwork from THE LONG HALLOWEEN. I'm hoping that Nolan & Nolan & company take elements from that storyline and incorporate them into The Sequel. Now I don't want to see "Holiday" or anything, but I'd love see some of it in there -- like there was a bit of YEAR ONE in BATMAN BEGINS. So…
…one scene that I'd LOVE to see -- one that's almost a must is the one below (click to enlarge):


&copy DC COMICS
So, what do y'all think? Are you with me on this one? Let me know...
If you haven't voted yet, the latest "Bat-Poll" pertains to casting The Joker. Right now, Mr. Lachy Hulme is leading with 44% of the vote. Hugo Weaving is in second with 23% of the vote.
>> SEND ME FEEDBACK <<
Tuesday, May 2, 2006
4:07 PM TEXAS TIME: OK, I'm about to check out the SUPERMAN RETURNS trailer. I'll let you know what I think in a bit (like y'all care ;) )...
Here's what I think: Wow!
I don't know about y'all, but I LOVED it! Took me right back to '78 when I was 13 and saw SUPERMAN: THE MOVIE for the first time.
Call me a sell-out, a Warner Bros. kiss-ass, I couldn't care less. Why...
BECAUSE Singer and company have NAILED IT.
The Batman needed to begin. BATMAN BEGINS proved that.
We didn't need any Kryptonian civil war and a Lex from said planet. Or an "outsider" Superman. Or Superman fighting a giant spider.
All we needed was for Superman to *ahem* return.
And it certainly looks like it.
My anticipation for all DC COMICS characters -- "ON FILM" -- is sky high right now. You're on a roll WB, keep it going...or ELSE.
And don't you hate Spacey's Lex already? ;) (Sort of like we need to hate The Joker - hint, hint.)
> SEND ME FEEDBACK <<
Friday, April 28, 2006
5:35 PM TEXAS TIME: Fanboys -- I love y'all. Hell, I'm a "fanboy" too. Well, I guess I am. Maybe a "fanman" since I'm 40 years old. Anyway, about this Joker business. In particular the reaction to my source's info that The Joker's role in The Sequel will be "small and mysterious."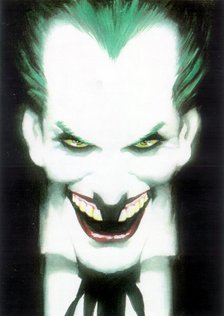 Guys, chill! For cripe's sake relax.
There is no doubt we're going to see The Joker up on the big screen. We are not going to have a case of Mr. Burton's take on The Penguin here -- NO offense to all you RETURNS lovers. But I think y'all get what I'm saying here.
For me, this was fantastic news. I've long said here on BOF that I wanted something different and not "Jack's Joker 2." I don't need a purple suit and I don't need over-the-top antics either. I've also said that there shouldn't be anything "ha ha funny" about this guy. Now the stuff that he does is funny to him, but to us it's repulsive. I want to hate the bastard, OK?
At any rate, this "small and mysterious" news/rumor was music to my ears. I hope to high heaven it pans out.
Frankly, I can't wait to see who will ultimately be cast in the role and Mr. Nolan's take on the greatest comic book villain in history...
Y'all know what's sort of like the animated version of the Burtonization of The Penguin? The Joker in THE BATMAN. I really like the show, but The Joker is my least fave villain on that series. Can't the dude at least wear shoes? Oh well...
This Hugo Weaving has grown on me. I'm still a staunch Lachy Hulme man myself, but I can certainly see Weaving kicking ass in the role. I wasn't the biggest MATRIX fan (although I loved the first one), but I dug V FOR VENDETTA big time...
I really want to see Mr. Hulme in MACBETH and BOYTOWN. Are these films going to get a U.S. release? If any of y'all see these films early, shoot BOF a review please.
>> SEND ME FEEDBACK <<
Wednesday, April 26, 2006
7:13 PM TEXAS TIME: I've gotten these two questions more than anything of late here on BOF -- well of the "Bitching" persuasion. So I decided to answer them here for you in my "Scattershots" blog.
1. "When BOF first started, there were no ads. Now you have ads. Has BOF become corporate? Are you just a greedy bastard?"
JETT SAYS: Hell no. When I first started, I had no ads because I had little traffic. I started out on one of those free website places!
Then around 2002/2003, my traffic increased big time -- I mean rather significantly. The bottom line here folks is that the ads support BOF. If I didn't have them, there would be no BOF.
I'm in sort of a gray area y'all: I get enough traffic that it costs me quite a bit to maintain the site. On the other hand, I don't get enough traffic to make any money. I break about even and the site sort of pays for itself.
If the ads bother or offend you, you have my heartfelt apologies -- really. Just ignore them and put those pop up blockers to work. If they don't, then this Q&A isn't for you.
2. "Why do you report rumors? I want some real news!"
JETT SAYS: My response to this is that I DO give you news. On the other hand, if all you want is press releases, then go to the other sites. BOF, at the core, is a fan site; so I'm going to report rumors. However, the stuff I give you here is NOT just blanket speculation. BOF does NOT report every "scoop" we get -- and trust me, I get tons every single day.
Look, I know that BOF isn't for everyone. It's sort of an acquired taste. If you don't like what I/we do here, so be it. But if you do you are in luck -- I ain't changing.
>> SEND ME FEEDBACK <<
Tuesday, April 25, 2006
2:11 PM TEXAS TIME: Hugo Weaving. Here's my take on him playing The Joker: I'd be OK with it. Heck, I may be more than OK due to the fact I think he'd be superb. He's tremendous actor and was really impressed with him in V FOR VENDETTA (in what amounted to a voice-over job). Looks-wise he could certainly work. My only concern is his age. Not that he's "old" per se (hell, he's only 5 years older than me), but I'd like to see a younger actor cast this time. If he get's the role, he'll be 47 when they film the sequel next year. One of the biggest criticisms about Jack Nicholson was that he was over 50 when he played The Joker, (52 when BATMAN was released) and most agree he was a tad *ahem* mature for the part. Of the others, Lachy Hulme (who is still my fave) is 35 as is Paul Bettany (come May 27th). ..
I'm officially staring the "Official Include Selina Kyle In The Sequel Campaign." Anyone else with me?
Thursday, April 20, 2006
9:00 PM TEXAS TIME: OK, first of all, I bought the shirt below today. What do y'all think? Am I a fool for thinking it's kick ass? Let me know…
Josh Lucas as Dent? I can dig it. So it looks like BOF was on the money again. And some of y'all doubt me (You know I'm kidding here, right?). I'm still a Liev Schreiber man, but I'd have no problem with JL getting the role. And BTW Josh, IF you read this site, and REALLY want this role I suggest you read the two books below my friend:
Those two are the greatest Harvey Dent/Two Face comics I've ever read. If you want to be Dent, read 'em...
And if y'all want some advice -- I mean all of you that want to play Dent -- just shoot me an email or visit the BOF FORUM. Most of those guys know their Bat-stuff.
>> SEND ME FEEDBACK <<
Tuesday, April 18, 2006
5:22 PM TEXAS TIME: OK, I know I'm on the record saying that I want Katie Holmes to return as Rachel Dawes in the upcoming Bat-sequel. I've said I wanted continuity among the female lead in this series. Hell, I've even suggested re-casting the part if Holmes didn't return. That's all true, but…
I've changed my mind.
What role is Rachel going to play in the sequel? Bruce's love interest? No, Rachel herself made it clear that it was done -- at least until The Batman wasn't needed in Gotham and "Bruce" returned. Is she going to start up a relationship with Harvey Dent? No, because Dent is married and we want to like Dent. Having an affair with co-worker Dawes certainly won't endear the character to the audience.
Is she going to be an ally to The Batman? She already has been and there is no point seeing that yet again in the sequel. Plus, that's why Dent is entering the picture anyway. Along with Gordon and The Batman, the three will form a crime-fighting troika in Gotham.
No need to make it a quartet.
I know what I'm going to suggest next is contrived and predictable. I've said as much myself several times. I believe that Rachel can best serve the story by getting whacked by, well, you know whom.
Let the hate mail begin from the Katie fans…
With that said, I'm officially on the "Include Selina Kyle In The Sequel" bandwagon. In fact, if I'm not driving, I'm at least navigating...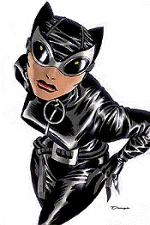 I didn't say it had to be Catwoman. Just Selina will do!
(&copy DC COMICS)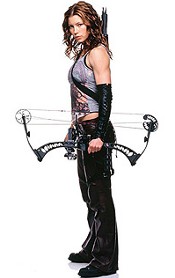 If you've been reading me for a while, you know that I consider myself a big "DC Man." BOF supports any live-action adaptation of the DC Comics characters -- as long as they are quality productions. I'm fired UP for SUPERMAN RETURNS (if y'all haven't figuered that out yet) and hoping to see The Flash, Captain Marvel et al on down the line.
As long as we don't overdo it like Mar -- errrr -- some other comic book company and their films.
On that note, you also know that I'm not all that fired-up for WONDER WOMAN that is being developed by Josh Whedon at Warner Bros.
Yet.
However, it looks like it's going to happen, so let me throw my two cents in regarding casting. Of all the names I've heard bandied about for the part, I'd go young and hire Jessica Biel - just dye that hair jet-black. She sure as hell can do the physical part that role will require (see BLADE TRINITY). And she's hot as a firecracker -- which Diana Prince should be.
But please, no invisible jet.

If she looks like this, I may come around! (&copy DC COMICS)
Our movie review site, "ON-FILM.NET," Will be fully online on May 8th.
Really! I promise!
Don't expect a bunch of bells and whistles, ok? But do expect what you've been getting from BOF for years -- honest opinion.
We don't owe anyone squat, so we'll tell you how it is when it comes to a movie. I hope you give it a shot and stick with us as well grow.
Oh, one of my reviewers is HOT! Really, she was a cheerleader for an NFL team! One that sucks, but we won't mention that again, OK?
>> SEND ME FEEDBACK <<
Monday, April 17, 2006
1:14 PM TEXAS TIME: As I've told you all several times in the past, I've always enjoyed BATMAN BEYOND. When the series ended, I wondered how things would eventually pan out for Terry and of course, Bruce. Later on, I discovered that that particular question was answered in an episode of JUSTICE LEAGUE UNLIMITED. Unfortunately, I never saw that episode -- until yesterday.
Somehow while doing my daily net-surfing for news, I came across the website YOUTUBE.COM and actually found that particular episode titled "EPILOGUE." I thought it was fantastic myself. If you haven't seen it, CLICK HERE to check it out.
>> SEND ME FEEDBACK <<
Saturday, April 15, 2006
10:49 AM TEXAS TIME: So I heading back home from the gym this morning and I'm thinking about Batman -- which of course shows just how much of a geek I am. Specifically, who I would cast as Silver St. Cloud. And then it dawned on me that it was Vicki Vale, not Silver, that appeared in ALL STAR BATMAN AND ROBIN. My bad. So, would you mind another go-around with Vicki in this new Bat-series? Me, I'd prefer Ms. Kyle (hint-hint-hint Bat-crew)...
Anyway, here's the drawing I was thinking about of Ms. Vale from ALL STAR BATMAN AND ROBIN (click to enlarge):


Vicki Vale by Jim Lee (&copy DC COMICS)
Friday, April 14, 2006
3:33 PM TEXAS TIME: I'm officially starting a "Robin Williams as The Penguin" campaign. Of course, I don't know for sure -- other than what I've been told by good sources -- if Oswald Cobblepot will end up in The Sequel. But I think that Williams is a hell of an actor and could certainly pull it off. Now, he may have to gain a tad bit of weight for the role, or he could simply wear some sort of prosthetic "belly." So, are y'all with me on this one? One more thing to the Bat-folks in charge: I like the idea of The Penguin being British…
Let's say that Ms. Katie Holmes doesn't come back. Rachel has left Gotham during the time between BEGINS and The Sequel (and Harvey Dent has come on board as a hotshot Asst. D.A.). Or maybe she gets whacked by The Joker at some point early in the film.
Nonetheless, let's go with the premise that Rachel is done. So we're going to need another female lead, right? Let me begin a campaign to include Selina Kyle -- not "Catwoman" per se -- for that role. And if Selina is included, I'd love to see Kate Beckinsale nab the role.
And I know I'll get grief for this but I don't care. I'd take Angelina Jolie as Selina Kyle in a New York second! As my Minnesota in-laws would say: Youbetcha! Anyway…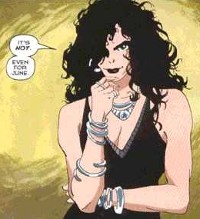 Selina Kyle in THE LONG HALLOWEEN (&copy DC COMICS)
Maybe we could go old school -- well, from the 70s if that's old school -- and have Silver St. Cloud show up in Gotham. I could certainly dig that, especially if she looks anything like how Jim Lee drew her in ALL-STAR BATMAN AND ROBIN.
So who would I pick to play the hot Ms. St. Clould? Hmm. Let me think about it and I'll let you know in my blog here in the next few days. And feel free to send me your Silver casting ideas as well. Take care y'all and to those who celebrate Easter, have a great holiday weekend! And even if you don't celebrate, have a swell weekend too!
>> SEND ME FEEDBACK <<
Wednesday, April 12, 2006


10:14 AM TEXAS TIME: There is no way that Robin Williams is going to be The Joker in the upcoming sequel. BUT, I could see him in a small role as Oswald "The Penguin" Cobblepot. I know people are enamored with Bob Hoskins in the role, but casting him is sort of too predictable. I think Williams is a hell of an actor and can pull it off -- even if Cobblepot is going to be portrayed being British as rumored. Hell, we've got several Brits playing Americans (like Bale and Oldman), why not a Yank playing a British character?
>> SEND ME FEEDBACK <<
Friday, March 31, 2006
7:02 PM TEXAS TIME: Let me give you a football analogy when it comes to THE SEQUEL. Y'all know I'm a HUGE Dallas Cowboys fan, right? Over 30 years, but that's not what I'm talking about here.
Anyway, during the off-season, fans of each team will bitch saying, "Our team ain't doing nothing to make us better." But in reality, they are. The coaches, scouts, and front office guys are working their asses off. So where am I going with this? Here: The same is going on with THE SEQUEL. Just because YOU don't hear news about it day to day, doesn't mean that nothing is going on. Get what I'm saying here? Because -- and trust me on this one -- LOT's of stuff is going on. Some things I simply can't reveal to y'all yet -- got to protect those sources.
However, there is no doubt in my mind that this film will not be HUGE. And very, VERY good.
And GO COWBOYS! ;)
>> SEND ME FEEDBACK <<
Wednesday, March 29, 2006
6:32 PM TEXAS TIME: Trust me, I am as sick as y'all are of the lack of news. However my dear readers, The Sequel is indeed moving full steam ahead and work on it is progressing as we speak. What you and I want to see -- OFFICIALLY -- is casting news. Right? Well, it is coming -- have faith. It'll kick up several notches by the latter part of the year. In the meantime, let's get fired up for SUPERMAN RETURNS.
Tuesday, March 21, 2006 TEXAS TIME: I never -- I mean NEVER -- thought I would say the following in a million years:
"GO T.O!"
Forming those words and getting them out of my mouth is still a bit of a chore. But I'm practicing. And I hope to be saying that A LOT this fall…
To answer a question I've been getting a lot lately, I'll do it here instead of the Mailbag. I've got no desire to see a Batman/Superman team-up film. I think it comes off contrived and has the chance to come off a tad cheesy. Yes, you can pair the two characters up in comic books and it works, but I don't think it would in a movie -- I just don't see them meshing.
Keep them separate and make a string of outstanding Bats and Supes films for years to come.
Thursday, March 16, 2006
1:04 AM TEXAS TIME: OK my dear readers, if you haven't checked out the UPDATES PAGE, my V FOR VENDETTA REVIEW has been posted. I've also started a NEWS PAGE for SUPERMAN RETURNS that I hope y'all will check out. I'll be honest with you all -- I'm fired up for that film! I remember back in '77 when I first heard about a new SUPERMAN movie in the works and I can still recall how it blew me away when I first saw it in '78! Love that film! I'm getting a feeling that SUPERMAN RETURNS is going to be BIG this summer -- probably do more business at the box office than our beloved BATMAN BEGINS. But that is totally understandable. It has been a LONG time since there has been a new Superman film; plus, BEGINS was fighting a lot of ghosts last summer. But is still did a hell of a job! Anyway…
I'm off to Vegas tomorrow baby! Don't you have to throw in a "baby" anytime you are talking about Vegas? Nonetheless, I'm not planning on it being a working vacation, but if anything happens this weekend, I'll be on it…
Of course, I could always blog about my trip. I'm sure that'll bring in the readers. Take care y'all!
Wednesday, March 15, 2006
12:01 AM TEXAS TIME: My REVIEW OF V FOR VENDETTA has now been posted. Give it a read.
Monday, March 13, 2006
3:29 PM TEXAS TIME: OK y'all, I'm going to do a little self-promotion here. I'm seeing V FOR VENDETTA again tonight here in Houston. Loved the film and I'm lucky enough to get the chance to see it again early. My review is ready to go and will be posted on Wednesday at 12:01 AM. I don't know if I'll make any changes to it, but you know how it is seeing a movie for the second time. And to be honest with you readers, I was struggling big-time the first time I saw it in San Francisco. The screening there was at a little after 10 PM Pacific, so to my body, it was midnight. Anyway, enough of this. Just check out the review and make sure you sign up for the V FOR VENDETTA CONTEST here at BOF.
Friday, March 10, 2006
6 PM TEXAS TIME: I've got a few emails of late criticizing me and BOF for "reporting 'BS.'" To all of ya'll who have sent in such emails, point taken and a fair criticism. HOWEVER, I'm not simply a mouthpiece for a movie studio and we DO report rumors -- substantiated rumors -- but rumors nonetheless (perhaps you may want to read BOF's disclaimer). So please, unless I tell ya'll to set it in stone, don't. And when I do, break out the hammer and chisel...
I'm now convinced that T.O. is coming to Dallas. Reminds me of signing Deon back in '95. I assume that if he dances on The Star this season, it'll be met with a different reaction.
3:17 PM TEXAS TIME: Not that I'd be against it or anything, but I simply don't believe that Hugh Jackman is going to be in the BATMAN BEGINS sequel. Now, I think he'd make for a fine Harvey Dent and Two Face on down the line. But Hugh has too much work lined up and I'm pretty confident that Leiv Schreiber is the front-runner for THAT particular role….
Wednesday, March 8, 2006
6:05 PM TEXAS TIME: I've read every installment of INFINITE CRISIS, and I STILL don't know what the hell is going on! Sort of. I guess I've been so out of the DC loop that I'm rendered clueless. Someone EMAIL ME and clue me in on this cluster fu**!!!! However, I did pick up the new DETECTIVE COMICS -- now that I'm back into comics -- and I'll post a review of it tomorrow for y'all. It's the "ONE YEAR LATER" edition....
Now, I got ZERO HOUR, because I was knee-deep in comics back then. Hell, I must have bought every dadgum comic that DC published. So as I said, someone fill me in.
Tuesday, March 7, 2006
8:17 PM TEXAS TIME: Regarding the scattershots from earlier today, I did my homework and found out that that particular bit of info was total BS -- "BULLSH**" my insider exclaimed! Hey, I'll be the first to call horse crap on something I report if it isn't legit. But I didn't report this, but y'all know what I mean...
BUT, I can say that I've been told by someone I totally trust that the best way to describe this upcoming film is that it is in "ACTIVE DEVELOPMENT." Hang on y'all, it's coming -- we all know that...
With that said, I've got to post this pic that was sent to me by a BOF'er. I have no idea who the artist is, but let me know so I can give them credit. The dude certainly looks the part. I can see why he's in the mix...

10:07 AM TEXAS TIME: I've received some interesting information today that I'm attempting to confirm. One aspect of this news is that it really narrows down who may nab one of the big roles in The Sequel. Stay tuned!
Monday, March 6, 2006
7:07 PM TEXAS TIME: I hope the Nolan and Nolan (and Goyer in some capacity I assume) can find a way to work The Penguin into the storyline of the sequel. I really liked the idea of him in a smaller role as a British arms dealer. But if they are thinking it is too cluttered, or are holding off for future use, then so be it…
As I said on a thread on the BOF FORUM, I simply do not like the "BATMAN *colon* SOMETHING OR ANOTHER." If you are going to go that route, just drop the "BATMAN *colon* part and call it "SOMETHING OR ANOTHER." The Bat-logo basically says "BATMAN" anyway. Plus, when people go to the theater to see it, they're going to say "Two for 'BATMAN'" no matter what it's called.
Sunday, March 5, 2006
3:19 AM TEXAS TIME: Y'all wil REALLY want to enter the V FOR VENDETTA CONTEST that starts tomorrow. Best stuff we've had to offer! Really...

7:28 AM TEXAS TIME: BATMAN FOREVER is on TBS as I write this. Watching it with my kids. It is no where in the league of BATMAN BEGINS, but I still dig it. And it IS a better Batman flick than you-know-what...
6:38 AM TEXAS TIME: I have decided that I would like to see a graphic novel/limited series by Jeph Loeb and Tim Sale set after YEAR ONE, before THE LONG HALLOWEEN, and has The Joker as the main villain. Make this happen DC...
Before all you Batman'ers trip out over George Clooney's "Gay Batman" comments, I hope you realize that 'ol George was not serious. Hey, the movie sucked and he knows it -- might as well poke fun of one's self about it now.
Thursday, March 3, 2006
3:55 PM TEXAS TIME: OK, I know we've beat this sequel title thing to death, but I've got one more take on it, and then I'll let it ride for a while. Since BATMAN BEGINS marked the, uh, beginning/origin of The Batman, what about calling the sequel simply BATMAN since he's already began? Yeah, yeah, I can hear you now, "But Jett, that's what the first Tim Burton film was called." Let's remember that by the time this film hits theaters, 19 years will have had passed since 1989's BATMAN -- that is only 4 years less than the time between the 1966 BATMAN and the '89 version with Michael Keaton. Just a thought...
Wednesday, March 1, 2006
9:02 PM TEXAS TIME: An FYI for you readers. If you are interested, my V FOR VENDETTA review will be posted on the 15th of March. I saw it a few weeks back in San Francisco when I went to Wondercon. I know you've seen reviews for the film show up online already, but BOF honors embargoes. Also, I'll be running a contest for the film starting March 4th. Check HERE for both -- and other V related info...
9:02 PM TEXAS TIME: Several BOF readers emailed me suggesting that the Bat-movie titles need to be consistent. For example, we've got BATMAN BEGINS, right? Therefore, the title needs to be either "BATMAN DOESSOMETHING;" or if it is "BATMAN 2" (or "II"), stay consistent whichever way you go. Get what I'm saying here? You don't want BATMAN BEGINS followed by THE DARK KNIGHT followed by BATMAN 3, etc….
Methinks this is much to do about nothing. The quality of the film is what counts, not the title.
Tuesday, February 28, 2006
7:06 PM TEXAS TIME: Of the titles mentioned, I kind of, sort of like BATMAN ESCALATION. But I'd rather something else. But don't y'all think the whole "BATMAN SOMETHING" is getting , well, a bit tired? How long before you run out of "SOMETHING" to pair with "BATMAN?"
I'm not a fan of "BATMAN: SUCH AND SUCH," you know what I mean? And I don't really dig numbering sequels -- although I sort of like the scenario I suggested yesterday with the flying bats.
So what about a classic like THE DARK KNIGHT? Not BATMAN: THE DARK KNIGHT, simply THE DARK KNIGHT (Let me credit our friend Kris Tapley -- he must be on the same wavelength as me). You don't actually need "Batman" in front of it -- the Bat-logo speaks for itself and everyone is familiar with "The Dark Knight." Right? Oh well…
I guess that's why they make the movies and I only write about 'em.
Monday, February 27, 2006
6:47 PM TEXAS TIME: "Batman 2?" BATMAN 2? BATMAN II? Look, I've never been a fan of numbering sequels. And when I first heard this today from our insider friend I thought "meh." But then I got to thinking "That's not very original, but it is." I mean, how long can we continue with "BATMAN SOMETHING?" And I didn't really like any of the rumored titles -- except I sort of like BATMAN ESCALATION. But that was sort of blah as well.
So, dig this: Swarming bats flying across the screen…the BATMAN BEGINS logo forms…it breaks up, fade to black…and then a "2" appears onscreen. Does that grab ya? OK, how about the swarming bats form a "2" instead of the bat logo?
Anyway, the point is that I can live with it -- perhaps even embrace it -- if that's what the ultimately go with.
Oh, one last thing -- "Batman 2" sort of screams "See, BATMAN BEGINS was not a prequel!" Right?
Sunday, February 26, 2006

2:02 PM TEXAS TIME: OK, another reason to get on my ass -- I'm just now reading DARK VICTORY. While I was very familiar with THE LONG HALLOWEEN prior to reading it cover to cover, I've never looked at DV. So, when I left the gym this PM, I went across the "street" (It's really a very busy, what they call a "Farm to Market" road here in Texas) to BEDROCK CITY COMICS where I buy most of my books, and picked it up. Expect a review this week from me...
IMO, Warners would really be dropping the ball if they don't toss out some sort of morsel to Bat-fans this year. This rumor of an updated sequel website revealing the title of the film is a hell of an idea. If not true, it should be damnit...
Perhaps I should remind my dear friends at Warner Bros. that that new SPIDER-MAN 3 one-sheet really started a LOT of buzz since it was released...
Also, while I wholeheartedly agree with the way BEGINS was marketed and promoted, I'd kick it up just a notch for this sequel. I think it has the chance to be friggin' HUGE! Especially with The Joker in it. Look, I dig the SPIDER-MAN pictures, but there is not a more iconic comic book villain than The Joker. Although he STILL needs to be played by a low-key, but GOOD actor. Y'all know Mr. Lachy Hulme is my choice....
How 'bout my DALLS MAVS! Behind by 24 in the 3rd quarter and come back to win. I watched it from tip-off to the end -- hell of a game! And...
You fans that post BOF news on message boards, that's cool. Just POST A DAMN LINK back to BOF! Not doing that is uncool. Thanks.
Friday, February 24, 2006
6:52 PM TEXAS TIME: If you have been with me for a while, you know that even though I'm a "DC Guy," there are two Marvel mags I read as a kid -- SPIDER-MAN and THE HULK. And that was about it when it came to Marvel. Never got into X-MEN, but I really liked the movies. Anyway, the whole point of this is the debut of the new SPIDER-MAN 3 one-sheet that was revealed on SUPERHERO HYPE!. I've got to say it was cool as hell. You know that Venom is in this thing and Rami's "I don't like Venom" was nothing more than a red herring. Personally, I can't wait for #3...
CLICK HERE for confirmation that the Spidey-suit is indeed black...
Wouldn't it be really cool of little 'ol BOF was able to world premiere the first BATMAN BEGINS sequel one-sheet? Hell yeah I'm tooting my own horn here! So Warners, how 'bout it…
1:38 PM TEXAS TIME: BOF'er "Joe A." emailed me a nice argument why Hoffman may take the role of The Penguin:
"I wanted to provide a different point from your insider as to why Philip Seymour Hoffman could possibly be open to the "Penguin" role as a cameo in the next installment of Batman. My take is that Hoffman has pretty much existed in anonymity to a majority of the movie-going public throughout his career. Putting it not quite as nicely, he hasn't made a ton of money. His roles are quirky and not usually in mainstream fair (sound anything like the actor who is currently playing our hero?). First, what a cameo gives him is a nicepaycheck so he is free to take roles in non-mainstream movies that do not pay as well.
Second, a cameo gives the actor a chance to work on a movie for a week, maybe two, which frees him to take other roles and not worry so much about scheduling conflicts. I think that was one of the big draws early on for our favorite lieutenant, Gary Oldman to make a cameo in the third 'Harry Potter' film and maybe why there is speculation that he may be backing away from the next 'Potter' film as his role is set to be far more substantial.
Third, Hoffman does not have to be worry about being embarrassed as long as Nolan is at the helm. Hoffman has built a good reputation as a quality actor. With Nolan directing he does not have to worry about being paraded around as a gaudy one-dimensional freak show, as we have seen happen to other actors who have taken on villain roles in the previous films (Bane, Two-Face, Mr. Freeze., must I go on?). Can any of us imagine Liam Neeson, Cillian Murphy, Rutger Hauer or Ken Watanabe being apologetic or ashamed of the work they did in 'Batman Begins?'
Therefore, the "too big for a cameo" argument can easily be overcome in the face of the sheer quality that was demonstrated by 'Batman Begins.'
Finally, Warner Bros. & Legendary Pictures can hardly be accused of doing anything on the cheap when it came to putting up the big money to make a quality film. So I can't see them not coming up with the money for Hoffman if Nolan wants him."
My thoughts exactly. Just as I said earlier today, if Morgan Freeman would take a small role in a quality Bat-film, why wouldn't Hoffman? Good stuff there...
6:35 AM TEXAS TIME: I've got to admit that I'm a bit bummed out by the recent bit of info supplied by a good source regarding Philip Seymour Hoffman. While I know Hoffman is very likely to win an Oscar for CAPOTE, I'm hoping he would be interested in being in a BATMAN film -- especially with Chris Nolan directing. Hell, if Morgan Freeman can take on a small role like Fox in BEGINS (and in the upcoming sequel), then Hoffman may take a similar size role himself...
I'm hoping my choice for Savatore Maroni -- Ray Liotta -- gets the part. I'm not very interested in seeing Bob Hoskins in the role. Not that he would be bad, but it reminds me too much of Tom Wilkenson as Falcone. Liotta's the man for Maroni!
Thursday, February 23, 2006
5:49 AM TEXAS TIME: Looks what BOF had reported previously was on the mark. Chris Nolan and David Goyer -- Goyer in particular -- did write the treatment for The Sequel. Let's see if the storyline "Treatment Insider" told BOF months ago pans out. He did say that Goyer wrote the treatment and that has proven to be the case. Anyone who thought that nothing was shaking in regards to The Sequel was mistaken. Even though Nolan is working on THE PRESTIGE, pre-production has been rolling right along. Potential casting is being discussed, thus all the casting rumors we've been hearing. I don't know about y'all but I'm excited as hell for this film! Methinks it'll surpass BEGINS at the box office and as a film...
Goyer is obviously too busy to pen the entire sequel. But he's still involved and will be involved in the future...
Jonathan Nolan is an interesting choice for the screenwriter. I've got no problem with it at all.
Wednesday, February 22, 2006
3:38 PM TEXAS TIME: By popular demand -- and the fact that the advertiser thought BOF's readers were too mature for such an ad -- the NICK.COM ads have been pulled!! Hey, they annoyed me too.
Tuesday, February 21, 2006
6:16 PM TEXAS TIME: The only way I can see the Rachel Dawes character back for The Sequel, is to have her die at the hands of you-know-who. I've said that this was a bit contrived -- and it probably is to be honest -- but why else include her? It could really make the audience hate The Joker as I have demanded. Continuity and plot device -- I can dig it...
5:39 PM TEXAS TIME: Hugo Weaving as The Joker? I can see it. Dude's worked with Warner's before with THE MATRIX films and now V FOR VENDETTA. He's not too high profile and he is a hell of an actor IMO. Probably BS, but not a bad suggestion...
Jackman as Dent? He'd be good. I don't see how he can do it with his commitments and to do WOLVERINE, I don't know how he can work it in. But he's working with Chris right now, so who the hell knows...
I know what I know, and I'll say that there is a lot of BS out there and a lot of angling by people to be in this film, no DOUBT about it...
5:00 AM TEXAS TIME: If I were buying stock in "The Sequel," here's how it would go --
BUY: The story centering around The Batman, Gordon, Dent, and The Joker… Jake Gyllenhaal and Leiv Schreiber are in the lead to play Dent… Paul Bettany and Lachy Hulme are in the mix to play The Joker… Alfred (Michael Caine) and Lucius Fox (Morgan Freeman) returning in supporting roles.
WATCH: The return of Rachel Dawes (Katie Holmes)… The Penguin as a supporting character and Philip Seymour Hoffman playing him… Bob Hoskins as Salvatore Maroni… Flass, Loeb, and Mr. Earle returning in supporting roles… Dr. Leslie Tompkins being in The Sequel… Dr. Harleen Quinzel...Sarah Essen.
SELL: The Black Mask/Roman Sionis… Any rumor involving Guy Pearce, Hugh Jackman, and Johnny Depp...Talia.
Sunday, February 19, 2006
4:43 PM TEXAS TIME: The Katie Holmes crowd now HATES BOF for some reason. I thought I've been more than fair when it has came to Ms. Holmes and her work in BATMAN BEGINS. So I'm sure that this next take will fire up the Katie-Fans and I'll get hate-email out the kazoo. I don't see how her character fits in the sequel. The "love story" between Rachel and Bruce is done. It looks like Harvey Dent will be married (as he should per the Batman mythos) in the sequel -- so no "love 'triangle'" as I suggested at one time. So what's the character going to do, just be in the film to be in the film? If you can propose to me a reasonable and workable why to have THE RACHEL DAWES CHARACTER in the sequel, let me know.
Friday, February 17, 2006
10:27 AM TEXAS TIME: Alright BOF'ers, ON-FILM.NET will go "live" on Monday, April 3, 2006. Don't expect too much in terms of "bells and whistles, " OK? But what you CAN expect is the same quality and format you are used to with BOF. And remember, BOF is MY first priority and always will be. But this will give me a chance to do some other things that interest me film-wise. Plus, I've got lot's of help on this one. I hope you give us a chance and spread the word!
Thursday, February 16, 2006
10:27 AM TEXAS TIME: "Rahiem" sent me the absolute BEST mock-up I've seen of Liev Schreiber as Two Face. This is exactly why he's my #1 choice! (Please DO NOT hotlink this picture! You may use it, just give the artist and BOF credit -- Thanks!). The pic is below and click to enlarge:

Wednesday, February 15, 2006
5:56 PM TEXAS TIME: I've received several emails of late from BOF'ers and Batman'ers in general who are concerned that The Sequel is getting "too crowded." I agree -- sort of. I thought about blogging my take on the whole thing here, but decided to write an op-ed on that topic. Check that section of BOF in the next few days to read my take on the whole situation…
So, If I get some T-Shirts that say "I'M A BOF'er!" with the BOF domain on the back, would you "buy" one? Like for cost? I'd like for our readers to spread the word -- but I'm not going to foot the bill for all of y'all! EMAIL ME with a yea or that idea sucks...
8:53 AM TEXAS TIME: Click on the thumbnail below to see one of the funniest Batmovie -related pictures I've seen! It was sent to me last night and I laughed my ass off! If you are the creator of this, let me know so I can give you credit!

Tuesday, February 14, 2006
5:17 AM: Regarding Liev Schreiber as Dent. I've got tons of email in support of Liev of late. And honestly, I've got tons of email saying "Gyllenhaal may not be that bad" as well. But obviously, Schreiber is the "Fan Fave" for the role, hands down. I was told that he was the studio's #1 choice at one time. He's my fave as well -- hell, I broke that story and thought if true, that it would be spot-on casting. But here is something we should all think about: Perhaps Schreiber (GASP!) doesn't want the role? Maybe he's not interested in doing a "comic book" film -- no matter how good BEGINS was? Playing the same character in two films back-to-back may not be something he wants to do. And perhaps money may be an issue. I'm not saying any of this is fact, but something to think about...
I'm beginning to think that "The Black Mask" character/storyline should be dropped -- if that was 100% true to begin with. I like the Dent/Gordon/The Batman "team for good" storyline. You've allegedly got Sal Maroni in the mix trying to take over Falcone's "business" in Gotham -- I like that as well. The Bill Earl/Oswald Cobblepot going after Bruce and Wayne Enterprieses works for me. Dr. Leslie Tompkins may be entering the picture and I'd love to see that as well. And let's don't forget about a little role called "The Joker." I just don't want to see too many characters and subplots in the mix. But hey, if Nolan finds a way to work him in, it's fine with me.
Monday, February 13, 2006
2:56 PM TEXAS TIME: I've promised all the "Liev Schreiber should be Harvey Dent" fans that I would say something on their behalf. So here it is: Mr. Nolan, Warner Bros., and company. A lot of fans are pulling for Mr. Schreiber to nab the role of Harvey Dent. Just wanted you all to know...
With that said, I'd be lying if I said that I'd be disappointed if Jake Gyllenhaal gets the role. But I myself like Schreiber the best...
10:50 AM TEXAS TIME: Whew! Long trip and no down time between Saturday when I left to when I returned yesterday. Anyway...
"Simon" sent in a really nice manip of Jake Gyllenhaal as Two Face. Check it out below and click on it to enlarge. And yes, I've taken a look at ALL the manips that you all have sent, but there is NO WAY I can post each and every one of them. But do keep sending them. I saw a really good one a while back of Liev Schreiber as Two Face, but can't find it now online...

Saturday, February 11, 2006:
1:00 PM PACIFIC TIME: Since currently in the midst of a 3+ hour plane ride from Dallas to San Francisco, my mind has had a lot of idle time -- which can be a good or bad thing...
Harley Quinn. I don't see how in hell you can pull that one off in any realistic manner. I absolutely DO NOT want to see any actress up there prancing around in a jester's outfit with a painted white face and mask. But, I DO want to see Dr. Harleen Quinzel in the mix as rumored. Have her be a doctor at Arkham who replaces Dr. Jonathan Crane and somehow comes into contact with The Joker and loses it...
And if Emily Watson is in the mix for the role as rumored, I can certainly see why. She's of the right age to play a psychiatrist that has just nabbed a job at Arkham. Plus, Watson is a hell of an actress and quircky enough to pull it off -- IMO or course.
Friday, February 10, 2006:
6:56 PM TEXAS TIME: OK y'all (I know that bugs some people, but that's the way we talk here), another suggestion by BOF'er Andre La Mothe:
"To make the plate sweeter --
Let's say since The Joker/Maroni takedown was so dangerous, Harvey's life has been threatened and The Batman and Jim Gordon promise him they will be there to protect him (and his family perhaps) -- Harvey totally entrusts his fate to The Batman and Jim Gordon.
Maroni scars him in court with the acid, and The Batman and Gordon totally missed it, because Maroni worked a plea deal beforehand and looked to be cooperating all along.
Now, Harvey (who was vain to begin with) blames Gordon and The Batman for not protecting him and ruining his life by allowing this horrible disfigurement to happen."
How does that sound?
Sounds good! Man, don't y'all just love the Harvey Dent/Two Face character? We Bat-Geeks all know how it turns out, but we're still pulling for it not to happen -- sort of. Just imagine how freaked Joe/Josephine Moviegoer will be when they see this! I can't wait...
BOF'ers, the irritating anime music is GONE! I pulled it for y'all and made it a text link, but the new game is up with now damn music! Thanks for sticking with me on that one...
Just to let y'all know, I myself bought those two Bat-T's that I've got over on the news page. The old school 70s Bat-Logo and that cool 70s Joker one. I'm wearing one of 'em to Wondercon tomorrow. And for you cynical type, no links here to those items -- they just are cool IMO...
This "news," if you will, that Emily Watson may play Dr. Harleen Quinzell is damn good and has "Nolan" written all over it. Not only is she a fine actress, but sort of looks the part and will is someone I could believe is getting a job at Arkham. BUT, I DO NOT want to see "Harley Quinn" in full costume on the big screen....
10:25 PM TEXAS TIME: Looking forward to going to Wondercon! If any of you all are there, come say hi if you spot me. I'll probably be wearing some sort of Batman T-shirt and Dallas Cowboys cap...
Even though Paul Bettany is getting a lot of run for The Joker -- and he IS being seriously considered, trust me -- I still like this Lachy Hulme myself and he's still in the mix (CLICK HERE to find out why). We'll see how it pans out...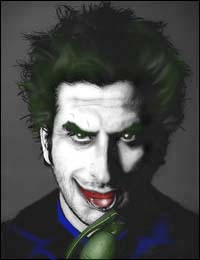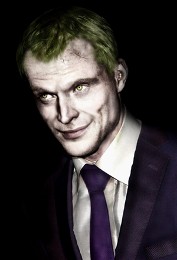 Lachy Hulme (left) and Paul Bettany (right) as "The Joker"
Thanks to "Tom M." for the Bettany mock-up.
Thursday, February 9, 2006
5:45 PM TEXAS TIME: Got this take in today from BOF'er Andre La Mothe. I got to say, he has a good point--
"Let's look at a couple of things here:
Bruce Wayne/Batman has just turned 30 from his infamous birthday bash in BEGINS.
The Gotham DA was murdered, leaving a void in Gotham City's judicial system, which a young hotshot Assistant District Attorney Harvey Dent could have made a big name for himself by indicting and winning a big mob case in Gotham. Thus, he could be promoted to District Attorney because of his doggedness, sense of justice and amazing skill as an attorney.
The fact that Gyllenhal is young in reality, shouldn't be too much of a factor, I think he could pass for a good-looking 30 year old.
There are lots of people out there who NEVER look their age, and that could play into the whole 'Adonis' nickname for Harvey too.
Mind you I would love Liev Schreiber for [role] this too. He would be ideal, but I think Gyllenhall could work with the proper timing and story placement for the character of Harvey Dent."
That's exactly what I was thinking myself -- see my prior blogs. Say Dent is a young, rising Asst. D.A. He's sincere in wanting to kick some criminal ass. He and Gordon and The Batman team up. Perhaps Dent and Rachel get something going -- and he doesn't like Bruce. But he and The Bat are TIE-EEEET! -- just as Bruce has planned it, OK? They take down Maroni and The Joker, and Dent gets promoted. Then in all the celebration, BOOM! Two Face is born...
How are D.A.'s chosen? Here in Texas, they are elected. Let me know y'all...
Remember y'all, while this is a movie series that is staying true to "Batman," it is still a different continuity than the comics...
Another BOF'er "Colin H." chimes in--
"Hey Jett, I'd just like to point out that in 'Year One,' Harvey Dent is only an Assistant D.A., so that may give more of an argument for a younger actor like Jake Gyllenhal."
And to be fair -- which I am -- I'm still getting a lot of support for Mr. Schreiber. I even had one reader, "Michael," tell me he'd refuse to see it if Gyllenhaal was cast!
12:42 PM CENTRAL: Check out a manip of Gyllenhaal as Two Face: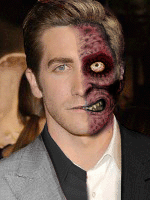 Thanks to "Keith from New York" for the pic.
Wednesday, February 8, 2006
2:11 PM CENTRAL: I think Gyllenhall could work as Dent, if you go the route I brainstormed earlier today. Make him a young, hotshot, idealistic Assistant D.A. Jake is a very likable guy, so the audience would be pulling for him and The Batman. He's a good looking dude -- isn't Dent nicknamed "Adonis" because of his looks? Maybe he's vain as hell and being scarred really sends him over the edge. And somehow, he blames The Batman...
8:34 PM CENTRAL: Let's assume that Gyllenhaal really is in the mix for Dent. Perhaps instead of being a longtime D.A. in Gotham, he's a fairly new assistant D.A. Maybe The Batman (Bale) finds himself an ally in this new, honest, and young member of Gotham's D.A. office? Perhaps towards the end of the film, Dent is elected as the District Attorney of Gotham? And then he's scarred. Yes, I know this strays from the comic book a bit, but that's to be expected in the film series as it is a different medium.
Tuesday, February 7, 2006
6:29 PM CENTRAL: My gut feeling: Paul Bettany is going to be The Joker...
And I'm very OK with that. I think he'll do a hell of a job. I still like Mr. Hulme, but I'm just not sure he has the clout (yet) to nab this HUGE role. Bettany pretty much has it all -- he's a hell of an actor and has done enough mainstream work that the "Average Joe" audience will at least recoginze him. Plus, THE DA VINCI CODE has yet to hit theaters...
This is the buisiest I've been in years -- well, except for last June. But our "History of The Batman" (which is a year long "event") is coming along nicely as well as BATMAN IN COMICS...
Thanks to all of you who have written in to tell me you enjoyed my "THE REAL BATMAN" article. I don't float my boat much, but I really liked that one myself.
Monday, February 6, 2006:
I've given this Gyllenhaal-as-Dent rumor a bit of thought today. At first, I was like "Hmmm. I could be OK with it." But I've got to go on record and say "Don't do this" to the powers that be. Jake is a fine young actor -- and the key word here is young. I just can't see him playing a city's district attorney at his age. This role needs to go to someone in their 30s or 40s...
Jake Gyllenhaal as Harvey Dent? Gyllenhaal is certainly a dude you like to like in his films, you know what I mean? That could make his transformation into Two Face that much more tragic. My only concern is that he is too young -- Gyllenhaal is 25 and would be 26 next year during filming. The guy can flat act no question about it, so no concerns there, but I don't know if I can buy him as a D.A. of a major (fictional) U.S. city. OK Bat-people, I'd be "sort of OK" with it myself. I say go older Mr. Nolan, like Liev Schreiber whom I prefer...
I even asked my wife what she thought about it (And she's not really a Batman fan -- she likes clothes and shopping) and the first thing she said (after I explained who Harvey was, etc.) was "He's too young." Anyway...
I remember 35 of the 40 Super Bowls that have been played -- Super Bowl V in '71 is the first I can recall watching. There have been some great ones over the years. But this one last night was the absolute worst one I've ever seen! Calling it boring would be a compliment. Sheesh!
Saturday, February 4, 2006:
Here's one of my takes on The Joker for The Sequel: No purple suit -- we've already seen Cesar Romero and Jack Nicholson wear it. How about a nice black suit with a purple tie perhaps? I'd have him wear the wide brim hat from time to time as well...
When it comes to The Joker, it has to be something we've yet to see on screen -- but it still clearly has to be "The Joker." You know what I'm saying...
I wouldn't mind seeing the Bat-suit tweeked just a bit. Perhaps the body suit can be similar to what Brandon Routh is wearing in SUPERMAN RETURNS or the suits from the Spidey films. Then put the "armor" on top of that. And I'm wondering of you could make the body suit with a high neck (turtleneck-like) and the cowl is worn even more helmet-like. I'm thinking you would get almost the same look, but it would offer even more freedom of motion when Mr. Bale turns his head. With all of that said, I certainly don't want any huge and drastic changes...
Congrats to Troy Aikman and Rayfield Wright on being voted into the Pro Football Hall of Fame.
Friday, February 3, 2006:
Look, I love SMALLVILLE, but I thought the episode this past Thursday was a cheap BATMAN knock-off. They even used parts of the Elfman BATMAN theme!
OK, y'all all know that I'm a HUGE, lifelong, season ticket holding, Dallas Cowboys fan. But I'm not being a homer here, but not only should Troy Aikman be elected into the Pro Football Hall of Fame tomorrow (which is virtually a lock), but so should Michael Irvin and Rayfield Wright. The Playmaker got screwed last year and Wright should have been in there a long time ago. And how Bob Hayes isn't in the HOF I have NOT a clue. They invented zone defensive coverages because of him for cripe's sake! Anyway...
Thanks to all of you who sent the nice words in regards to the death in my family...
A BOF'er sent me an email this week and suggested Edward Norton for The Joker in The Sequel. You know, I said that Johnny Depp was the only "name" actor could see play the part. But I think that I'd prefer Norton over Depp if they went with an established actor. I'd still prefer a lesser known, but quality actor myself.
Wednesday, February 1, 2006:
My Super Bowl prediction: There will be a SUPERMAN RETURNS promo sometime during the game. Oh, and the score: Give me the points and the Seahawks to win 27-17...
DC Comics-based characters I would love to see on the big screen (besides The Bat and The Man of Steel):
1. CAPTAIN MARVEL - Yes, I know that he's very similar to Superman, but I think you could make a hell of a film targeted for kids with this one. And adults would dig it too. Think FANTASTIC 4 without cleavage. I hope the New Line greenlights this one soon.
2. GREEN LANTERN - With the F/X that can be done now, this is something that could kick ass.
3. TEEN TITANS - Another film that both adults and kids can enjoy. I may tweak this one to exclude Robin -- because you never know when you may want him in Gotham.
4. MARTIAN MANHUNTER - Think about this one for a sec. Dude from Mars comes to Earth and can blend in to look like us. Becomes a super hero. I'd do this sci-fi style and serious. I think it has LOTS of potential.
5. THE FLASH - I've always liked this character. I even watched the TV show from the early 90s. I can't wait to see what David Goyer comes up with here and I think Ryan Reynolds would be perfect for the role. Here's to this getting done.
6. THE SPECTURE - Perhaps a mixture of a horror, sci-fi, and super hero film all rolled into one movie.
LET ME KNOW what you think and which DC characters you would like to see on the big screen.
Tuesday, January 31, 2006:
Guys, y'all are probably going to say "What the..." when I reveal this bit of info. For the first time in, cripes, nine years, I've become a regular subscriber to both BATMAN and DETECTIVE. Hammer me via email all you want -- I probably deserve it. But when I last read 'em, you had to read EVERY damn Bat-mag there was. I've been told -- and from reading 'em off the racks -- that isn't the case...
All you Katie Holmes lovers quit emailing me and giving me the business! Have you all not read what I've written about her? I've said time and time again that I WANT Rachel Dawes to return in the sequel and I WANT her to play the part! Look, she was the "wink link" of the cast and it's not all her fault -- look who else was in the cast! And she was too young for the role, IMO of course. I've never said that she was awful, OK? Now with that said, I can't help the fact that she has been hammered by critics -- not just the ones here at BOF. I can't help the fact that she got nailed with a "Razzie" nomination. Chill...
A salute to my grandfather, "Paw Paw" as we called him, Mr. William C. Strange, Sr. (1915-2006). He passed away this past Thurday and he was a big influence in my life. I don't think he was a Batman fan though!
Wednesday, January 18, 2006:
I have now watched FANTASTIC 4 more times than I ever intended. Why you ask? My son loves it and thinks it is a great film.
He's four and a half.
And that's cool. Michael Uslan was very much right -- There should be superhero/comic book films for kids. My only problem with F4 is that it has a storyline and plot that is targeted for kids, but it was "sexed-up" just enough to bring in an older crowd. Hey, I like looking at Jessica Alba as much as the next guy, but did we have to see her cleavage that much? Was it essential to the story?
Kick it down just a notch and make it "PG" and it would have been much better IMO…
NFL picks for this coming conference championship weekend -- I'll take Denver in the AFC and Seattle in the NFC. Just can't see two wildcard teams winning on the road for the third straight time.
Sunday, January 15, 2006:
I sat through all of F4 as I alluded to earlier. Let's just say that it wasn't "fantastic." Perhaps I now understand why people criticize BATMAN FOREVER...
Alrighty, I finally saw REVENGE OF THE SITH. Hey, I'm not a "Star Wars'er," I'm a "Batman'er" -- if that makes any sense. But anyway, I saw the original three films back when I was a kid. Hell, GREASE and STAR WARS were HUGE in the summer of '77. Nonetheless, I never got into STAR WARS, per se. I thought that EPISODE III was, sort of OK. The dialogue was terrible, and Ms. Portman's talent was wasted, but I did like seeing how Darth became Vader. It was worth the price of the pay-per-view...
Speaking of finally watching certain flicks, I'm watching FANTASTIC FOUR as I write this. Meh. And don't call me a "Marvel Hater" because I love the SPIDER-MAN and X-MEN films. Hell, I even dug HULK -- although I must be the only man in America that did.
Friday, January 13, 2006:
As far as "I can see Johnny Depp as The Riddler" -- NO. And not Ed Norton either for Cripe's sake...
You know who would have been a hell of a Joker? Jim Carrey. A decade ago. Under a director such as Nolan...
How many actors do y'all think want that Joker role...
For all of y'all that didn't "get it" a while back, I WAS KIDDING about wanting to direct the next film. You know, satire, spoof, a ha-ha...
OK, so I've now slept on it -- this Johnny Depp as The Joker rumor. As much as I love Depp's work, I still believe the best way to go is getting an "unknown," or at least an actor that not not a "Name." But what do I know, I'm just a peon...
NFL playoff winners this weekend: Seahawks and Bears in the NFC, Indy and New England in the AFC.
Thursday, January 12, 2006:
So rumor has it that Johnny Depp may be up for the role of The Joker. That is the ONLY big name that I could live with. Depp is a hell of an actor and could melt into the role. You wouldn't be saying "Look at 'ol Depp acting like The Joker" while watching him onscreen. That was the only problem with Jack Nicholson -- and his makeup. I still would rather them go with a lesser known actor, but Depp I could dig...
My concern with Depp, besides that fact that he is a huge name -- is can the audience HATE him? Hell, I like him, as he is one of my favorite actors. I don't know if I've disliked him, his character that is, in anything. I am steadfast in my belief that The Joker MUST be despised...
Talia in the sequel? I could dig it as well. Rachel Weisz would be nice casting -- I could see her as Liam Neeson's daughter. Now IMO, you'd have to cut one of the rumored characters -- like Black Mask. I really want to see The Penguin in a small role -- an arms dealer as rumored. But I guess using Talia would add a bit more continuation from BEGINS to the sequel. Honestly, I'd rather see Selina Kyle -- JUST Selina, not her alter ego -- in the next film. But that's just me.
>>> Visit the SCATTERSHOTS ARCHIVE <<<

"Jett" is the editor-in-chief of BATMAN ON FILM and BATMAN IN COMICS.