It's ALL About TDK!
Friday, May 16, 2008
7:02 PM TEXAS TIME

Yes, I represent
THE DARK KNIGHT
, Batman, and
BOF
every chance I get! Here's "The Jetts" with Rod Ryan from "
THE ROD RYAN SHOW
" here in Houston last night...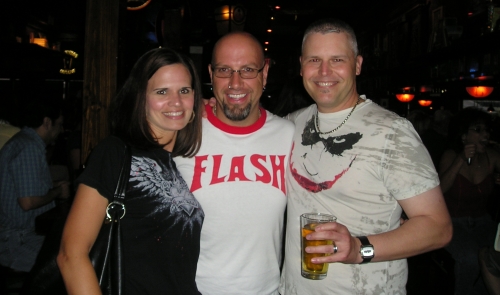 Yes, Even More Pics!
Thursday, May 15, 2008
7:02 PM TEXAS TIME
So sue me! I'm in a good mood since
THE DARK KNIGHT
is getting
really
close and I'm about to be on a 2 month vacation! So check these two pics out...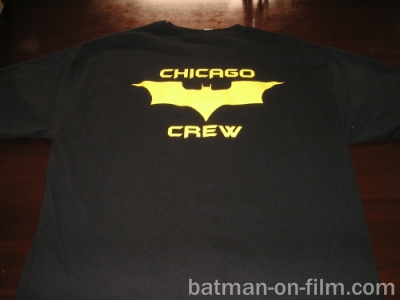 Remember our 'ol friend "A.P.?" Hell yes you do! Anyway, he's the one who scored me this shirt as well as the one you see below -- and that Joker card. And he also took those pics of BOF at the New York Comic Con. One other thing I wanted to show off...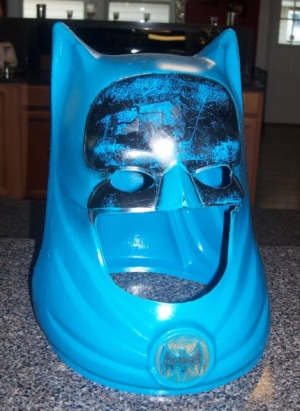 I've head this cowl since I was about 3. It must have been given to me c. 1968ish, but they were made in '66. I wore the hell out of it and all 3 of my kids have wore it growing up. I'm having it refurbished and I'm going to put it in my office.
More TDK Toy Pics!
Saturday, May 10, 2008
1:42 PM TEXAS TIME
So me and my youngest son to the my local "Superstore" today -- mostly for some last minute "Mother's Day" stuff, but I HAD to see what
TDK
swag they had in stock. So, here's the pics (Yes, I have no will power):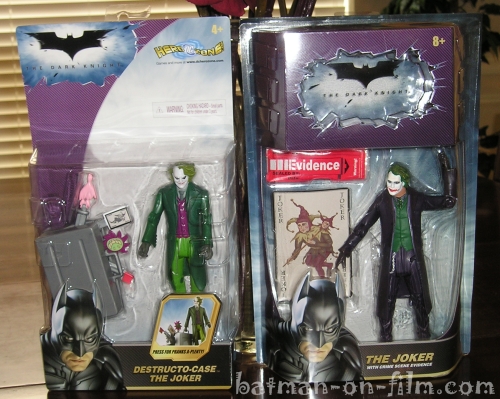 OK, I got two more Jokers -- one of which I already had. But they had ONE (!) of the "real Joker" action figures in the mix! And no, you WILL NOT see any of this up for sale.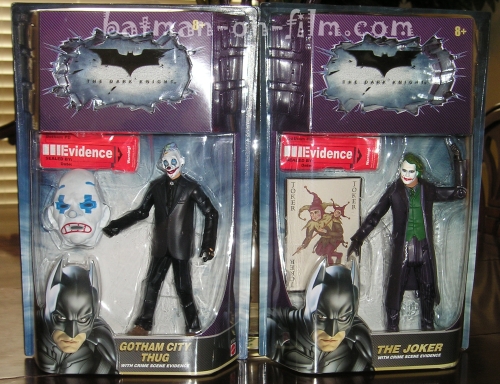 OK, my son had to have "The Joker's Goon." I tried to talk him into keeping him in his box as well, but with no success. My Jokers -- seeing that one of the henchmen are running free -- are raising hell believing that a mutiny is at hand.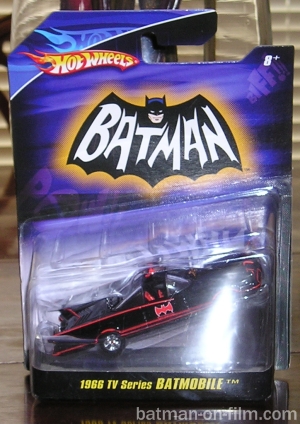 "Conveniently, " this dadgum "Supercenter" has this place right by the TDK stuff.
And of course, I bought it. I told you, I have no will power. That's why I'm not allowed to go there alone -- unless it's Mother's Day weekend.
But don't you think letting a 6 year old go with me is a tad dangerous? Hehehehehe...
Oh yeah, two more things I wanted to show y'all: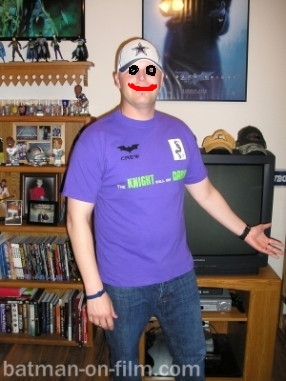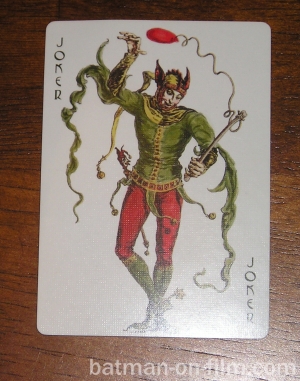 Pretty darn cool, huh? Here's the back of the shirt: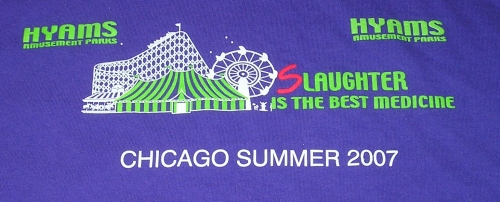 I was told that the card was an actual movie prop and it's being framed as we speak. (And NEITHER comes from an online auction!)
Happy Mother's Day to all of you BOF'ers who are Moms!
BOF @ NYCC 2008!
Sunday, April 27, 2008
10:15 AM TEXAS TIME
A few shots of
BOF
at last weekend's New York Comic Con 2008: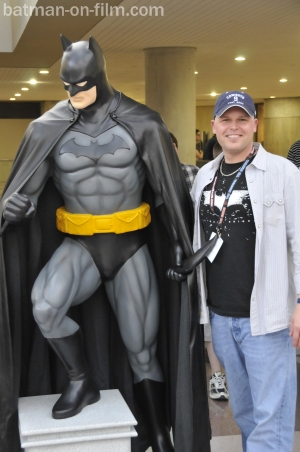 Jett and "Batman"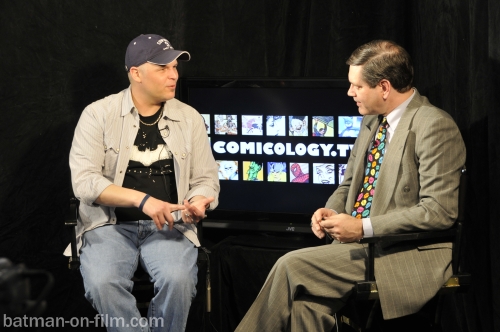 Interview with COMICOLOGY.TV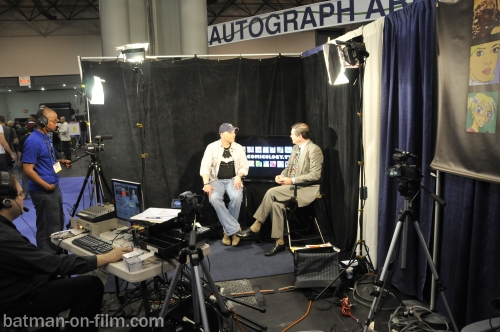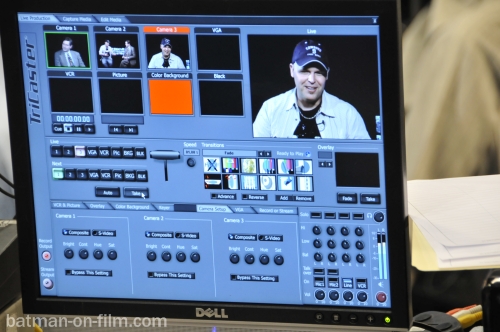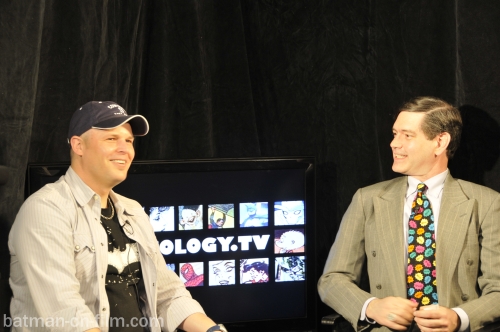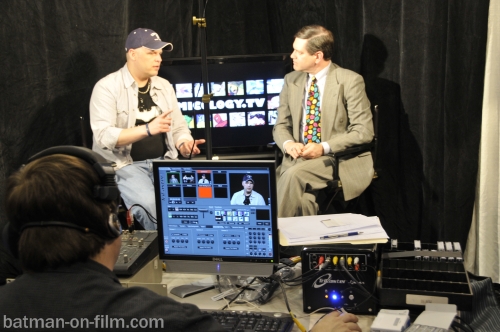 As you know, I go to these conventions mostly as a fan and my reports generally reflect that. We had a blast there and will definitely be heading back there in 2009!
Saturday, April 5, 2008
4:25 PM TEXAS TIME:
So, I go out to run so errands today, right?
Mrs. Jett and I take "Jett III" to get a haircut and then we go to the gym. After going back home and all, I head out again 'cause I have to pick up some stuff for the upcoming BOF podcasts which I'm planning will commence in June. I also had to go to my comic book store. Anyway…
Once all my tasks were done, I figured I'd stop in "BW3's" -- or BUFFALO WILD WINGS as it's officially known -- and watch the end of the Astros/Cubs game (which the 'stros blew BTW).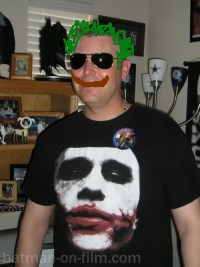 I'm watching the game and doing some BOF stuff all the while, I'm sporting my badass Heath-Joker Tee. I notice the bartender is eyeing my, right? He then comes over and says, "Dude, that shirt is badass! That's the new Batman movie, right?" I'm fired up and proud, right? And I say," Hell yeah!," as I give him my business card.
He had no idea who I am or that BOF exists, but he knows about THE DARK KNIGHT. "Dude," he says to me, "EVERYONE I know is talking about that movie!"
Yes they are!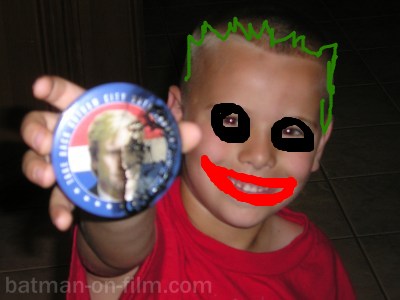 "Jett III" is proud of the Two Fa...er Harvey Dent Badge!
I proceed to give him a Harvey Dent bumper sticker and a campaign button. He proceeds to comp my 3 beers.
See, being a Batman dork comes in handy every once in a while. ;)
Sunday, March 16, 2008
1:58 PM TEXAS TIME:
So I go to Austin yesterday to try to find the Dentmobile. Now I knew going in that it was going to be an arduous task, because the SXSW film and music festival was taking place and it is F'n HUGE.
So Saturday AM, I book a hotel room at the last minute and me, the wife, and my youngest son take the 2 hour drive over to the capitol of the great state of Texas.
Sadly, I didn't find the Dent mobile as 6th Street was friggin' PACKED and parking anywhere was absolutely hell. Nevertheless, they must have been there as scheduled because the trail they left behind was quite evident. The one time I was able to make it down 6th Street, I saw people in "I Believe in Harvey Dent" T-Shirts and even a few bumper stickers on parked cars.
We then headed over to the Capitol where me and Jett Jr. 2 (I've got two boys, FYI) took this picture: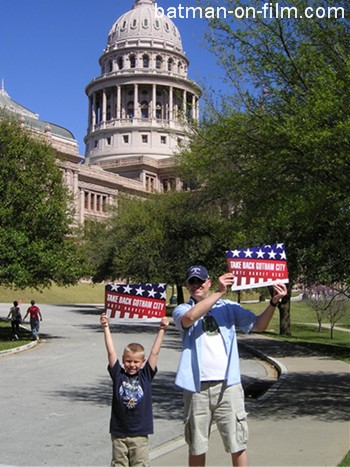 The three of us also handed out a bunch of the Harvey Dent campaign gear that I had received from the Dent campaigners in Houston on Thursday. We got the following reactions:
1) People knew EXACTLY who Harvey was and was fired up to be getting the swag. Or…
2) Folks thought we were serious as hell (and we acted like it) and either blew us off or listened to my personal campaign pitch...and took the free stuff.
Needless to say, a fun time was had by all of the Jett Family in Austin, Texas singing the praises for one Mr. Harvey Dent, candidate for Gotham City District Attorney.
(Check back later 'cause I'm going to tell y'all about my visit to the mall wearing my "I Believe In Harvey Dent" campaign shirt. It's come GREAT stuff!)
Saturday, February 16, 2008
4:55 PM TEXAS TIME: My New Passion....
Since I've successfully got the
BATMAN
film franchise back on track and killed that disaster waiting to happen
JUSTICE LEAGUE
movie, I'm now going to turn my attention to seeing the following make it to the big screen:
I believe that a GREEN LANTERN flick would be bad-F'n-ass! Not only that, I'm also convinced that it would do really well at the box office -- which is probably what our good friends at Warner Bros. care about first and foremost.
You've already hired Greg Berlanti to do the writing and directing, right? Well, I say let's move this thing to the front burner like NOW! With what can be done F/X and CGI-wise today, this is a film that just HAS to be made!
And by the way haters, before y'all start hammerin' away and emailin' in your venom, that stuff about getting the BATMAN films back on track and killing JUSTICE LEAGUE was what's called tongue in cheek…
Well, kinda. ;) And...
...The Jett's will be at WONDERCON next weekend. If you see us, please say "HI!" Hey, we'll take a pic and I'll put 'em up on BOF! :)
Tuesday, February 12, 2008
11:05 AM TEXAS TIME:
Props To Batman Nation

I've got to commend Batman Nation's very respectful reaction to the news that there will be no
TDK
panel/presentation at Wondercon '08. 9 out of the 10 emails I got over the last few days about this said that they were not upset and completely understood why Warner Bros. and Team
TDK
decided not to promote
TDK
at this particular event. Also, I checked out various message boards and it certainly seems that this sentiment was shared virtually across the board by all Bat-Fans.
No TDK At Wondercon
To those few of you who emailed in and complained about no TDK at Wondercon and said that the fans were being screwed or disrespected…
…are you for F'n real?!
In light of the recent tragic event, if you can't see why they chose not to attend and promote this film right now, then I suggest you shake yourself -- hard -- and get over it already. No one owes you anything, OK? Geez.
Keep JUSTICE LEAGUE Shelved

I'm glad to see that the WGA strike is coming to and end. For me personally, it's been a struggle getting by without any new episodes of
THE OFFICE
for quite a while now.
I know that movie studios will be kicking it into high gear in attempting to get some films in production for 2009 and 2010. With that said, there's one film that I hope remains in development hell…
…JUSTICE LEAGUE.
First of all, and I've said many, MANY times, the timing for such a film is simply way off. This movie should not be made until after a third Chris Nolan directed BATMAN film. The solo Bat-Films should not be compromised by having another actor (Armie Hammer? WTF?!) portraying another, alternate version of Batman before Nolan has a chance to finish what he started.
Secondly, the core fan base overwhelmingly couldn't care less about this film. Bottom line, there was absolutely zero buzz and very little desire for this film.
I'm far from being considered a movie marketing genius, but when fanboys couldn't give a damn about JUSTICE LEAGUE, that can't be good.
Frankly, the only people that I found that were only two groups in favor of this film: One, SUPERMAN RETURNS haters who hoped JL would begat a new solo Superman flick. And two, honest to goodness Justice League fans. Batman fans for the most couldn't give a flip.
I've said it before and I'll say it again (and again if needed), this has "Suck" and "Disaster" written all over it.
Let it lie 'til the time is right, and now ain't it.
On The Bat-Comic Front

And finally on the Batman comic book front, I have no idea where the hell Morrison is going with
BATMAN
, but I'm certainly anxious to find out.
I know there's been talk that DC plans to kill off Bruce Wayne and Morrison's been kinda sorta hinting at it, but don't you think all of that's been just a tad too obvious?
Personally, I don't think there is anyway in hell that DC would kill off Bruce Wayne, and if they do, they're idiots.
On the other hand, Paul Dini's run on DETECTIVE has been nothing but superb and it's certainly not "Detective" in name only.
There's such a distinct difference between the two big Batman titles -- BATMAN and DETECTIVE -- that it makes reading both that much more enjoyable.
Now this BATMAN CONFIDENTIAL's another story all together.
Yes, the second story arc -- "Lovers and Madmen" -- was better than the inaugural one, but this title still leaves a lot to be desired.
And speaking of "Lovers and Madmen," did The Joker's origin and the first meeting between Batman and his archenemy HAVE to be redone yet again?
Sheesh! *rolls eyes*
Monday, February 4, 2008
3:05 PM TEXAS TIME: The email is already been pouring in since last night. I bet you can guess the topic, right?
"There was no commercial for THE DARK KNIGHT during the Super Bowl! The marketing SUCKS!"
I swear, it's just like the film GROUNDHOG DAY and it's 2005 all over again.
I knew there wasn't going to be a TDK Super Bowl ad because I knew that there wasn't the need for one. People know about THE DARK KNIGHT because it's already had the best marketing you can get: BATMAN BEGINS.
And I don't want to hear about IRON MAN either -- it's Iron Man, not Batman. Go ask the Average Joe "What's Iron Man," and I bet you that people will identify it as an old Black Sabbath song just as often -- if not more -- than it being a comic book superhero.
This film is 5 and a half months -- 5 AND A HALF MONTHS -- away from its release! And already we've had:
Four one sheets…
Several magazine covers…
A teaser trailer…
A full trailer…
The TDK PROLOGUE…
And the awesome viral campaign to boot!
So please, chill!
Sunday, February 3, 2008
8:31 AM TEXAS TIME: Check out a lovely song (do the "right click & save" thing) inspired by Heath Ledger: "Kingdom of Heaven" - Dedicated to Heath Ledger by Asoka (INDIANRAPPER.COM)...
"Why...
...So Serious?" ;) Anyway...
Memorial Heath Ledger/Joker T-Shirts for the premiere? Stay tuned. :)
Sunday, January 20, 2008
9:31 AM TEXAS TIME: Have I mentioned yet how happy I am that Warner Bros. woke up and smelled the coffee and canned this disaster waiting to happen known as JUSTICE LEAGE? I did? OK, just checking…
Got some new Bat-Swag that I wanted to show off. First up, my very cool "Why So Serious" Joker TDK one sheet: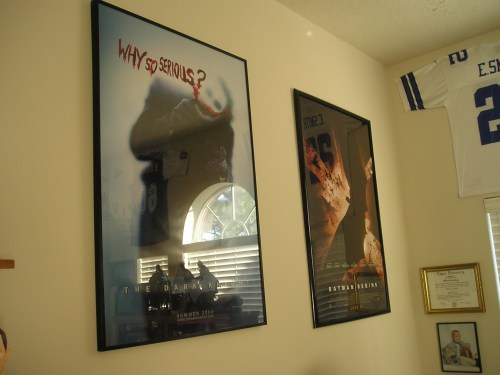 This can be found in my office right next to the BATMAN BEGINS one that I've had on display since 2005.
Next up, got myself the Matt Wagner version of those "Batman Black & White" mini-statues. Check 'er out: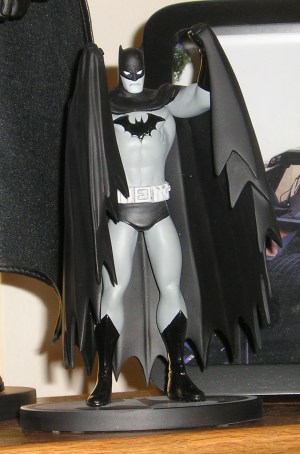 I'm a big fan of Matt Wagner's Batman stuff. If you haven't read BATMAN AND THE MONSTER MEN and BATMAN AND THE MAD MONK, you really need to, trust me.
Finally, I'm collecting those 13' Batman "action figures" that DC DIRECT has been putting out. Take a look: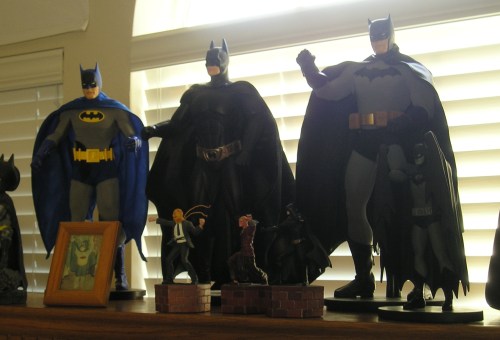 These are also located in my office as well atop my desk's bookshelf.
And finally, no, I an not over the Dallas Cowboys' idiotic loss last week. What an utter abombination on their part. Props to the Giants for winning, but that's a game that the Cowboys lost and have only themselves to blame.
I've been a fan for nearly 40 years, and that loss last Sunday -- which I had the priviledge ofseeing in person -- was the absolute worst. It sucked more than "The Catch," losing to the 49'ers in the NFC Championship in '95, and more than either Super Bowl losses to Pittsburgh back in the 70s.
Screw 'em....
...well, at least 'til September. ;)
Sunday, December 23, 2007
3:56 PM TEXAS TIME: Again, Happy Holidays from BOF. With that said...
Props to "Da Bears."
Thank you CHICAGO!
Besides myself, I'm sure the entire Dallas Cowboys organization and fandom thank you!
I'm thinking I've got some good karma going on right now, dont' y'all think? :)
Doing the "BOF Thing" -- and the fact my wife is a mid-westerner -- I've spent a lot of time in the Windy City. Love that town and I love y'all even more now since the Bears just beat the hell out of the Packers!
Hopefully the premiere of THE DARK KNIGHT will take place in Chi-Town -- as it should -- and I'll get to take in the city again next summer.
Saturday, December 22, 2007
7:19 AM TEXAS TIME: First of all, let me say Happy Holidays to all you BOF'ers -- even to you haters as well! ;)
2008 is a special year for BOF. For one thing, THE DARK KNIGHT hits theaters in July. But, 2008 also marks this site's 10 year anniversary. That's right kids, BOF has now been bringing you your Bat-movie news for a decade! This is something that I'm very proud of -- not too many Bat-sites around in 1998 are still around today.
10 years, man! Anyway…
Again, "Happy Holidays to all…
So yesterday, I go out to run a few errands. Went to the mall of finish some Christmas shopping, picked up my youngest son from school, visited one of my favorite "establishments," and then picked up some dinner for the family. Guess what shirt I was sporting? That's right y'all, my brand new "Heath-Joker" T-shirt! Check it out: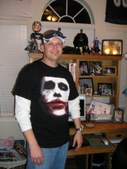 Let me tell you a bit about the response I got from people. They either stared curiously at it, came up and said, "That shirt's badass," or shouted "Joker!" Also, I was amazed at how many people knew that it was The Joker from the new Batman movie! Lot's of comments from people who said they saw the trailer and that Heath Ledger was amazing. All of this from "Regular Joes," not Bat-fans per se.
I'm telling y'all right now -- this film is going to be HUGE this summer...
Added the following to my Bat-collection this week: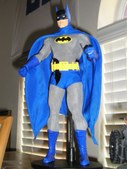 Not a big fan of "Blue Batman," but I just had to have it and put it in the "BOF Office." :)
Tuesday, October 2, 2007
6:43 PM TEXAS TIME: Greatest damn individual football thing I've ever seen in person in my whole life:
That was F'n awesome! That's what you call getting ROMO'ED!
Sunday, August 5, 2007
4:15 PM TEXAS TIME:
This has nothing to do with Batman, FYI. This is my blog for all intents and purposes and I use "SCATTERSHOTS" when I have something to say that doesn't fall within the realm of BOF…for the most part. ;)
I have been a fan of the Dallas Cowboys for my entire life. My childhood hero was the great Roger Staubach, and he remains my #1 Cowboy of all time. But right up there with him -- and I mean RIGHT UP THERE WITH HIM -- is the GREAT Michael Irvin, "The Playmaker."
I'm from an athletic background. I played football from the time I was 10 'til I was 18. I coached football from 1984 -- Pop Warner (during college), Jr. High, and then High School -- for 22 years. So basically, I've been hands-on involved with football as a player or coach for over 30 years.
Hey! I love football and I love my Dallas Cowboys.
From a player's and coach's POV, I just LOVED Michael Irvin! I knew it then and Mr. Jones said as much yesterday during the NFL HOF ceremony -- Mike was the heart and soul of the 1990s Dallas Cowboys.
Is he a perfect person? Hell, no -- who IS? But dude has wears his emotions on his sleeve and his personal life has been one for all to see. Think about it. How many of you would be thought of as you are now if every one of your "transgressions" were broadcast for all to see?
I thought so.
So here's to the one of 2007's NFL HOF class -- #88, THE PLAYMAKER -- Michael Irvin.
Emmitt's next!
Sunday, June 2, 2007
1:27 PM TEXAS TIME: OK, enough of the damn Joker! Just kidding -- sort of.
At any rate, isn't this film called THE DARK KNIGHT? And isn't The Dark Knight The Batman? OK then, how about a look at Christian Bale as The Batman from THE DARK KNIGHT? Make this happen Warner Bros.! Um, pretty please…
Seems that there are several DC Comics-based films in the works right now. Recently, we found out that a TEEN TITAN flick is being developed. And as I've said, I'm totally down with it -- even with Nightwing being a major character.
Yes, I know that may mean there are some continuity issues as Nightwing was the first Robin and there has yet to be a Robin in the new BATMAN film series. My opinion: Don't worry about continuity -- just make the damn movie. You never have to state "THIS IS NIGHTWING EVERYONE. HE USED TO BE ROBIN, BATMAN'S JUNIOR PARTNER!" All of us comic book geeks will know that already and frankly, the mainstream audience doesn't have a clue there IS a Nightwing! No need for any cute, wink-wink, "Nightwing was once Robin" moments either.
You want a DC version of the X-MEN films? This is it, not a stinkin' JUSTICE LEAGUE film.
Again, just make the damn movie…
Since I'm on a role, here's what I think about DC-based movies in general:
* WONDER WOMAN: Meh. I do like the idea of making it a period piece set during World War II. To be blunt, superhero films featuring a female just aren't that appealing. That's probably the reason that Steve Trevor will be a (The?) lead character if this thing ends up happening. I'm not being sexist, that's just the truth. (UPDATE: A "FOBOF" was kind enough to provide me with this script which I'm reading through as we speak. So far, not too dang bad! I really like the retro, WWII setting. It looks like I may have to eat my words -- or sound. Isn't "Meh" more of a sound than a word?)
* JUSTICE LEAGUE: I'm down with it -- as long as Batman isn't in it. And keep the other 2 of "The Big 3" out of it as well. This is a perfect vehicle to use DC's 2nd tier characters (which wouldn't be able to carry their own solo film), such as The Flash, The Atom, Green Lantern, Martian Manhunter, Aquaman, and others.
* GREEN ARROW/SUPERMAX: Freshest and most kick-ass superhero flick concept I've heard in a long time! I'm lobbying for this one HARD. Hear that Warner Bros.? ;)
* SHAZAM!: Looking forward to it and would love to see The Rock cast as Capt. Marvel. This should be a totally kid-friendly flick, IMO.
* Others in development that I really would love to see include: DEADMAN, THE DOOM PATROL, THE SPIRIT (now a DC monthly), and METAL MEN…
And one last piece of advice when it comes to DC-based films: Don't "cross pollinate" your movies and DO NOT become like F'n Marvel and make movies just for the sake of making movies based on your characters. Sorry, but most of the Marvel films suck.
Thursday, May 31, 2007
7:58 AM TEXAS TIME: A TEEN TITANS movie? Now THAT I can dig! Actually, I've long said that Warner Bros. should develop a TITANS film. Frankly, I think that's a MUCH better idea than that damn JUSTICE LEAGUE film that's in development.
My only concern is Nightwing. According to the report in THE HOLLYWOOD REPORTER, the characters is "in the mix" to be included. So, is this Nightwing Dick Grayson, the first Robin? Do they make any reference to Batman or Nightwing's former sidekick status?
Actually, I think it's a non-issue. Just make Nightwing Dick Grayson and leave it at that. And that means no corny wink-wink, nudge-nudge, "You used to be Batman's sidekick" moments either.
One last thing about a TITANS film. No need to give it the "Fantastic 4" treatment and make it cheesy as hell. The report says that the film would have the same "serious" tone as BATMAN BEGINS, SUPERMAN RETURNS, and the upcoming WATCHMEN. I'll hold em to it...
Let me say this about the possibility of Batman killing in THE DARK KNIGHT: If that happens -- and let me stress IF -- I WILL rip 'em a new one. I think that Nolan gets the fact that Batman doesn't kill and won't sway that far away from the Batman mythos...
For all you haters who said that the only reason I'm supporting the look of The Joker in THE DARK KNIGHT is because I'm a sell-out, I've got a little info for you. Scroll down on this very blog and check out my entry on Saturday, February 17, 2007. Over 3 months ago -- long before the first picture of Heath Ledger was released -- I said I supported and actually liked the "cut smile." Hell, I've long liked the idea of a "cut smile" ever since Lee Bermejo did that drawing for BOF of The Joker back in '05. You're barking up the wrong tree on this boys!
Of course the conspiracy theorists would say that I already knew how the "Heath-Joker" would look and I was greasing the skids for Nolan and Warner Bros. Puh-leeze! HAHAHAHA!
Thursday, May 3, 2007
11:16 AM TEXAS TIME: I went on another Bat-spending spree this past weekend. Among the items I picked up was this kick-ass shirt:
I also picked up a couple of other shirts -- in particular a Joker one -- and a few DVDs: RETURN OF THE JOKER, SUBZERO, and MASK OF THE PHANTASM. So why I'm I just now buying these movies? Well, I'm not actually, I've had them for years -- on VHS. My kids still watched them and I just never upgraded to DVD. But I'm now proud to say that I'm fully DVD with all my Bat-flicks!
Monday, April 30, 2007
2:45 PM TEXAS TIME: A "Batcycle?" I'm sort of iffy about the possibility of including such a vehicle in THE DARK KNIGHT. I don't like things such as the Batwing, Batcopter, Batboat, Batsub, etc. But I might could dig a Batcycle -- as long as it isn't gimmicky and just stuck in there for toy purposes. As a reader pointed out to me this morning via email, The Batman used a motorcycle in YEAR ONE...
Speaking of a possible "Batcycle," this is still nothing but a rumor. Let's wait and see if it pans out anyway.
Sunday, April 29, 2007
1:59 PM TEXAS TIME: I can not stand those online ads for this certain online dating service/hook-up service that starts with a "T." What's up with these chicks with big boobs sucking on lollypops? Please! I'm serious, if you see one of those ads on BOF let me know and I'll fire 'em...
I love what my Cowboys did yesterday in the NFL Draft. Trade out of the first round and pick up Cleveland's first-rounder in 2008 was brilliant! And then trade back up into the 1st and get the guy they wanted anyway! Y'all that aren't NFL football fans and/or have no interest in the NFL probably have no idea what I'm talking about, so please indulge me ;) .
Friday, April 27, 2007
5:53 PM TEXAS TIME: If y'all didn't already know, this was one CrAzY-ass week! Honestly, I don't know if I've ever seen it so wild since I've been running BOF. Cripes, I had more traffic and email than I've ever had since BOF was conceived!
If this is any indication how things will fare for THE DARK KNIGHT next summer, Warner Bros. has NOTHING to worry about. People are FIRED UP for this film!
I've got some more takes, so stay tuned....
Due to the craziness this week, I'm a couple of days behind on my review of BATMAN CONFIDENTIAL #5. I'll have it up this weekend, I promise. The damn NFL Draft and the Dallas Mavericks playoff games this weekend isn't helping my work schedule either.
Sunday, April 15, 2007
9:02 AM TEXAS TIME: From working on the piece about the 60s BATMAN TV Show for the site, it made me realize that this series needs to be on DVD. Here's hoping that Fox and Warner Bros. can come up with a solution and get that thing out there for all of us Bat-Fans...
I know I speak for a lot of people from my generation -- those of us that are in their mid/late 30s to early 50s -- that became a Batman fan because of that old show. I know I did. Man, I used to rush home from school to watch it! I absolutely loved that show when I was a kid and thought it was serious as hell. While it's certainly not "My Batman," BATMAN will always have place in my Bat-heart.
Tuesday, April 10, 2007
8:17 PM TEXAS TIME: Have y'all hear about this? David Goyer has come up with an idea for a GREEN ARROW film that's fresh as hell and would kick ass in my humble opinion. I'll let DG describe SUPERMAN himself via his MYSPACE.COM BLOG:
"The basic concept actually came about through Justin Marks, a terrific young writer my wife Jessika (a producer) had previously worked with. They thought the idea of a prison-break story set in a jail designed exclusively for super-villains was a cool one. And I heartily agreed. After some discussion, we decided it would be fun to frame a super-hero and toss him into the meta-human mix.
From that point, it seemed like the next logical step was to set the film in either the Marvel or DC Universe. That way, we could populate the movie with all sorts of cool B and C-character Easter Eggs. We eventually landed at DC. Green Arrow, given his hard-hitting, moralistic tendencies, seemed like the most interesting hero to put through the institutional wringer."
And I too, heartily agree. As I said, this is one of the freshest takes on the super hero film genre since, well, ever. BATMAN BEGINS with the whole "real world" setting was damn cool, but I must admit -- and I love BATMAN BEGINS now -- this is better. I for one hope that Warner Bros. gives this one the greenlight and puts that damn JUSTICE LEAGUE film on the back burner.
And while I'm at it, I want to see Warner get cracking at a damn GREEN LANTERN film as well -- and not as a goof with Jack Black! Hell, I'm on a roll now...
...Forget WONDER WOMAN 'cause it won't work -- at least not as a big-ass tentpole event movie. A FLASH film is a tough one to pull off too and I can see why they're having a hard time getting it off the ground. DEADMAN -- Boston Brand kicks ass and I think that property would make for a heck of a superhero/horror flick. SHAZAM -- that one should be aimed at kids and I'm all for it. WATCHMEN -- can't WAIT for that one from Zach Snyder. METAL MEN and DOOM PATROL -- I can dig it! How about THE OUTSIDERS?
Warner Bros., think outside the box for a change -- like this SUPERMAX thing.
Bottom line -- I'm a "DC Guy" and would love to see some of the other characters, um, "on film." Just don't pull a "Marvel" and churn out crap-on-film more times than not trying to make a movie out of every damn character in your universe!
Saturday, April 7, 2007
4:44 PM TEXAS TIME: What's a good Bat-Dad give his son for his 10th birthday? Why, BATMAN: YEAR ONE
of course!
Now don't get me wrong, my little dude has been raised on The Dark Knight. And Rock-n-Roll. And Elvis. And THE Dallas Cowboys.
You name a "classic" Batman graphic novel/TPB/story, he's read it. I'm just trying to build up his "Batman Library" with some really good stuff. Hell, back in my day, no one did it for me, and I ended up drawing in a lot of my old comics and/or taking proper care of them -- and that sort of defilement stops TODAY! ;)
Anyway, "HAPPY BIRTHDAY M," from Dad...
5:33 PM TEXAS TIME: Sadly, the hate email has slowed down to less than a crawl. I guess there is only so many times one can email "YOU SUCK." Y'all, 99% of the email we get is positive. Since I'm more than willing to give all readers the opportunity to speak their mind, the negative emails are usually spotlighted.
Come on, you know they are quite funny!
What still amazes me is that these so-called "BOF Haters" evidentially can't read the disclaimers about rumors -- which BOF reports. And why do we do that? TO GIVE BATMAN FANS A CHANCE TO RESPOND! Hey, I can throw out press releases with the best of them. Is that what y'all want?
And the answer to that question among 99% of you -- my dear BOF'ers -- is "NO."
That's why we'll continue to do it. Like if, God forbid, Freddie Prinze, Jr. is "rumored" for The Riddler, we're going to report it so y'all can flip out!
By the way, that was only a BAD April Fool's Day joke -- that FP, Jr. stuff. It didn't help when major newpapers ran with it.
Tuesday, March 27, 2007
1:03 PM TEXAS TIME: Alrighty, I'm now locked and loaded for Comic Con International this summer in San Diego! Last year was the first time I attended the convention and had an absolute blast! I even got a nice hotel down in the Gas Lamp District right near the convention center. BTW, I'm still thinking about having a BOF'ers meet-up sometime during that July weekend if there is enough interest -- and I've got the time…

Jett @ the SDCC '06
Speaking of San Diego, let me take a moment to remind my friends at Warner Bros. that THE DARK KNIGHT MUST have a big presence at the convention -- which is only four months away…
I'm sure I speak for most Batman fans when I say, Throw us a TDK-bone, please...
I got these late from Warner Home Video, but I've got two DVD reviews forthcoming: BATMAN BEYOND, Season 3 and JUSTICE LEAGUE UNLIMITED, Season 2. Look for 'em this weekend.
Saturday, March 17, 2007
12:46 PM TEXAS TIME: Well, I saw TMNT this morning -- not bad. OK+ I would say. I'll post a full review over on ON-FILM.NET Wednesday…
"Why does BOF run rumors?" is a question that comes up via email from time to time. And I got a couple of those in regards to the latest news update regarding Fergie and James Gandolfini. So here's the deal y'all. Number one, I only post rumors that I hear from people I have a history with. I literally get dozens of "scoops" every single day, OK? However, I post the ones I do to give you all a chance to VOICE YOUR OPINION about them. Look, these rumors come from a variety of places -- actors, agents, studios, etc., etc. By making them public, it gives fans a say in the matter -- and THAT'S what BOF is all about...
I haven't got any hate email lately, what's up with that?! Actually, stuff from the haters is only a drop in the bucket -- I just put 'em in the BOF MAILBAG column to show y'all how utterly assinine people can be...
Since I posted my ARTICLES ON BATMAN #1 -- which is said to be being used as a reference for THE DARK KNIGHT, I suggest that y'all also check out Mark Reinhart's article on "THE JOKER'S 5 WAY REVENGE" as well...
8:39 AM TEXAS TIME: I'm off to attend a press screening of TEENAGE MUTANT NINJA TURTLES and I'm taking my youngest son with me. I know he'll dig it, and I'll tell y'all later what I think -- although I won't post my "offical" review until this coming Wednesday (3/21)...
6:46 AM TEXAS TIME: Here's a trip down memory lane for y'all: the OFFICIAL BATMAN BEGINS WEBSITE went online 3 years ago this week and the first pics of Bale as Batman followed about 6 weeks later.
Sunday, February 25, 2007
3:46 PM TEXAS TIME: Man, my op-ed about not including Batman in any Justice League film had my email inbox full this weekend! Out of about every ten emails sent in regards to the op-ed, about six or so back my take. That sort of supports the latest "Bat-Poll" that asks of Bats should be included in such a film as it's running about 65% "No" and 35% "Yes." I'll leave it up until Friday (March 2nd) and see how things shake out…
Oh, and I'm SO right on this…
OK, no more emails telling me that Frank Miller is going to direct a film based on THE DARK KNIGHT RETURNS because he isn't. Seems the great Michael Uslan was asked about Mr. Miller directing such a film during a panel for THE SPIRT movie at the New York Comic Con this weekend. MU basically said he trusted Miller and the sky's the limit, or something like that. But he ain't doing TDKR as a film because IT ISN'T HAPPENING! However…
…I'd LOVE to see DC and Warner Animation do a animated TDKR movie! Especially now that they are producing DC-based films that are "PG-13ish" and for an older audience -- such as the upcoming SUPERMAN/DOOMSDAY for example. I think I feel an op-ed coming on!
Thursday, February 22, 2007
4:24 PM TEXAS TIME: When I was a kid back in the 70s, I used to read DC's THE BRAVE AND THE BOLD quite a bit. Of course the reason being was that the title was basically a Batman comic at that time and I was a Batman guy. I especially fond of the ones that paired The Batman and the Green Arrow.
Now, DC has brought back THE BRAVE AND THE BOLD with issue number one being released just yesterday (2/21/07) -- although it's not going to be a straight-up Batman book as it once was. However, The Batman stars in the inaugural issue along with the Green Lantern. I picked it up yesterday and will have a review posted on the site in a few days.
I believe that there is no plan to make it a "Batman comic" again, but here's hoping that The Dark Knight eventually is featured regularly as he once was years ago...
Man, that BATMAN #636 really stirred up the Bat-fans! If you haven't read it (yet), then don't read any further, as there be spoilers ahead, OK? Anyway, I thought it was one heck of a Batman/Joker story! And the format -- sort of short story style -- worked quite well. One of the craziest things I've ever seen The Joker do -- click out a Morse code message with his teeth -- was well, crazy! Grant Morrison was really able to get inside The Joker's head and give the reader a look within the insane bastard! I could do without the art, but I recommend it highly to anyone reading. (Jett's REVIEW OF BATMAN #663).
Saturday, February 17, 2007
4:24 PM TEXAS TIME: OK, how interested are y'all in how Heath Ledger's Joker will look? One thing I know, he'll look nothing like Jack Nicholson or Cesar Romero. It's going to be something different for sure. How about going old school -- and I mean really old school - and use Conrad Veidt's "Gwynplaine" in the 1928 film THE MAN WHO LAUGHS as inspiration? Gwynplaine was a dude that had his mouth carved into a smile as a child. What's cool about this is that Gwynplaine was the basis for The Joker way back in the day when he was created by Jerry Robinson, Bob Kane, and Bill Finger.
How would you like The Joker to look like this:

"The Joker" by Lee Bermejo (click to enlarge)
Or maybe even this: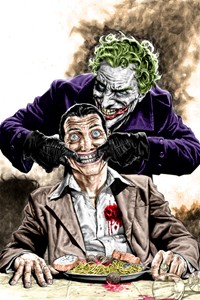 I think the second one is by Bermejo too, but do you like the "cut smile?" I think I do...
This is a scene that MUST be in THE DARK KNIGHT (Click to enlarge):

Am I right, or am I right? :)
Thursday, February 15, 2007
7:59 PM TEXAS TIME: Regarding the casting of Aaron Eckhart as Harvey Dent: Nolan, you are a talented bastard! ;) Brilliant casting! Did I say I'm VERY with this? Anywho...
Y'all do realize that if Ms. Holmes came back as Rachel Dawes and was killed by The Joker, the audience would cheer? You know they would! With that said, let's not whack "Ms. Dawes" just for the sake of whacking her -- it's cliché and expected. BUT, if you really like this Maggie Gyllenhaal as Rachel and care about her, what a kick in the you-know-what that would be!
Wednesday, February 14, 2007
2:03 PM TEXAS TIME: When I first heard that Maggie Gyllenhaal might replace who-know-whom as "Rachel Dawes," I was like, "meh." I let the fact that the two other rumored Rachel candidates, Rachel McAdams and this Emily Blunt, were hot cloud my judgment -- not that Ms. Gyllenhaal is a slouch or anything. Then I put away my superficialness (if that a word?) and realized that she's a heck of an actress and the best choice for the part. Hiring the "It" or "Hot" actress *cough* Katie Holmes *cough* doesn't always work, you know what I mean?
Tuesday, February 13, 2007
3:12 PM TEXAS TIME: I hope that WB goes through with it and does a re-cut/director's cut/extended cut of BATMAN FOREVER. Of the three sequels the followed 1989's BATMAN, FOREVER is probably the biggest "lost opportunity," if you will. It arguably could have pushed BATMAN as being considered the best of the four "Burton/Schumacher" films. What ended up on screen was not what was originally intended.
I've talked about this ad nauseam over the years, so I won't rehash it, but I think that the scenes that were cut (especially those of the "Red Diary" subplot) were now included and it was "tweaked" a bit overall, it would be much better than the original version.
As a Batman fan -- especially a fan of Batman on film -- here's to this coming to fruition. LET ME KNOW what y'all think...
I don't watch a ton of TV, but there are two shows I work my schedule around: 24 and THE OFFICE. Are y'all watching them too? How about this HEROES? Is that worth an hour? Anyway...
As I've said, I'm covering WONDERCON in San Francisco in a few weeks. Looks like there will be big presentations for 300 and SPIDER-MAN 3, so I'll be attending those for sure -- plus any press exclusive panels, etc. as well. Oh, I'm meeing Matt Wagner (BATMAN AND THE MAD MONK) there which will be cool as hell! BTW, if any of you San Francisco residents are reading, what's a good/cool bar downtown?
Sunday, February 11, 2007
8:05 PM TEXAS TIME: Hey TDK "Powers That Be," I've got two things I want to say to ya'll.
One, I hope to hell that "Lucius Fox" will be back for TDK and that Mr. Morgan Freeman will be playing him! One of the best parts of BEGINS was the relationship between Christian Bale's Bruce Wayne and Freeman's Fox. Lucius and Freeman MUST be back.
And secondly, CAST AARON ECKHART AS HARVEY DENT! Don't get seduced by actors with nominations or previous awards, OK? AE is a fine actor and is perfect for the part, trust me!
If you've already done the previous two and it hasn't been announced, well, never mind.
Monday, February 5, 2007
10:22 AM TEXAS TIME: So I go down to my hometown this past weekend, right? I'm at my Mom's and she informs me that I have "a bunch of old comics" still there and that I need to bring them home. So I'm going through them and find a few gems that I forgot about -- well actually, I thought I had these at my house.
Anyway, in these comics I found: the entire, original run of the "KNIGHTFALL" story line; 3 issues of BATMAN #500; the ELSEWORLD graphic novel IN DARKEST KNIGHT (where Bruce Wayne becomes a Green Lantern); SPAWN/BATMAN from Image and BATMAN/SPAWN from DC; 3 issues of SUPERMAN #75 (Superman "dies"); 5 issues of LEGENDS OF THE DARK KNIGHT #1; and a bunch of other stuff -- including some Marvel comics I didn't even know I had! I'm going to run through them and probably do a few reviews to add to the site..
I must admit that of all the rumored Dent candidates, I really like Aaron Eckhart for Harvey. Let's get it done Mr. Nolan...
I didn't have a chance to watch THE BATMAN's "ARTIFACTS" episode due to being out of town Saturday. I did Tivo it -- so I'll watch it tonight and bang out a review...
I'll be at Wondercon in San Francisco again this year. Like last year, I'll be reporting from the convention and doing so "Scattershots" style all day Saturday, March 3rd. FYI.
>>> Visit the SCATTERSHOTS ARCHIVE <<<

"Jett" is the editor-in-chief of BATMAN ON FILM and BATMAN IN COMICS.