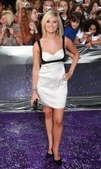 UPDATE 2: UK.CASTINGCALLPRO.COM has Ms. Dunn listed as "Maroni's Mistress" in TDK. I went back through the BOF's coverage of TDK last summer, and all things point to her in that role, not HQ. Plus, I'm going to go what my TDK friends told me last year: No Harley in TDK. (Thanks to "Ben.")
UPDATE: Here's what Mr. Nolan said about Harley being in TDK a few months back -- "It's all a rumor, yeah [laughs]." Per WIZARDUNIVERSE.COM. (Thanks to "Bertrand S.")
Who the hell knows? Well, Mr. Nolan and all the folks involved with TDK, but I digress. Does it really even matter if she's in it or not? If so, cool! If not, no biggie. As I said, we'll find out in July '08.
Last year, I was told directly by several members of the TDK crew and/or cast (Yes, I'm being quite ambiguious here) that Harley Quinn was NOT in the film. However, evidence of the contrary has surfaced.
According to both SPOTLIGHT.COM and RDFMANAGEMENT.COM, actress Sarah Jayne Dunn is listed as portraying "Harley Quinn" in THE DARK KNIGHT.
So, is this info incorrect or are they revealing something that has been kept secret?
I'm not sure, but I'd venture to guess that IF Ms. Dunn is indeed Harley, we won't be seeing her in a jester outfit and painted white face. It'll be nothing more than a cameo -- perhaps at Arkham as Dr. Harleen Quinn?
At any rate, we'll find out once and for all on July 18, 2008 when THE DARK KNIGHT finally hits theaters!
(Much thanks to "Tommy M.!")