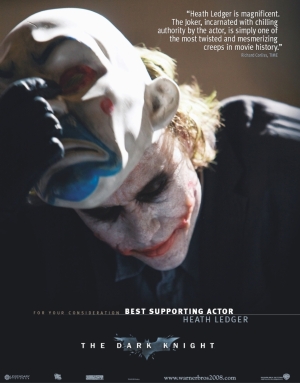 One year ago today -- January 22, 2008 -- I received the worst the news I've ever heard as a Batman fan. Heath Ledger, the man who had already finished filming his performance as The Joker in the forthcoming
THE DARK KNIGHT
, had died. It was a punch to the gut and the wind was knocked out of me.
"How could something like this even happen?" It's a question we ask every time we lose a remarkable talent before his or her time. It was an accidental overdose on prescription medication that placed Heath in the tragic company of people like James Dean, Jim Morrison, and River Phoenix. For Batman fans, it was the first time a tragedy of this nature had touched "one of their own."
One thing about Batman fans is that they are a very loyal bunch to anyone who approaches the characters they love with respect, and that's just what Heath did. Batman fans didn't mourn the loss of Heath Ledger by default because he was playing The Joker. That might have been part of it for some, but the main reason was the dedication Heath displayed to the character. Heath didn't treat the role as a stereotypical "comic book villain." He didn't look at it as an opportunity to collect a big paycheck while not having to give his all.
Heath poured every ounce of himself into creating a refreshing take on The Joker that was a perfect fit for the tone of Chris Nolan's Bat world while remaining completely faithful to the character from the comics. The result was arguably the finest performance ever seen in a comic book film and one of the best movie villains of all time, regardless of genre.
I'm deeply saddened by the roles we'll never see Heath play and the movies that won't even get made because Heath isn't here to get behind them. That being said, I'm profoundly grateful for the body of work Ledger left behind both as a Batman fan and a film buff. Heath Ledger gave us The Joker that people of from our generation will be arguing in favor of over whichever new version our grandkids try to convince us is the better Joker decades from now (and we'll be right).
Heath's performance already speaks for itself in volumes, but I'm thrilled to see it get the recognition it has in recent months. Heath's already picked up several awards from various critics' associations and awards committees, including a Golden Globe, and today, on the first anniversary of his tragic death, Heath Ledger's turn as The Joker in THE DARK KNIGHT has been recognized yet again. The Academy of Motion Picture Arts & Sciences has nominated Heath Ledger in the Performance by an Actor in a Supporting Role category. Heath joins Al Pacino (DICK TRACY-1991) as the only men nominated by the Academy in an acting category for a performance in a "superhero film." That's pretty exclusive company and with all due respect to Mr. Pacino, Heath's performance is in a class all by itself.
We'll have to wait until February 22, 2009 to see if Heath wins the Oscar, but the nomination alone makes this a great day. As fans of Batman films and movies in general, we'll always miss Heath Ledger and we'll never forget how we felt on January 22, 2008, but I personally want to remember January 22, 2009 and each anniversary after it as a day to celebrate Heath and the powerful body of work he left behind for us to enjoy. For some, it will be a day to watch their favorite Heath Ledger performance, whether it's in THE DARK KNIGHT, BROKEBACK MOUNTAIN, or one of his other films. For others, it might be a day to say a prayer for Heath and his family. Perhaps it's a day to do all of these things, but regardless of how one chooses to celebrate Heath's life and career, always remember to be proud on January 22. Be proud of Heath Ledger, one of our own.
Thank you, Heath. We'll always remember.