Overlooked Bat Treasures #1
Tuesday, February 14, 2006
Author: Mark S. Reinhart

Copyright &copy 2006 by Mark S. Reinhart

In my book The Batman Filmography, I took it upon myself to include an introduction that attempted to sum up over 60 years of Batman history. I tried to hit all of the high points of the character's storied past – the great early comic book stories, the radio shows, the films, the television shows, the graphic novels, the coffee table books, even some of the most famous Batman toys ever manufactured. I felt that for one to appreciate Batman as a film character, one had to take an overview of the character's history as a whole.

Obviously, I had to make quite a few "editorial decisions" when putting this introduction together – after all, if I had tried to write about everything that has happened to the Batman character since 1939, the intro would have been 10 times longer than the main body of the book itself! And there were a number of Batman products I have personally loved over the years that I did not even think about including in the introduction – these were things that I thought were classics, but to my knowledge the majority of Batman fans did not perceive them as such.

So when our esteemed webmaster here at BOF asked me recently if I would like to contribute some op-ed pieces to the site from time to time, I saw his invitation as a way to share with other Batman fans some of my personal favorite Bat items that have not become widely regarded as classics. So this is my first installment of what I am calling Overlooked Bat Treasures. These treasures might be comic stories, toys, music, screen works, etc. There will be no organization ascribed to them other than the fact that they are Batman things which this particular lifelong Batman fan finds to be both of excellent quality and generally overlooked.

Not surprisingly, I am going to kick off this op-ed series with my absolute favorite "Overlooked Bat Treasure." The poster accompanying this article was produced sometime in the mid to late 1970's, and was part of a series of posters depicting DC Comics' most famous characters. All of the posters featured painted art that was far more realistic than any comic book art of the time – as you can see, this poster gives Batman a "real world," almost three-dimensional appearance.

I think I was in 6th or 7th grade when I found the poster for sale in a discount department store somewhere in central Illinois. (My family was on vacation there, and to be honest, I remember almost nothing about the vacation except for the poster!) If I remember right, there were similar posters depicting Superman, Wonder Woman and Aquaman. All of them featured not only realistic paintings, but also several enlarged panels taken from then-current comic books. The Batman poster featured several panels taken from a Batman comic story illustrated by Neal Adams. The panels were underneath the painted image, but at some point I cut them off the poster. (I honestly don't remember why I did this -- I either thought the painted image looked more dramatic without the comic panels, or I didn't have a large enough frame at home for the entire poster!)

At any rate, I have never seen the painted image on this poster reproduced in any form since I bought it almost 30 years ago. I am surprised this image did not become a significant piece of Bat history, because as far as I can tell, it represents the very first time that a realistic, "serious," Batman image was created for a work outside of the comic book pages. This poster shows a grim-faced Batman wearing a costume that seems to have "real-life" texture and weight – you can even make out the fabric bunching around his bended knees. To me, the Batman in this poster foreshadows the Batman found in works like the Alan Moore/Brian Bolland graphic novel Batman: The Killing Joke, the 1989 film Batman starring Michael Keaton, and perhaps most obviously, the Alex Ross-painted oversize graphic novel Batman: War on Crime. (I've always wondered if like me, Ross saw this series of posters when he was a kid, because his visual interpretation of Batman seems to be so closely linked to this painting)

In closing, I'd like to ask all of you BOF readers if you know anything at all about this image. Do any of you remember seeing it before? Do any of you own the poster with the Neal Adams panels still intact? And most importantly, do any of you have any knowledge of who might have painted it in the first place? Well, whoever you are, unknown artist, I would like to say "Thank You."

A NOTE FROM THE AUTHOR: Several BOF readers have contacted me to let me know the painting was done in 1977 by Drew Struzan, an artist who would go on to paint move posters for E.T: THE EXTRATERRESTIAL, the BACK TO THE FUTURE films, and several of the STAR WARS films. Obviously, his later work is very well-known, but his Batman painting seems to have unjustly fallen into obscurity. According to fellow BOF reader Frank Pepito, Struzan has a book coming out soon that will showcase his entire career -- let's hope that the Batman painting is in the book, and more people will get to see it. Thanks to Frank and everyone else who got in touch with me about the poster and Mr. Struzan. And finally, thanks Mr. Struzan for creating such a great Batman image!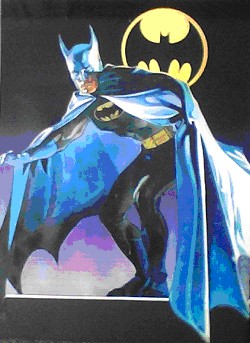 Mark S. Reinhart is the author of THE BATMAN FILMOGRAPHY
.