Jett's Trip to the Premiere of BATMAN BEGINS, Part 3
Author: Bill "Jett" Ramey (@BATMANONFILM)
Originally Posted on: June 8, 2005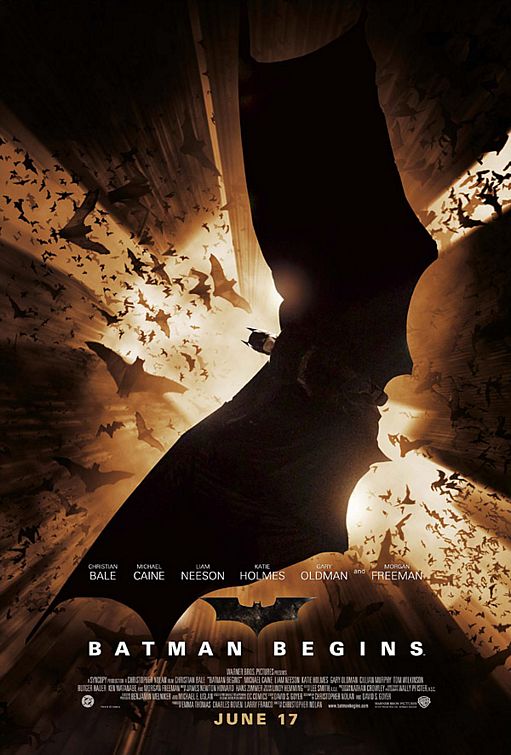 Friday, June 3rd was the day of the "roundtable" interviews. On the schedule were most of the major cast (Christian Bale, Katie Holmes, Michael Caine, Gary Oldman, Morgan Freeman), producers (Charles Roven and Emma Thomas), screenwriter (David S. Goyer), and the director (Christopher Nolan). The interviews would take place at the Regent Beverly Wilshire Hotel, which was the headquarters of the press junket
We were not due to start until 3:15 PM, with a 2:45 PM check-in. I spent the day mostly in my room, working on BOF and doing some additional prep for the interviews. Around noon, I packed my gear, checked out, stored my bags, and headed on up to the 8th floor hospitality suite.
There, I found the place to be much more active than it was the previous day. Warner Bros. reps and various media types milled around the many rooms doing their thing. I headed into the largest room of the suite - where the Ra's Al Ghul costume was located - and found myself a place on a large couch. On the wall across from where I was sitting, was a large HD wall TV playing various extended scenes from the film. At first, I thought they were showing a DVD of the film - which fired me up to say the least. I quickly found out that wasn't the case, although some of the best scenes of the film was being presented.
After watching several "loops" of various scenes from BATMAN BEGINS, I made my way into the dinning area where they were serving lunch. What a spread! I filled my plate along with everyone else, found a small table to sit, and enjoyed some very excellent chow.
The roundtables were to take place on the 6th floor. I was to be in "group four" and assigned room 617. I left the hospitality suite, walked down to the elevators, and made my way two floors down. I was fooling with some equipment in my bag as I walked out of the elevator, and out of the corner of my eye, I saw someone. My lack of attention almost caused me to run into this person, but I avoided them at the last minute. "Excuse me," I said as I looked up to find Katie Holmes standing right next to me! "No problem," she muttered, as she walked off talking to a Warner Bros. rep.
I soon found room 617 and entered to find about ten or so other reporters sitting around - and no chairs. I found myself a spot along the table, directly across from where the cast and crew were to be sitting. It was a bit uncomfortable having to stand for an hour and a half, but I actually had a good view of the surroundings.
A few minutes after our designated start time, the first pair was ushered into the room - producer Charles Roven and screenwriter David S. Goyer. It was announced that Goyer had laryngitis (which a writer had told me about a few days earlier), and he was indeed speaking in very hushed tones. Most of the questions were directed at Goyer and pertained to BATMAN BEGINS, but also THE FLASH, which Goyer is writing and Roven is producing. "I haven't even finished it," Goyer says of the project. "Chuck [Roven] is one of the producers on it. He's riding me to finish it. Until I finish it, then we'll get into who might play him." Ryan Reynolds as The Flash is a hot rumor making the rounds of late. Will he play the Scarlet Speedster? "Who knows," says Goyer, "he's not attached."
Roven had high praise for the talent in BATMAN BEGINS. "The actors could take lines, and in other hands, may not be as warm or funny. Their delivery and timing was exceptional. Michael Caine's timing is incredible. Morgan Freeman's timing is just incredible, you know."
Everyone wanted to know was about any future sequel. "Who knows, honestly," says Goyer. "I'm not being coy, but none of us are signed for another yet. We're all sort of waiting to see what Chris wants to do, so we'll see."
Roven and Goyer were asked about what kind of mandate they were given by Warner Bros. Says Roven, "The studio had kind of decided - before our involvement - to try revive the BATMAN franchise. And they had been working on it for a couple of years. They knew they wanted to do something different than what the character was in BATMAN AND ROBIN, and they were trying different things - not knowing exactly what they wanted. But when Jeff Robinov came on as president of production, with Alan Horn, they sort of focused on doing an origination story. And when Chris Nolan came in to talk to them - along with David - they too thought it was best to do an origination story. And one that would be grounded in reality. And that's really how it [BATMAN BEGINS] came about."
For some reason, the abandoned BATMAN VS. SUPERMAN was brought up. Producer Charles Roven says that the script - penned by Andrew Kevin Walker - is "great." BATMAN BEGINS clearly shows that there is more life in the franchise. And I think if there was another BATMAN done in the near future - if any of us were involved - most probably would flow from this. Plus, you also have to wait and see what Brian Singer's SUPERMAN is going to be. And I don't think a 'Batman/Superman' movie is even going to be brought up again until those kind decisions are made." Says Goyer, "With this new film, we certainly aren't going to do it for a while. Maybe one day."
Roven talked about what Christian Bale brought to the role of Batman. "The thing about Christian that is so amazing is that he has the ability to do all the things that were required of Bruce Wayne and all the incarnations of the character. He needed to be able to give the darkness of the real Bruce Wayne, he need to be able to give the physicality of Batman, and he needed to be able to give the light touch and charm of the public Bruce Wayne. And if you know anything about Christian, he throws himself into his roles completely in every way. Plus, he did a screen test that blew everyone away."
"We wanted to link Bruce to Gotham in a way that had never been done before," says Goyer. "And we wanted to link his father to Gotham." The reason is that it makes Batman's mission is that much more personal and important. "We wanted to create a character that has a lot of lightness and darkness within him," says Roven. "Just like the bad guys do. And show exactly how close we are as humans, you know, to doing good and bad. We've got them both inside us." "But Bruce," says Goyer, "never crosses that line."
Next up was Sir Michael Caine and Katie Holmes.
Sir Michael walked in very exuberant, "Hello all," was how he greeted us as he walked in and sat down. Did you like the movie," he asked us. "Good. It makes our job a lot easier." Asked if he did any research about the Alfred character, "I did a back story on him," Caine told us. "I wanted him to be tough. He was a sergeant in the SAS, got wounded, and went into the sergeant's mess, because he didn't want to leave the Army. He learned all that serving drinks and stuff and got picked up by Bruce Wayne's father."
When talk of a sequel was broached, Caine says, "I would like to do a sequel, if there is one. Sir Michael also told us that he's certainly glad that he didn't have to wear a costume. "Oh my God, I don't want to strap on anything. I was a soldier; I couldn't wait to get the packs off my bags." He ads, "I remember Christian talking about how hot the suit was. He left puddles of sweat behind him. I liked my wardrobe, I hate even having to wear a wig - it means you have to be on the set an hour earlier."
Caine also commented on Christian Bale's transformation into Batman. "He was great to work with and he's dedicated. What he did with himself physically was amazing. I'd seen him in AMERICAN PSYCHO, and he was kind of thin. If I had know about [THE MACHINIST], I'd have completely freaked out! Then I showed up on the set [of BATMAN BEGINS] and there was Arnold Schwarzenegger standing there." When asked how he would like to see his character develop in a sequel, Caine quipped, "Longer. More screen time. "
Ms. Holmes was a bit more reserved that Caine, many times deferring questions to him. She told us "It was quite a thrill to get the role of Rachel. I really liked her strength," she continued. She's worked for everything she ever got." Rachel Dawes was one of the few characters created just for the film. Says Holmes, "The back story [for Rachel] was already there [for me]. She grew up with Bruce in that house. Her mom was a servant there. So it was all pretty much there on page. It was fun to think about the experiences her and Bruce may have had growing up, and how that would come into play as they got older. And that came into play in the story."
She too is up for a sequel, "I really liked the story. I'd love to do another one. I loved working on this movie, BATMAN BEGINS." Holmes also said that she loved working with Cillian Murphy, who plays "The Scarecrow" in the film. "It was wonderful working with Cillian, he's a great actor. We had a nice time. He was really creepy in the movie. I didn't like that mask," she said of the burlap sack Dr. Crane uses. "I mean I liked it, it was just really creepy."
Both were asked of their most surreal moment while working on BATMAN BEGINS. "For me," Caine said, "was when I walked into the Batcave for the first time. You see, it was a set at Shepperton Studios on a soundstage - which was the first place I ever said a line in a movie. I had eight lines in the picture, and messed up six." I told them 'Those are great false bats in the ceiling.' And they said 'those aren't false, they're real. They are asleep.' Then the waterfall started - it was a massive set, just massive."
Holmes said that the first time walking into the Gotham City set was her surreal moment. "It is just incredible place. I felt that I was in a real city." This prompted Caine to interject, "I've got news for you about the sequel - They haven't pulled that set down. I've never told anyone that. It is still there." "I know," Holmes chimed in. Caine continued, "And it's really Chicago, quite weird. Quite strange."
"My respect for Christopher Nolan is quite incredible," says Caine. "I was intrigued that the man behind INSOMNIA and MEMENTO would be directing a big budget film like this and they trusted him with it - a hundred million dollar picture. But I love it. I've seen the picture now and I just love it."
TO BE CONTINUED! - Bill "Jett" Ramey

comments powered by