Jett's Trip to the Premiere of BATMAN BEGINS, Part 2
Author: Bill "Jett" Ramey (@BATMANONFILM)
Originally Posted on: June 7, 2005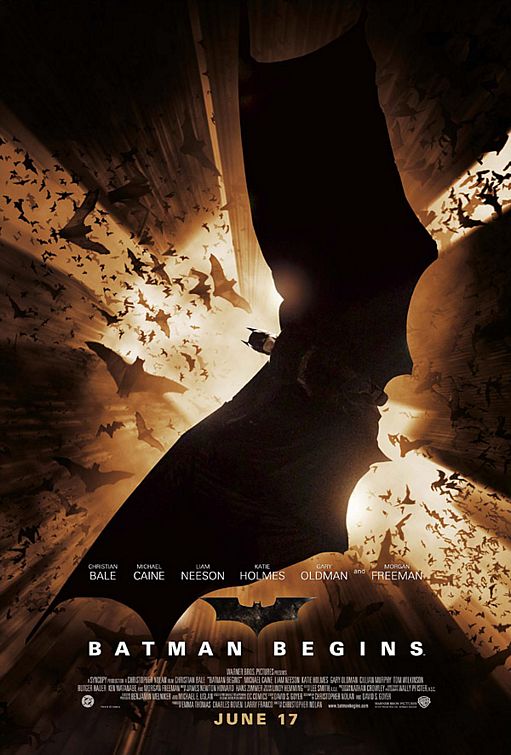 The first credits you see for BATMAN BEGINS is at the end. You get your last look at The Batman, and it cuts straight to "BATMAN BEGINS" (fade) "A CHRISTOPHER NOLAN FILM."
As the credits began to roll, I found myself standing on my feet, clapping away like a fool. I'm 39 years old. I have three kids. I have a great wife, a nice house, a good job, and a somewhat successful hobby/second job. I tell you this not to brag, but to try to show you a bit of who I am - a grow man living an adult life (for the most part). But there I was last Thursday, the 2nd of June, 2005, clapping my ass off with a metaphorical tear in my eye. All I could think was "Awesome. Just F'n AWESOME!" And for a brief moment, I was a kid again. All of the admiration, emotion, and love - yes love - for this great character I had as a kid, came flooding back. This was MY Batman. It was as if they read my mind. If Christopher Nolan had came to me two years ago and said, "What kind of BATMAN film do you want, Bill?" It would have been exactly what I saw on screen last week in Hollywood.
I wasn't flying solo on the standing and clapping. And I'm pretty sure that I wasn't the only one who found themselves - as "The Fonz" would say - a tad "misty" at the end of this film. I didn't want to leave the theater. I wanted them to say, "Alright guys, sit back down and we'll show it again!" That of course, that wasn't going to happen, but I would have sat there and watched BATMAN BEGINS as many times as they would have shown it. And I wouldn't have been alone.
I walked out of the auditorium with the rest of the media and the first thing I did was call my wife, Rachel. Now, it was a little after 10 PM, LA time, so it was after midnight in Houston. She answered the phone by saying, "Well…?" No hello - she knew why I was calling. "It was unbelievable," I told her, "Just amazing. Greatest film I've ever seen!" "Good," she said, "Did you meet Christian Bale yet?" Women.
All around me in the concession/lobby area, people were talking enthusiastically about the movie. One guy looks at me and says, "What did you think?" "It was badass," I tell him, like a teenager. "Yes it was," he replies, "best movie I've seen all year." And such was the talk all over Mann's Chinese Theater late this Thursday evening.
I made my way through the tourists and across the famous celebrity hand and footprints in front of the theater. The huge BATMAN BEGINS ad on the building across the street was lit up like a Christmas tree - albeit a brown, gold, and black one. I couldn't stop thinking about this film and how it was better than I anticipated. I feared that I would be let down; that it wouldn't be as good as I had hoped. I must have been high. I had been dead wrong and worried over nothing.
I climbed aboard our bus that was taking us back to the hotel. It was all abuzz with BEGINS talk. Rebecca Murray from ABOUT.COM sat next to me, "I want to know what you thought," she asked me. Rebecca had sat behind me on the trip to Mann's, and had confessed that she knew very little about Batman. "Well, what did you think about it," I asked her. She liked it. A lot. One of the things she told me was that "you don't have to know a lot about Batman to like it. It explains everything." One comment by Ms. Murray struck a chord, "You don't have to be a Batman fan to like it. Everyone will enjoy this film." This made me feel much better as I long wondered what the "Average Joes" out there would think of it.
Everyone on the bus seemed to really like it. You had your few smarmy types who displayed a sort of "meh" attitude about it. Trying to question every little detail. "Why didn't he just do this, instead of that when such and such happened?" In my head, I was rolling my eyes like a SOB to such petty nonsense. But those guys were a very small minority among all the media on the bus. The overwhelming verdict was that BATMAN BEGINS was a hell of a film.
Upon reaching our final destination - the Beverley Wilshire Hotel - I jumped off and headed up to my room. I had promised the BOF'ers that I would say something about the movie as soon as I was capable. I also wanted a beer to celebrate, but that would have to wait for a bit. I turned on the laptop, answered some email, and then the quick "BATMAN BEGINS is AWESOME" update, and went hunting for that libation in honor of the great BATMAN BEGINS.
I really didn't want to hit the bar at the hotel. I had been there earlier in the day and it was very nice, but I was looking for a little something different, perhaps a little more down to earth. I head down to the concierge's desk and ask him if he knew of a location of the type of watering hole I was looking for. "Take a look at our website, there are some recommendations on it." So back upstairs and to the PC. I found their website, looked over the places they had listed, and found one that sounded interesting: "The Frolic Room" on Hollywood Blvd. The Frolic Room it would be.
Back downstairs, I asked the doorman to call me a taxi and was soon informed he couldn't find any. "But we'll take you in the Mercedes comp anywhere you want to go." Sweet! That's what I'm talking about. So, I tell the driver where I'm heading, and about 12 minutes later, we're there.
The Frolic Room was just my type place: a dive. But a dive with a lot of personality. Not a very big place, just mostly a bar with a juke box against the wall to the right. A fairly interesting crowd patronizing the establishment as well. You had a dude next to my right that looked like someone who worked in IT, jamming his ass off to the tunes coming out of the jukebox. To my left, and older, African-American gentleman dressed very sharply. Further down the bar, a couple in their 20's sat looking as if they were on a date. And finally two chicks and a dude who definitely walked to the beat of a different drummer.
I ordered my beer and must have sucked it down in no time, as the bartender looked a bit surprised when I ordered a second. Soon, another couple came in and set down next to me. Young couple in their early 20's. They began playing this lotto type game and following the numbers live up on the TV. "What's that y'all are playing," I asked. "Keno, dude," he nicely tells me.
So we struck up a conversation and found we had a love for sports in common. We talked about the Pistons/Heat series - being from Michigan, he was pissed the Pistons had lost. "What brings you out here," I inquire. "Just trying to do that acting thing," he says.
Where you from," he asked. "Texas," I say. "What in the hell are you doing here?" "Why, something wrong with this place," I inquire. "No - this is a cool place - but it just sounded funny an out of towner being here." So I tell him why I was in LA. "How was IT," he asked about BATMAN BEGINS. And I give him the rundown. "Man, I so want to see that film," he tells me.
We chatted for a bit longer and I then realized that I had some more prep work to do. Tomorrow, I would be doing roundtables with Christian Bale, Christopher Nolan, and other members of the cast and crew. I asked the bartender to call me a taxi, paid my bill, and then waked outside to catch the cab.
TO BE CONTINUED! - Bill "Jett" Ramey

comments powered by