Jett's Trip to the Premiere of BATMAN BEGINS, Part 1
Author: Bill "Jett" Ramey (@BATMANONFILM)
Originally Posted on: June 6, 2005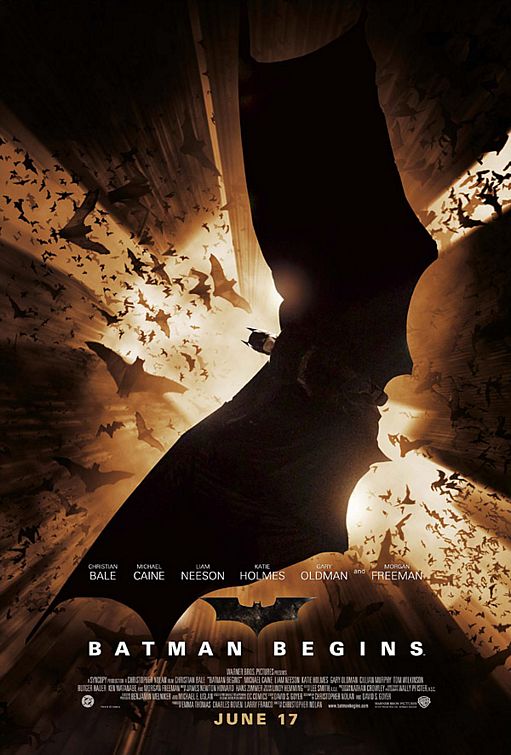 This all started back in 1998 - June 2, 1998 to be exact. That was the day that I launched this website that you are reading now, BATMAN ON FILM. It was then that I began campaigning for a new BATMAN film and reporting any and all news regarding "BATMAN 5." Flash forward exactly seven years later.
The morning of June 2, 2005 started very early for me, as I was due to be on an 8 AM flight to Los Angeles. I woke up early - earlier than I had intended actually - and couldn't go back to sleep. Couldn't stop thinking about BATMAN BEGINS and the fact that I would be seeing it in a little over twelve hours.
I arrived at Bush Intercontinental Airport Houston about an hour prior to the flight. I moved through security rather quickly and proceeded to my gate - which just happened to be the last one in terminal E. I arrived just as they were making the last boarding call for the flight, which was fine with me - I wouldn't have to be sitting around the gate waiting to board the damn plane. A few minutes after I found my seat, it took off without a hitch, heading west.
I got to LA around 9 AM local time, hired a shuttle to take me to the hotel, and got to the Beverly Wilshire Hotel about an hour or so later. This is the location of the BATMAN BEGINS press junket and where Warner Bros. put me up for the night. Pretty darn nice digs, I've got to say. I checked in, got to my room, and then did some work on BOF. I also did an interview with a writer for THE BOSTON GLOBE that will run in conjunction to the release of BATMAN BEGINS. I'm really "big time," right? Yeah right.
One of the first things that struck me about LA was the weather. Very nice and cool. A welcomed change from the humid, mid to high 90s I had left back home in Houston.
Around mid afternoon, I headed up to the hospitality suite that Warner Bros. had set up for the junket. There, I almost lost my "professional demeanor" and slipped into full fan mode. Greeting me at the door was a full-size Batman costume from the film! Walking around, I found that they had several costumes from BEGINS on display: another pre-Batman Batman suit; the raggedy-ass clothes Bruce Wayne wears in Asia; the clothes that Lucius Fox (Morgan Freeman) is wearing when he shows Bruce Wayne (Christian Bale) the future Bat-gear; on of Ra's Al Ghul's (Ken Watanabe) costumes; and The Scarecrow's garb - including the burlap sack mask and straight-coat! Very cool! I was able to snap a few pictures and then went on back to my room to get ready for the 7 PM screening.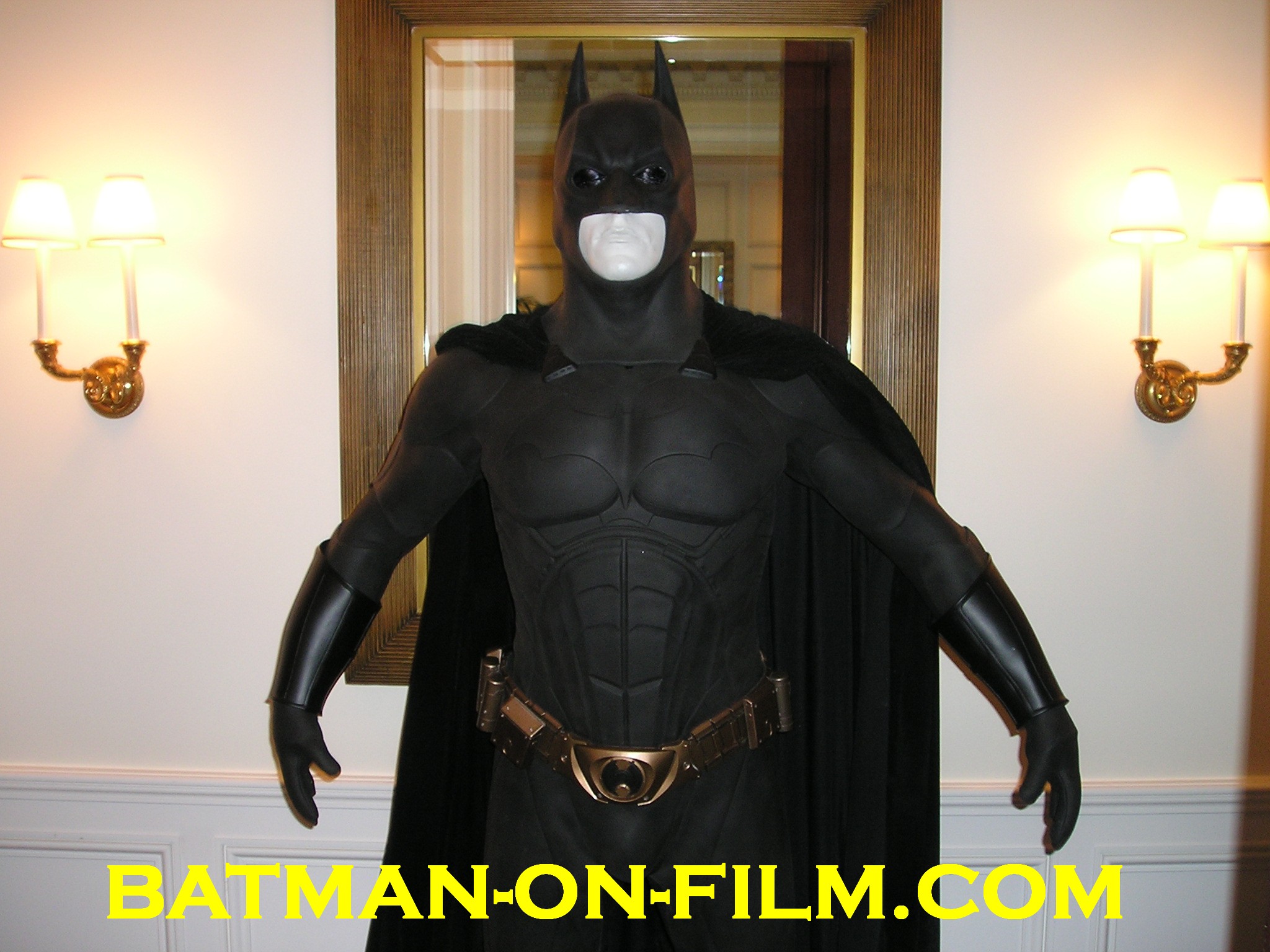 Christian Bale's Bat-suit from BATMAN BEGINS
The bus for Mann's Chinese Theater was leaving at 6 PM sharp from the Beverley Wilshire. I arrived and took a seat at about twenty 'til the hour. The bus already had several people on it, and many were still boarding. Soon, the Warner Bros. reps arrived, did a quick head count and check-in, and off we went.
It took about forty minutes or so to get to the theater. The talk on the bus was about Batman. The girl behind me was representing ABOUT.COM, and informed me that she know very little about Batman. She asked me who I was there for, "BATMAN ON FILM," I told her. "I know you," she said, "you must be very excited?" "More than I can say," I replied.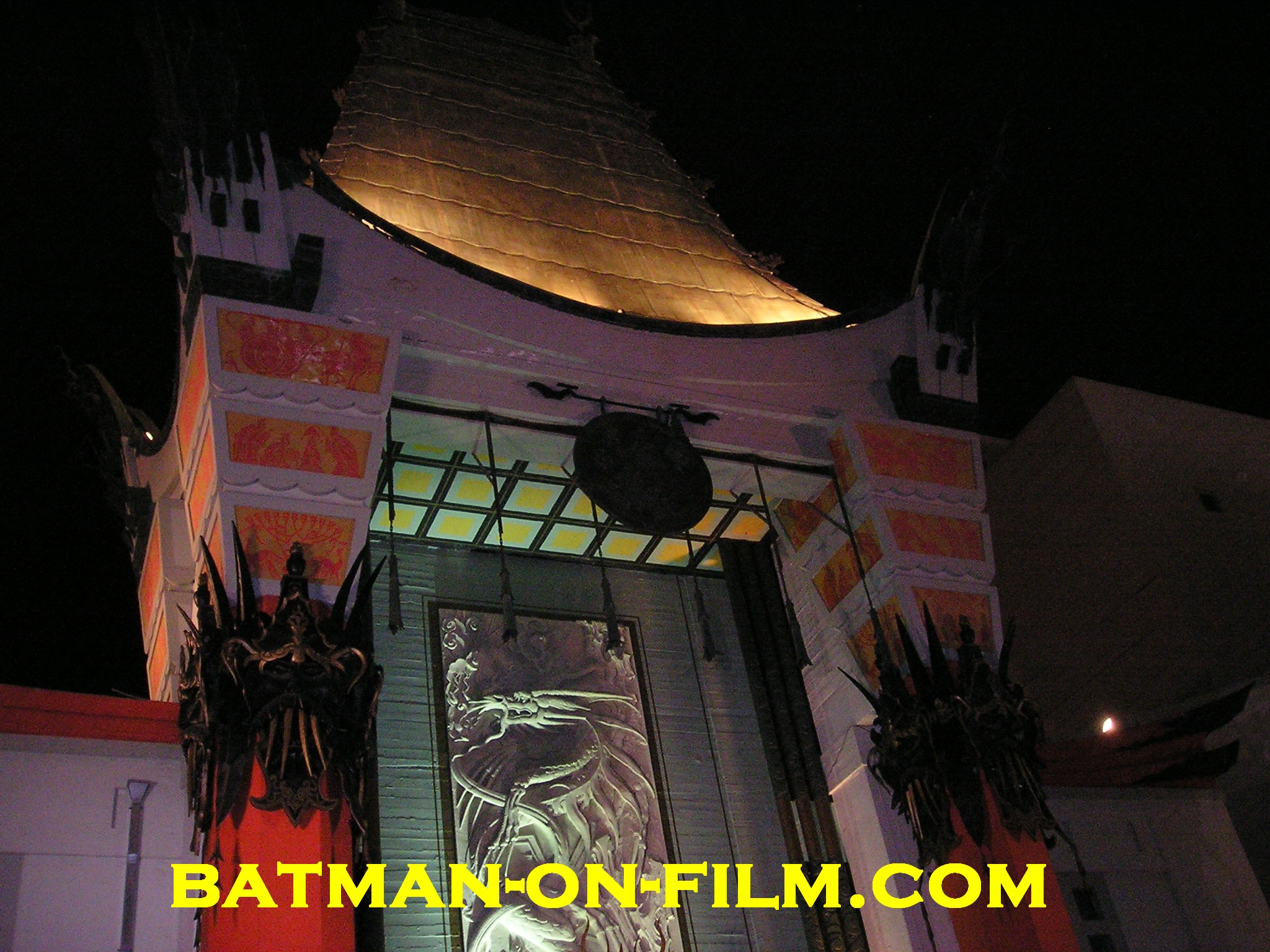 Once arrived, we were given instructions to head back to the bus soon after the screening, or your ass would be left behind. During the short walk to the theater, I was able to snap a few pictures - one of them (which you can see below). The building across from the theater had it's entire from side covered in a BATMAN BEGINS ad, making it a huge Bat-billboard! We continued on across the famous hand and footprints, up some stairs to the fourth floor, and on into the building. We were given a movie pass and had any bags checked for recording devices. No cavity searches took place as far as I know. I got my ticket and headed on in to secure a good seat.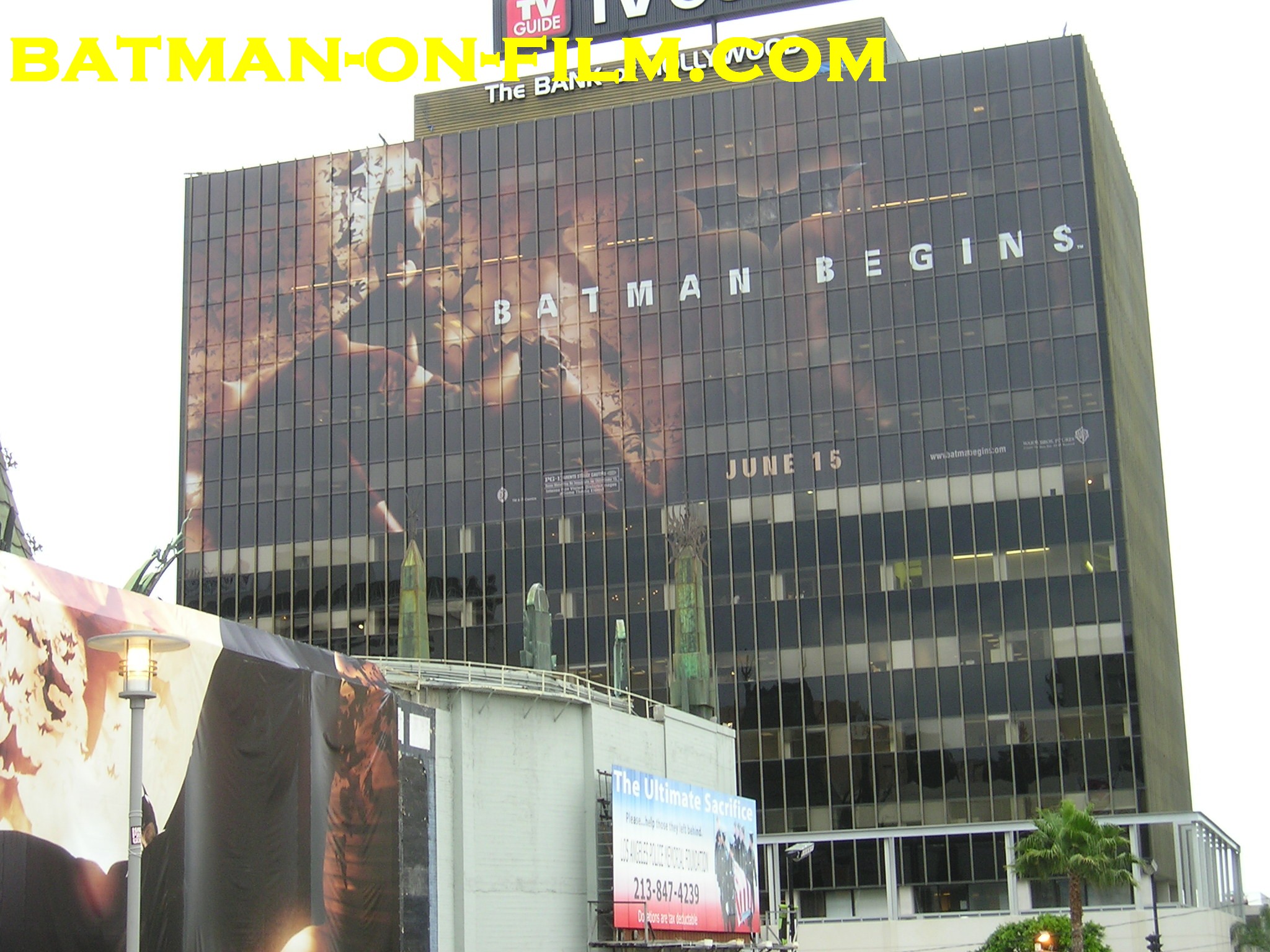 People were still filling in over the next several minutes, and the auditorium soon grew to maximum capacity. It was damn packed. I was sitting there thinking - anxious as hell - "Dude, you are about to see BATMAN BEGINS! Like at any moment!" Eight years of waiting for another Bat-film was about to come to an end. My lifetime wait of seeing the definitive Batman flick could possibly be ending as well.

The lights dimmed. Some scattered applause broke out among the crowd which included me. The Warner Bros. logo appeared in black and white on the screen, followed by the new DC Comics movie intro. Then swarming bats flying across the screen, briefly forming the BATMAN BEGINS logo. No credits, just straight to the film.

Here it was, finally! BATMAN BEGINS had begun.

TO BE CONTINUED! - Bill "Jett" Ramey

comments powered by