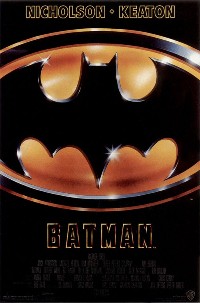 In June of 1989, I was a 23 year-old recent college graduate. I had my first coaching/teaching job in a Houston suburb lined up—which I was extremely excited about. I was also fired up for the release of a new movie that I had anxiously been awaiting for over a year. I didn't know what to expect from this movie called
BATMAN
. See, this was the pre-internet days and movie-news was hard to obtain. And in 1989, sources for Bat-movie news was very limited—obviously, there was no
BATMAN-ON-FILM.com
.
Let's flash back to the spring of 1988 when I first learned that a BATMAN film was in the works….
Venturing into a bookstore at a local mall, I began browsing through various sports and entertainment magazines. One in particular—the sci-fi magazine "Starlog"--caught my eye. Thumbing through it, I found a "Coming Soon" section that listed various sci-fi/fantasy/adventure films that were currently in the works. I proceeded to read that Warner Brothers was planning a new BATMAN film starring Jack Nicholson as The Joker and Michael Keaton as The Batman. "Michael Keaton," I thought to myself, "as Batman? Come on! This is 'Mr. Mom' we are talking about here. This is the guy from Night Shift, Gung Ho, and Beetlejuice. He's not Batman material!" I assumed that this project must be a movie version of the old 1960's TV series, with Keaton taking over for Adam West. I shrugged my shoulders and didn't think much about this movie for several months.
Let's now jump forward to early 1989. While channel surfing, I stopped on "Entertainment Tonight," where by chance, a short feature on the new BATMAN film would appear on that night's show. After 15 or 20 minutes, the BATMAN piece ran. They talked about Nicholson as The Joker. They talked about Keaton as Batman--and the backlash that WB was getting for casting him in the role. Then they showed a small clip from the movie—the great "I'm Batman!" scene from the beginning of the film. Viewing that short clip, I thought to myself: "That's Keaton?" Clearly, I had been mistaken almost a year earlier—this was not an update of the campy TV show. This was The Dark Knight. This was The BATMAN! My anticipation for this film began to grow.
Over the next few months leading up to the June premiere of BATMAN, "Bat-mania" swept the country. Everywhere you went, people were wearing Bat T-shirts, Bat-hats, Bat-tennis shoes, Bat-this and Bat-that. Prince songs from the movie began to play on the radio and his "BATMAN" video was all over MTV. On "20/20," Barbara Walters did an entire piece on the film and the tremendous buzz surrounding it. There was no doubt that BATMAN would be more than a movie--it was going to be a huge event.
The night of the premiere in my Texas hometown, I put on my new BATMAN logo T shirt, and headed to the theater early—thinking I'd get the jump on everyone else planning on attending. I was dead wrong. A huge line had already formed outside of the theater. My buddies and I stood in line for well over an hour, before securing our tickets and heading into the theater. Over the next half hour or so, the place became jammed-packed with people—most predictably wearing some sort of Bat-paraphernalia.
Finally, the lights dimmed. The trailers previewed upcoming films. The advertisements sold their goods. The screen cut to black, the now familiar and great Danny Elfman BATMAN theme began playing. The opening credits began to appear: "A Peters/Guber Production…Jack Nicholson…Michael Keaton…A Tim Burton Film…BATMAN!"
I left the theater that night a rededicated Bat-fan. At that time, I thought it was one of the best films I had ever seen. But as Keaton's Batman says in BATMAN RETURNS (a film I detest, actually), "Things change."
Today, my review of BATMAN is different than it was after my first viewing fifteen years ago. Clearly, it is not the definitive BATMAN film. It has its flaws and missteps. Among them are:
* The choice of Keaton in the lead role was clear miscasting. No matter how good his performance—and it was—he was not physically suited for the role of Batman.
*The film's basic plot and storyline was weak.
*Nicholson's Joker overshadowed Bruce Wayne/Batman-- who is supposedly the main character.
*Wayne's motivation for dressing up as a giant Bat and kicking the crap out of criminals is not fully explained. Why the Bat-symbol? How did he get all of his "toys?" What was the process of him becoming "The Batman?"
*Is Bruce Wayne a borderline psycho? He was in this film. Batman and The Joker were opposite sides of the same coin, according to director Tim Burton.
*The Bat-Universe was placed in an "unreal" world; a precedent established by Burton. A practice that was taken to the next level in the overly macabre RETURNS, and the neon and super-neon world of Joel Schumachers's FOREVER and B&R respectively. Why couldn't Batman appear in the "real" world? (Note: BATMAN BEGINS' "realism" aspect is the exact opposite approach under director Chris Nolan.)
*Batman killing. One of the biggest mistakes.
Despite these and the film's other shortcomings, BATMAN is a pretty good film and the best of the first four Bat-films. But its major achievements can be viewed only in hindsight. It accomplished two very important things. One, it changed the way many perceived Batman. Not with "comic book fan," but with "average Joe moviegoer." Gone from the latter's minds was the campy and silly Adam West version of the 60's, replaced by the brooding and serious Dark Knight. Secondly, it—along with SUPERMAN: THE MOVIE (1978)—laid the foundation for the successful superhero films that we see today. I would argue that without BATMAN, there wouldn't have been X-MEN (and sequels), SPIDERMAN (and sequels), DAREDEVIL, THE HULK, HELLBOY, and ironically, BATMAN BEGINS.
Today, the BATMAN movie series has come full circle. Left for dead after Joel Schumacher's horrible camp-fest known as BATMAN & ROBIN (1997), the series has been resurrected by British director Christopher Nolan (MEMENTO, INSOMIA). WB is making a bold move by completely restarting a movie series just eight years (at the time of BEGINS' premiere) after the death of the previous series. WB hired a director and a screenwriter who "gets" Batman. They have cast an extraordinary group of actors—who is disappointed with Christian Bale, Sir Micheal Caine, Liam Neeson, Ken Watanabe, and Gary Oldman? Perhaps Warner Brothers themselves finally "got it." It seems all parties involved with this new film want to rectify the mistakes of the previous series. Thus, BATMAN BEGINS
Will BEGINS be surrounded by the same "Bat-Mania" that preceded BATMAN fifteen years ago? History says yes. The 60's TV series brought about Bat-hysteria in its own right. We've already addressed what took place in 1989. People love Batman and they want to see the character on the big screen. Albeit in a good film.
While BEGINS could finally be that definitive Bat-film, there will always be a special place in many a Bat-fan's heart for BATMAN. Your's truly included. We owe that film, and all involved, a great deal of thanks for bringing it to the big screen. For me, it rekindled an interest in one of my childhood favorites. It got me back into the comic book shops to see what Bruce Wayne was up to in his original genre. And it—via it's third sequel--indirectly led to the website you are currently reading--BATMAN ON FILM.
So as we anxiously await the arrival of BEGINS next summer, let's take a moment to salute the original "dark" BATMAN film--and all of those responsible for it as well. Slip on that old "Batman" T-shirt, pop BATMAN (1989) into the DVD/VCR player, turn up the surround sound, and enjoy it one more time.
Or at least until that long promised special edition DVD is released next year.