My 7+ Fave BOF Moments
Sunday, June 18, 2006
Author:
Bill (Jett) Ramey

It's been a while since I've done a Batman op-ed, but I've actually got a couple in the works. In one, I'm revisiting BATMAN RETURNS. And in this one -- which you obviously are reading now -- I thought I'd run down my "7 Favorite Moments" running BOF. And come to think of it, It's sort of an anniversary article as BOF turned 8 on June 2nd and we are entering our 9th year of BOFing!
So with no further adieu, my 7 favorite BOF moments.
7. The "Kurt Russell as Gordon Rumor"
Obviously, Kurt Russell was never cast as Gordon, but that's really not what this is about. This was the very first story I broke way back in June of 1998. There had been a rumor floating around during '97 and '98 that Kurt Russell was up for the role of Batman, taking over for George Clooney. But actually, Russell was being discussed as Gordon, not The Batman.
And little did we know that Joel Schumacher had pitched the idea of adapting the comic book BATMAN: YEAR ONE as the fifth BATMAN film. And that's why Russell's name was mentioned in conjunction to a BATMAN movie.
6. The Lee Bermejo Interview
One day out of the blue, I get an email from the incredible comic book/Batman artist Lee Bermejo. I was and am a huge fan of Lee's because he draws The Batman the way he has always looked in my mind: realistic.

Anyway, Lee tells me that he's a huge fan of the site and that the guys over at DC love what I do (And that flatters me more than I can say!). So I ask Lee for an interview and he graciously agrees.

Not only does he provide a beyond cool interview, he does two exclusive drawings just for BOF! One is of The Joker, which he based on Lachy Hulme, and the other was of Two Face, based on Denzel Washington.
Since then, Lee and I've kept in contact and I consider him a good Bat-friend.
BOF's Lee Bermejo Interview
5. Chris Corbould
Chris Corbould served as the F/X supervisor for BATMAN BEGINS. To find out that Chris and the BEGINS crew regularly read BOF was a huge honor.
I luckily was able to strike up a friendship with Mr. Corbould which led to an interview with Chris conducted by BOF's Paul J. Wares.
Chris is an intelligent, fascinating, and talented guy who moved on to work on the upcoming CASINO ROYALE and our relationship will allow us to cover that film in more detail this fall over at ON-FILM.NET.
BOF's Chris Corbould Interview by Paul J. Wares.
4. Paul Ware's BATMAN BEGINS Set Visit
During the summer of 2004, I was at the gym and my cell phone began to ring. I looked at the caller ID and found the number had 212 area code. In the U.S., that's New York City. I thought to myself, "Who the hell is calling me from New York?" I answered and found myself talking to a couple of guys from Warner Bros.
"We'd like to invite you for a set visit," they informed me. While I was totally tripping out inside, I was my usual (hehehe) calm, cool, and collected self. "Sure, I'd love to," I told them.
The set visit was supposed to be in July of '04, but was pushed back a couple of months to September -- which sucked for me. I was knee deep with work at my job in September, so I personally couldn't make it (That ain't going to matter next time boys!). Luckily, I was able to assign my good friend and fellow Bat-fan Paul J. Wares to attend. And with Paul being a UK native, he was able to attend and represent BOF.
Paul wrote several outstanding set visit reports that went live in BOF in January of 2005. Paul, through his writing, made me feel like I was there, and it was the next best thing to actually being at the Cardington Hangers.
CLICK HERE to read Paul's Set Visit Reports.
3. The Mark Reinhart Interview

Either in late 2004 or early 2005, I got an email from someone named Mark S. Reinhart. Mr. Reinhart informed me that he was a fan of BOF and that he had written a book entitled THE BATMAN FILMOGRAPHY. The book was a detailed account and critical analysis of all of The Batman's live-action films (sans 2005's BATMAN BEGINS). He asked if I'd like a copy and I happily agreed.
In the book I found a simply excellent account of The Batman's cinematic history -- from the 1940s serials, the 60s TV show, to the Warner Bros. Burton/Schumacher film series. In the author, I found a kindred Bat-spirit. Mark and I are roughly the same age and found that our taste in The Batman is almost identical -- down to a mutual despise for BATMAN RETURNS!
I eventually asked Mark for an interview and he agreed. Mark went on to become an occasional contributor to BOF, doing a few articles and reviewing BATMAN BEGINS last summer -- which he says is by far the best BATMAN to date.
BOF's CLICK HEREMark Reinhart Interview by Bill Ramey.
BATMAN BEGINS Review By Mark Reinhart.
2. The Michael Uslan Interview
In the fall of 2005, I received the copy of THE BATMAN ANTHOLOGY DVD set to review for BOF. While I watched the "Shadows Of The Bat" documentary detailing the history of the Burton/Schumacher Bat-films, I was simply awed by Mr. Michael Uslan's appearance on the DVD. Mr. Uslan, along with Ben Melniker, served as executive producer on all 5 of the Warner Bros. BATMAN movies and is the man I credit for actually bringing The Batman to the big screen.
I was so impressed that I said to myself, "I've got to meet this man!" So, I gave a shout-out to Mr. Uslan during one of BOF's news updates. A couple of days later, I get an email from Mr. Uslan's office telling me that they read my shout-out and asked me what was up. I asked for a review, Michael agreed, and I got to meet someone who has become one of my heroes and inspirations.
Mr. Uslan is just a fantastic guy, and one of us: a real Batman fan.
BOF's Interview With Michael Uslan.
1. BATMAN BEGINS and the BB Press Junket


Bar none, this was my favorite and proudest moment.
In June of 1998, I was fortunate enough to be invited to the BATMAN BEGINS press junket in Beverly Hills, California. Not only did I get to meet and interview several members of the cast and crew, I finally got to see the fruition of all that I had been working for over the last 7 years: BATMAN BEGINS.

Me, a little 'ol Batman website webmaster & writer -- the guy who started this thing on a friggin' WebTV -- was going to get to cover BATMAN BEGINS as a member of the press.
How can I sum that up other than to say it was AWESOME! And I can't wait until 2008!
BOF's BB Press Junket Reports by Bill Ramey.
Jett's BATMAN BEGINS REVIEW.
Read "BATMAN & ME" by Jett.
This was a hard list to put together, let me tell you. So let me mention some of my other favorite moments in no particular order:
Being interviewed by newspapers such as USA TODAY, THE GLOBE AND MAIL, and THE BOSTON GLOBE...Interviewing THE BATMAN STRIKES artist Chris Jones…Talking to actor Larry Holden (D.A. Finch in BATMAN BEGINS)…Hearing "JJJEEETTTT ! You 'da Man!" screamed to me at Wondercon in San Francisco…Reading email from all the BOF'ers out there -- good and bad…Interviewing comic book writer Scott Beatty…hearing from "celebrities" who I couldn't believe are Bat-fans…AND more things I don't have time to write about in this article.
To finish up, BATMAN ON FILM is more than just a website to me -- it's part of my life. I honestly couldn't imagine not doing BOF -- even though I've contemplated shutting her down on occasion (Was I OUT of my mind?).
And I want to thank all of you -- my BOF'ers for reading and supporting this site for over 8 years now. I am thankful to you all more than I can say.
So stay with me in the future -- we got a lot of BATMAN films ahead of us and we got to make sure they don't screw it up!
Oh, I left one thing out. Probably the #1 thing that has occured during BOF's run...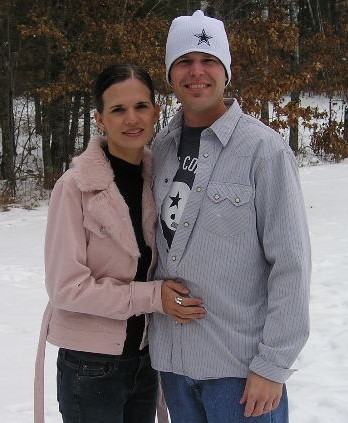 "Jett" is the founder and editor-in-chief of BATMAN ON FILM,
ON-FILM.NET, and BATMAN IN COMICS.