Four 2007 Must-do's For THE DARK KNIGHT
Wednesday, August 2, 2006
Author:
Bill (Jett) Ramey
&copy William E. Ramey. All rights reserved.
FROM THE EDITOR (12/22/07): Alright, there's just a little over a week of 2007 left, so let's see how we stand.
FROM THE EDITOR (11/14/07): I figured that it was time to take a look back at this article one more time and see where we're at as the end of the year approaches. - "Jett"
FROM THE EDITOR (8/18/07): It has been almost a year since I wrote this article. Since we are just entering the 2nd half of 2007, I decided to take a look back at this op-ed and see where we stand. - "Jett"

I'm not a publicist, although I've been accused by many of being one for the Bat-flicks. I'm certainly not an expert when it comes to marketing. However, I've done this long enough to have a bit of a handle on what works. I certainly know what fanboys (especially the Batman fans) want to see, and I've got a pretty good idea what the general movie audience likes as well -- chiefly dudes.
With the announcement yesterday by Warner Bros. that the sequel to BATMAN BEGINS -- THE DARK KNIGHT -- is officially in the works, the marketing and hype has started as well.
So what I've got for all of you readers today are 4 "Must Do's" for THE DARK KNIGHT in 2007. And yes I realize it is still 2006, but 2007 will be here before you know it.
1. THE DARK KNIGHT OFFICIAL WEBSITE
The website for BATMAN BEGINS went online in March of 2004. I'd love to see the one for TDK up and running in early '07. I'd also like it to be updated a bit more regularly than the one for BEGINS. That now leads me to…
UPDATE(11/14/07): Nothing as of today in regards to an update on the OFFICIAL SITE. However, we did get a cool update via the viral campaign over at WHYSOSERIOUS.COM in which another pic of Heath Ledger as The Joker was revealed.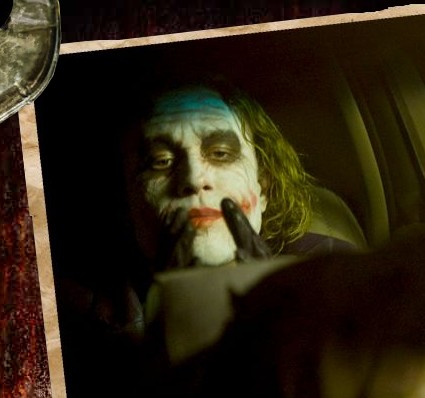 UPDATE(8/18/07): The official website for the film -- THEDARKKNIGHTMOVIE.COM -- went online back in May. Not only that, but there is a subsite to be found at IBELIEVEINHARVEYDENT.COM. If that were not enough, There was a brilliant viral marketing campaign that revealed the first picture of Heath Ledger as The Joker at IBELIEVEINHARVEYDENTTOO.COM.
Consequently, they get an A- for me on this one. It would have been an A+ if there was more to the official site by now.
2. THE DARK KNIGHT ONE SHEET
What's the best way to get people to the new website than to have the first teaser one sheet available for everyone to check out? Nothing too extravagant, just a great new pic of Christian Bale as The Batman with "THE DARK KNIGHT" on it somewhere along with "SUMMER 2008."
UPDATE (12/12/07): Warner Bros. recently released not one, but four one sheets! Check 'em out: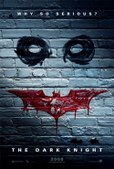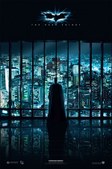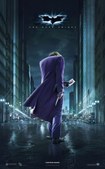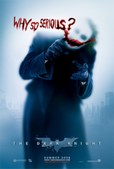 UPDATE (11/14/07): As of this writing, nothing. But rumor has it an offical one sheet is coming by the end of the month.
UPDATE (8/18/07): No one sheet yet, but the TDK official logo has been revealed on the aforementioned official site.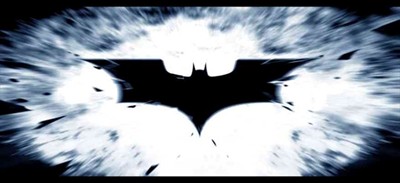 The TDK Official Logo
I would have liked to have seen one -- even with simply this logo, the film's title, and release date -- up by now in theaters.
You're slacking here guys, let's get moving on this! Please. :)
3. THE DARK KNIGHT - 1st TRAILER
Get this puppy out there summer '07. I saw what such a move did for SPIDER-MAN 3 here recently -- everybody was talking about it. I'm not just alluding to fanboys, I'm talking EVERYBODY. It needs to have more "substance," if will, than the first teaser for BEGINS -- the "They told me that there was nothing out there" one. And it MUST have a brief -- and I mean brief -- shot of Heath Ledger as The Joker as well.
My suggestion is to start off with the rooftop scene between The Batman and Lt. Gordon at the end of BEGINS. You know what I'm talking about, right? "Take this guy…has a taste for the theatrical like you. Leaves a calling card." "I'll look into it." Then go right into shots from the TDK. Trust me, people will go nuts!
So what movie would I attach it to? Here are my suggestions SPIDER-MAN 3 (which ran with SUPERMAN RETURNS), PIRATES OF THE CARIBBEAN: At World's End, and HARRY POTTER AND THE ORDER OF THE PHOENIX.
UPDATE (12/22/07): OK, Warner Bros. did good and released the first full TDK trailer in December of 2007:
UPDATE (11/14/07): It's been revealed that 8 to 10 minutes of THE DARK KNIGHT featuring The Joker will be shown in front of I AM LEGEND. This footage -- which will probably end up in the final cut of the film -- was specifically shot and planned for this marketing "stunt." And it'll be in IMAX!
Also, a "regular" trailer will hit theaters sometime during the holiday movie season.
UPDATE (8/18/07): Well, they got 'er done! The first teaser for TDK was released in July of 2007 and attached to THE SIMPSONS MOVIE and a few others. Here is it:
UPDATE: Sadly, no trailer yet for THE DARK KNIGHT. I believed that there may have been one with SPIDER-MAN 3, but that film was released in early May, so I understand why no teaser with that one. It is now July '07, and no teaser to date.
From what I've been told, one will not be attached to the new HARRY POTTER -- which is a Warner Bros. film by the way. Since I've been informed that there will be a teaser this summer, here are the possible candidates it will be attached to: THE SIMPSONS MOVIE, THE BOURNE ULTIMATUM, RUSH HOUR 3 (which is a NEW LINE film, a sister company of Warner Bros.), and THE INVASION (another Warner Bros. flick).
As I consider a teaser this summer a "Must Do," let's "Git 'Er Dun" people! I actually HATE that saying, FYI, but it seemed appropriate right now.
4. COMIC CON 2007
No ifs, ands, or buts about it. THE DARK KNIGHT needs to RULE Comic Con next summer.
I was there a few weeks ago and I saw for myself how excited everyone was over the SPIDER-MAN 3 presentation. This HAS to be done for TDK.
Get everyone there too: Bale, Nolan, Ledger, Oldman, and any new additions to the cast. Put together a little preview for everyone to see as well. And watch, word will spread like wildfire about the new Bat-flick.
UPDATE: Well, true to their word, TDK was not a Comic Con in San Diego -- although the badass viral campaign show up! Check this out:
And as promised to me, TDK was at Wizard World Chicago.
Repping TDK in Chicago was Christian Bale, Gary Oldman, Aaron Eckhart, Jonah Nolan (screenwriter), David Goyer (story), and Chris Nolan (director). The panel participated in a Q&a session with fans and then 3 minutes of footage from the film was screened. HERE is BOF's rundown of the TDK WW Chicago Panel which includes a detailed description of the footage.
UPDATE: So much for this one.
I was told directly that TDK would not be in San Diego for Comic Con this July. While I'm not happy about it personally, I understand why they will not be there. The bottom line is that they don't have anything ready to show. Also, they are on a tight shooting schedule in Chicago as we speak.
That's the bad news. There is good news however! TDK will have a presentation in Chicago at the Wizard World convention being held August 9-12.
With that established, let me say this to "The Powers That Be": I think you are getting off on this one with many fans because you are going to be at the WW Chicago convention. Please don't half-ass it like BEGINS was handled in San Diego back in '04. Have Mr. Nolan there along with Mr. Roven, Ms. Thomas, and well as Christian Bale and other members of the cast who are in Chicago filming at the time of the convention. And for goodness sakes, have some cool footage of TDK to show the people there! The fans REALLY are fired up about this movie and I think they deserve a little something in return.
Now one last thing about Comic Con in San Diego. Just because there will not be a TDK presentation, I know Warner Bros. has a BIG presence there; including a HUGE area on the convention floor. How about having The Batpod there on display? Perhaps some TDK logo on mini-posters to hand out? Maybe even some official shots of the cast set up for people to see? Just a suggestion.
So there you have it, my take on what we should see next year in regards to THE DARK KNIGHT. There is no doubt in my mind that if everyone plays their cards right, and the film is marketed and hyped properly, we're looking at a movie that it going to push the $300 million mark.
I truly believe the way BATMAN BEGINS was marketed was spot on, but let's kick it up a notch or two for THE DARK KNIGHT shall we?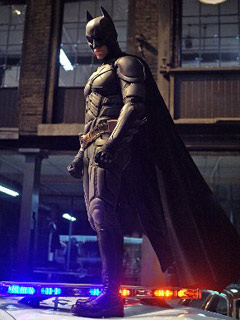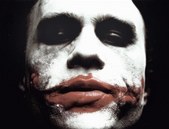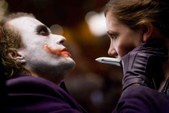 UPDATE (11/14/07): Not too much to add since the last update back in August, but the viral marketing continues to be cool as hell. You got to admit that a nation-wide (U.S.) scavenger hunt on Halloween followed by having people "Jokerize" themselves and take a pic in front of famous landmarks around the world is pretty darn creative!

UPDATE (8/18/07): I'm not going to just criticize and grade 'em here. Let's give 'em props for the things they deserve. The previously mentioned viral campaign was badass! And we've already seen hi-def pics of The Batman's new suit, The Batpod, and a shot of Heath Ledger as The Joker being directed by Mr. Nolan. And we're only halfway through 2007, so I expect we'll be getting other goodies over the next 6 months.

OK guys, we'll address all of this again around January 1, 2008 and judge how they did in '07. See y'all then!

UPDATE (12/22/07): When it comes to marketing THE DARK KNIGHT, it's pretty clear to me that 2007 was a huge success.

The only downer was that there was no TDK panel in San Diego at Comic Con in July. But, they more than made up for it with their viral marketing campaign that spawned a TDK scavenger hunt in downtown San Diego during the Con. The end result was the release of the first teaser trailer and another picture of Heath Ledger as The Joker.

And it's not as if they blew off the convention scene, OK? Team TDK appeared at Wizard World Chicago in August where Nolan screened about 3 minutes of footage for about 200 lucky fans.

Speaking of the viral marketing, it's been a huge hit with the fans this year. Well done!

I'd be remiss not mentioning the excellent "TDK PROLOGUE" that was released in IMAX (along with I AM LEGEND) along with the first trailer that caused a big buzz. Both hit theaters in December, finally fulfilling The Joker's promise of "See you in December."

It's been a great year for fans of Batman on film and I think I can honestly proclaim 2007 a huge Bat-triumph!

Now, let's talk 2008.…

"Jett" is the founder and editor-in-chief of BATMAN-ON-FILM.COM,
BATMAN-IN-COMICS, and ON-FILM.NET.