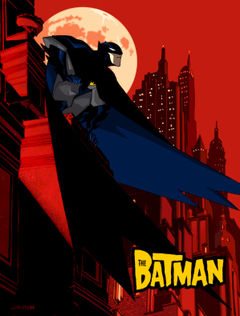 You know, I'm going to miss
THE BATMAN
.
Really.
If you've been reading BOF for a while, you probably know that I haven't been too kind to the Emmy-winning show during its TV run. As you know, I've had several issues with the series, such as...
BatgirlRobinThebarefootJoker...
ToomuchPenguinNoTwoFace...
LackofCommisionerGordon...
WhytheHELListhisshow
becoming"JusticeLeague:Gotham?!"
*catches breath*
Regardless of my petty negative critiques, THE BATMAN was a very well done and respectful animated adaptation of the Batman mythos.
If I had had my druthers, THE BATMAN would have been essentially "YEAR ONE" of the great BATMAN: THE ANIMATED SERIES.
But they didn't ask me, obviously.
Regardless, what they came up with had excellent animation (better than the revered B:TAS to be frank) and solid, albeit juvenile at times, stories on a consistent basis.
Like I said, if I were in charge, I…
WOULDN'T have ever included Batgirl…
WOULD'VE kept the original opening them music…
WOULD'VE waited until the mid-point of the final season to bring in Robin…
WOULD'VE had A LOT more of Commissioner Gordon and the whole Bats/Gordon relationship…
WOULDN'T have had The Joker have red eyes and run around without shoes…
WOULDN'T have had Killer Croc basically be The Lizard from southern Louisiana (I'm surprised they didn't have him eating boudain and/or cooking up a gumbo)…
WOULD'VE had D.A. Harvey Dent and eventually Two Face in the series…
Absolutely WOULDN'T have turned this show into "Justice League: Gotham." (Grrrr!)
Alright, enough of my personal nitpicks.
What ultimately made me come to appreciate THE BATMAN was that I finally accepted it for what it was: Batman for kids. Yes, I know that if you are over the age of 12 or 13, you probably rolled your eyes at this show on more than one occasion. Nonetheless, that's exactly the point as this series wasn't aimed at anyone over the age of 12.
And there you have the beauty of THE BATMAN: It probably made many a young kid a Batman fan for life.
I think back to when I was between the ages of 5 and -- I don't know -- 10 years old. I used to rush home after school to watch reruns of the old BATMAN TV show starring Adam West. Not once back then did I think that show was silly. To me, it was dead serious stuff and it's one of the major reasons I'm still a Batman fan today, some 30-plus years later.
Kids need something "Batman" that's aimed towards them as well. As an adult, I'm glad that the movies and comic books are targeted towards me. With that said, the yougsters can not be overlooked either or there will not be grownup Bat-Fans like me and others like me in the future.
Now that THE BATMAN is coming to an end, what will be the show's legacy?
Will it be as well-regarded as its predecessor, BATMAN: THE ANIMATED SERIES? Doubtful.
Despite that, I believe that THE BATMAN will go down in the annals of Batman history as a well produced and honorable addition to the Batman universe -- one that contributed to the creation of a new generation of Batman fans.
And that's a pretty good way to be remembered, don't you think?