It's OK...HATE The Joker!
Author:
Jett
March 28, 2008


A NOTE FROM JETT: CLICK HERE to read my original tribute to Heath Ledger.)
It's going to be OK, trust me.
You will not be considered insensitive or disrespectful, I promise.
In fact, I plan to do it as well.
Go ahead and hate The Joker in THE DARK KNIGHT...
..."Like me."
Now I'm talking about the good kind of hate, alight? You know, one of those "love to hate" kind of deals.
One of the things that I long lobbied for was a Joker that we all could, you know, HATE.
No more of this "Hahaha! Ain't The Joker funny?" sort of stuff. When I look up at the big screen, I want to see "The Joker" -- not "Actor X as The Joker."
We've been down that road before, right?
I wanted the actor who was cast to completely disappear into the role and be unrecognizable. I wanted the part written so that The Joker was so vile and so despicable that the audience wouldn't have had any other choice but to loathe him.
And thanks to Heath Ledger, it appears as if that is exactly what we're getting.
As director Christopher Nolan said recently:
"What I found in watching the [THE DARK KNIGHT] myself is that you're not looking at the actor, you're not looking at the friend, you're not looking at the colleague. You're looking at The Joker"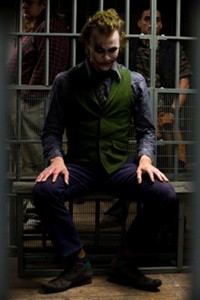 Indeed...INDEED.
Yes, Heath Ledger is no longer with us. Batman Nation and folks everywhere are still mourning by his passing.
Yet we now know that Heath was awfully proud of his work as The Joker in THE DARK KNIGHT. "The most fun I probably ever will have portraying a character," he said shortly before his death.
We know that Mr. Nolan and Warner Bros. decided (and rightly so) to "stay the course," if you will, and not change a DAMN thing when it comes to The Joker in the film or with its marketing.
Because of that, we're still getting the action figures, the collectable statues, the posters, and a plethora of Joker-related advertising and other merchandise.
Furthermore -- and most importantly in my opinion -- we're getting THE DARK KNIGHT this Summer as Mr. Nolan and Heath Ledger intended it to be.
So I say go right on ahead and be totally appalled by The Joker when he commits his dastardly crimes.
Despise him with a passion for the anarchy he's bringing upon your favorite fictional city.
If you want to punch him in the face for the pain he's causing Batman, do it -- figuratively, of course.
Hell, stand up and cheer and high-five the person next to you when Batman finally pounds his sorry, makeup-wearing, green-haired, purple-adorned, lip-smacking, cackling ass into the ground!
Then, as you are doing all those things, stop for just a moment and ponder that somewhere...
...Heath Ledger's got to be smiling.
"Jett" is the founder of BATMAN-ON-FILM.COM.
BATMAN ON FILM, &copy 1998-present William E. Ramey. All rights reserved.
BATMAN AND ALL RELATED CHARACTERS AND ELEMENTS ARE TRADEMARKS OF AND © DC COMICS. ALL RIGHTS RESERVED.
Read BOF's PRIVACY POLICY.