"WB's Shakin' the Bat-Moneymaker, But is it Good for Batman on Film?"
(Part 2 of 2)
Author: Bill "Jett" Ramey
August 4, 2013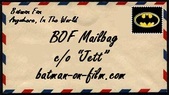 After the revelation (first announced here on BOF on 8/1/13) that Batman in MOS 2/BATMAN VS. SUPERMAN is going to be older, I think it's best we switch gears here in Part 2 of "Shake That Bat-Moneymaker!"
As you might imagine, I've gotten TONS of email over the last few days from folks asking all sorts of questions about Batman in MOS 2 and the future of Batman on film. Therefore, I've decided to turn the second half of this op-ed into a "BOF Mailbag" and answer reader's most asked questions. Enjoy!
"Why are you saying that this new Batman casting info is 'confirmed?'"
JETT SAYS: Because it was reported by a trade; in this case, THE HOLLYWOOD REPORTER. Trades get their info directly from studios because the studio wants the info made public. That's why.
"Why an older Batman?"
JETT SAYS: I'd say there are two reasons mainly. One, it's obvious that director Zack Snyder wants to use THE DARK KNIGHT RETURNS as inspiration for the film. Secondly, an older Batman – one who is in his mid-40s and much closer to the end of his career than the beginning – will help to differentiate this Batman from the previous on screen incarnations of the character.
"If Batman is to be in his 40s, then why not just go get Christian Bale?"
JETT SAYS: Guys, really, that ship has SAILED. First, Chris Nolan's cinematic Batman story is DONE. Secondly, they can offer Bale all the money in the world (and they have, no matter what he's said publicly) and he isn't going to cross Nolan. That's friendship, that's respect. It's past time to let this go.
"Chris Nolan is an executive producer. Will he help with the story like he did with MAN OF STEEL?"
JETT SAYS: Nope. When he said he's done with Batman on film, he meant it. He's told me this personally on more than one occasion. Truth be told, his involvement with MOS 2/BvS is through the backdoor because it's technically a Superman film and he'd be EP'ing even if Batman wasn't in it. Again, it's past time to let this go.
"If Batman is going to be older, what does that mean of a Justice League film, a unified DCU on film, and future solo Batman movies?"
JETT SAYS: I don't think that we're going to get a Justice League film like everyone assumes. I believe it'll be a "Trinity" film – Superman, Batman, and Wonder Woman – that follows BATMAN VS. SUPERMAN and they'll pass that off as a JL film. I believe that Warner Bros. knows that having Batman in a film with multiple super-powered beings can come off looking ridiculous, so they're going to limit it to Superman and Wonder Woman and present it in the "realistic" and "real world" universe as established in MAN OF STEEL.
"Unified DCU on Film?" We've already had a Green Lantern film and it flamed out. The Flash is going to TV, not the big screen. And does anyone think that the regular folks – not fans – really care to see Aquaman, Martian Manhunter, etc. on the big screen?
As far as solo Batman films in the future, it wouldn't shock me if we never see this new, 40ish Batman in a solo Batman film. I think there's a strong possibility that the next solo Batman movies will be based on BATMAN BEYOND. Of course, the actor cast could play the aged Bruce Wayne in those films, but I think they recast older.
"Could they still cast younger for Batman?"
JETT SAYS: Sure. But the fact of the matter is that they're thinking older, not younger. This isn't conjecture, folks. If they did go younger, I like Ryan Gosling – even though my friend and colleague "El Mayimbe" from Latino-Review.com can't imagine this "hipster" playing The Dark Knight (LOL!). I also like a couple of the guys who tested for Batman for BATMAN BEGINS -- Jake Gyllenhaal and Joshua Jackson.
"Who's your choice for the new Batman?"
JETT SAYS: Hmm…
I'd say I'd be happy with any of the following: Josh Brolin, Richard Armitage, Jon Hamm, or Jim Cavievel – though I don't think the last two are in the mix due issues like a busy TV schedule. BUT...
If I could have my way, I'd make Batman CGI and get Kevin Conroy to voice him! And I'd make it look exactly like an Alex Ross painting -- tights and all. Check out this concept art/CGI of what it could look like. - Bill "Jett" Ramey
A life-long Batman fan, Bill "Jett" Ramey
is the founder of BATMAN-ON-FILM.COM.
He likes Elvis, The University of Texas,
Dallas Cowboys Football, and of course...
THE BATMAN!
He resides in the GREAT state of TEXAS with his lovely wife, three kids, and two Boston Terriers.



comments powered by