Look, I'm not going to BS y'all at all and try to come off super humble and all that, OK? Running
BOF
the last 13+ years has allowed me to do some pretty cool stuff.
Why? Because of the way I've run this site quite frankly. When you operate in a respectful manner -- be it personally or professionally -- you tend to get respect back in return.
Wow! What a novel idea! Anyway…
Of all the things running BOF has afforded me, meeting and becoming friends with my personal Batman hero, Mr. Michael Uslan, is at the top of the chart.
Not only is he literally (along with the great Mr. Benjamin Melniker) responsible for "Batman on film," he and I are also sort of kindred spirits.
I've always figured that was the case, but I'm now 100% sure after reading Mr. U's fantastic memoir, THE BOY WHO LOVED BATMAN
. I can guarantee it that you also will realize that you are also a kindred spirit with MU once you read this book!
I'm not going to get into the details here of how Michael and Mr. Melniker obtained the cinematic rights to The Dark Knight back in 1979 -- "The Ten-Year Human Endurance Contest!" as Mr. Uslan calls it -- to bring a dark and serious Batman to the big screen. While it's a very important and great story, it's not the reason I absolutely loved this memoir.
It was Michael's tale of growing up a HUGE comic book fan in North Jersey that resonated the most with me. His love of comics as a young kid hit home in a way that's hard to explain. All I'll say is that if you loved comics as a kid, you're going to identify with and love Michael's story too.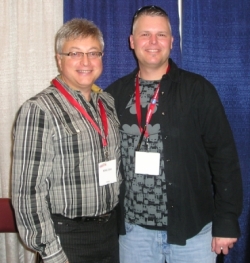 While reading THE BOY WHO LOVED BATMAN
, I gained even more respect for MU than I already had. Why? Because he stuck to his guns and was proud of being a "Comic Book Fan" back in a day when that just wasn't cool.
I too felt the same way growing up in the 70s and 80s and even brought that "shame" with me into adulthood in the early 1990s. To make matters worse, I was a pretty damn good athlete growing up. Once I hit junior high, I was compelled to hide my love for comic books -- and Batman -- through high school, college, and, quite frankly, into my 30s to a certain degree. BUT...
Ah, what memories!
Reading this book had me smiling from ear to ear thinking back to my comic book reading and buying youth!
When I was a kid, I would ride my "BMX'ed-out" 'ol Schwin down to the "Sack and Pack" to buy my comics off the rotating comic book rack. If you were lucky, they might even have gotten in some of those big, oversized comics which you could find along with the "real" magazines.
By the time I hit high school and college, I had gotten "too cool" for comics -- and that was actually bullshit! In secret, I'd drive over to our nearby mall and go to the bookstore where they sold comic books and these newfangled things called "graphic novels." Sometimes I'd actually buy a comic book or these comic book "books" (like WATCHMEN and THE DARK KNIGHT RETURNS), but usually I'd be there for hours just standing in the store and reading comics.
Looking back, I was wrong, Wrong, WRONG to feel that way and SHOULD HAVE worn a "Batman/Comic Book Badge of Honor" on my sleeve after I hit puberty. BATMAN ON FILM is my geek penitence, and I plan to spend the rest of my life making up for my previous sins.
Ironically, it was Michael's passion -- the 1989 BATMAN -- that led to my redemption. When that film came out in June of '89, everybody was a "Batman Fan." I was like "WTF?" in my head. "I've been a Batman fan my entire life and these people are a bunch of F'n posers!" It was right then and there that I started being true to my Bat-self, went back to the comic book shop, and began buying and reading my comics publicly and proudly.
Folks, buy this book. I PROMISE that it's going to make you laugh, cry (I did), and nod your head in a "That's me!" sorta way. The story and message of this book moved me tremendously.
But more importantly, it's going to INSPIRE you. THE BOY WHO LOVED BATMAN
will MAKE you keep on keeping on doing the thing you LOVE, as well as well as getting you off your ass, stop hem-hawing around, and DO the thing you LOVE…before it's too late.
(Just in case Michael is reading, I'm dedicating this book review to all the "Old Man Tepid" sorts of the world!)
Make sure you check out the THE BOY WHO LOVED BATMAN's OFFICIAL SITE. You can order THE BOY WHO LOVED BATMAN HERE
.