Batman Top 10 of 2009 (Part 2)
Author:
Jett
December 16, 2009

Even though there was no Batman inspired pop culture phenomenon this year -- like THE DARK KNIGHT in 2008 -- 2009 was still a pretty darn good year for The Caped Crusader and his fans. With that in mind, here's a look at what I believe to be the top 10 "Batman Events" of 2009...
7) No BATMAN 3 News/Announcement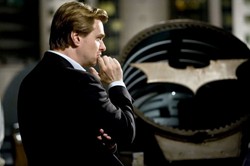 While there were tons of rumors -- ones that made sense (Johnny Depp as The Riddler) and ones that were ridiculous (Cher as Catwoman) -- there was absolutely no official news in 2009 about a second sequel to
BATMAN BEGINS
and a third visit to Gotham City for director Chris Nolan.
At press time (December 2009), it's been a year and a half since THE DARK KNIGHT hit theaters in 2008 and nary a word has been spoken about BATMAN 3 from the folks at Warner Bros. As a result, I'm positive that we won't see another BATMAN 'til Summer 2012 at the earliest.
While Warner Bros. has admitted that they want more Bat-Flicks and Chris Nolan has said he's "mused" about a B3, still…nothing.
FURTHER READING
* BATMAN 3 Official Announcements/Statments
* "It's Time To Get The BATMAN 3 Ball Rolling!"
6) "Batman Reborn"

*sigh*
After Batman was killed (well, "Omega Sanctioned") by Grant Morrison and Darkseid in FINAL CRISIS #6, a new Batman emerged in Gotham City -- and the Batman monthlies.
Was it ever a secret that Dick Grayson -- AKA Nightwing and the first Robin -- was going to take up the Mantle of the Bat?
Please!
So not only do we have a "new" Batman, we got us a fourth Robin in the form of Bruce Wayne's bastard son, Damien.
Look, it's no secret that I was HIGHLY critical of "killing off" Bruce Wayne and putting Dick in the suit. But truth be told, "Batman Reborn" -- i.e. the stories in the monthlies -- have been pretty darn good and compelling.
BATMAN AND ROBIN has been really strong -- though it slipped a bit during the second story arc. BATMAN has been OK, but looks to be picking up steam now that writer/artist Tony Daniel is on board. STREETS OF GOTHAM and GOTHAM CITY SIRENS -- both written by the great Paul Dini have been awesome from the get go and have yet to waver. DETECTIVE COMICS -- which features Batwoman -- may be the best of the bunch. The only one that's sucked has been the disappointing RED ROBIN.
Don't get me wrong, I desperately want Bruce Wayne to return -- and he is apparently in 2010. But "Batman Reborn" has been better -- and more palatable -- than expected.
FURTHER READING
* "Can't I Just Read About BATMAN?!" (January 19, 2009)
5) BATMAN: THE BRAVE AND THE BOLD


What else can I say other than that this show is brilliant!
How wrong I was about B:TBATB. I figured I was going to be a hater and ended up absolutely loving it! Really, as I said in an op-ed a few months ago, if you're a Batman fan and you're not watching this series, you're missing out.
Yeah, there's been a few clunkers along the way, but the episodes are really good for the most part. And when they're great, they are GREAT! Case in point, "Mayhem of the Music Meister!" This episode is already a classic! Here's a little taste of it with the song and dance number called "Drives Us Bats!"…
See, told y'all!
FURTHER READING
* BOF's coverage of BATMAN: THE BRAVE AND THE BOLD (w/episode reviews and previews)
* "If You're Not Watching, You're Missing Out!" (October 7, 2009)
PREVIOUS: Part 1 & Spots 10, 9, and 8
NEXT: Part 3 & Spots 4, 3, and 2