Even though there was no Batman inspired pop culture phenomenon this year -- like
THE DARK KNIGHT
in 2008 -- 2009 was still a pretty darn good year for The Caped Crusader and his fans. With that in mind, here's a look at what I believe to be the top 10 "Batman Events" of 2009...
10) BATMAN: EARTH ONE Announced


Although this is an event that will take place in 2010 (and hopefully beyond), the announcement of a new DC Universe -- "Earth One" -- and a new version of Batman was pretty significant.
Here's how DC describes it: "Watch from the darkest corners of Crime Alley as a young boy is struck by unbelievable tragedy that will forge the greatest crime-fighter to ever stalk the rooftops of Gotham City!"
Basically, BATMAN: EARTH ONE is kinda-sorta a reboot of Batman in the comics -- a reboot without actually affecting the in-continuity Batman of the DCU proper. Not having the baggage of years and years of DCU continuity will allow writer Geoff Johns and artist Gary Frank to give us a fresh and updated take on The Dark Knight -- yet still stay loyal to the classic Batman mythos. Plus, it's being done as a series of graphic novels and not 20 some-odd page monthlies which should please many fans and make it easy for the non-comic book reading crowd of Batman fans to jump on board.
Frankly, this is something that I've longed to see happen. Being one who prefers "realistic" Batman stories as well as one's without Bat-sidekicks, BATMAN: EARTH ONE looks to be right up my personal Bat-alley.
Hell, this Batman is even Bruce Wayne! Go figure.
FURTHER READING
* "DC Announces BATMAN: EARTH ONE!" (December 12, 2009)
* "Artist Gary Frank TalksBATMAN: EARTH ONE" (December 12, 2009)
9) The "Pulp and Powerless" DCU


We're going to see more of this new DCU in 2010, but we've already been given a taste of it with the BATMAN/DOC SAVAGE SPECIAL. If you're like me and don't particularly care for stories that involving Batman mixing it up with super-powered beings (or "Batman, IN SPACE"), you're probably going to dig this "Pulp and Powerless DCU."
Batman is part of this alternate DC world which is also inhabited by the likes of Doc Savage, The Spirit, The Avenger, The Black Hawks, and other mere mortals fighting crime. This DCU will be introduced in early 2010 in the miniseries "First Wave" by writer Brian Azzarello and artist Rags Morales.
There's yet to be any word of either an ongoing Batman "P&P" monthly or miniseries, but here's hoping!
Oh yeah, this Batman packs heat! And don't freak out, it's not that big of a deal, trust me.
FURTHER READING
* "The 'Pulp & Powerless' DCU Batman!" (November 5, 2009)
* REVIEW - BATMAN/DOC SAVAGE SPECIAL (November 14, 2009)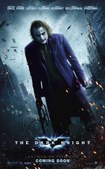 8) THE DARK KNIGHT Makes $1 Billion Worldwide
Thanks to a re-release in early 2009, THE DARK KNIGHT crossed the $1 Billion mark worldwide. It is now the #4 highest grossing film of all time.
FURTHER READING
* BOF's coverage of THE DARK KNIGHT (2007-2009)