OPINION: "Batman on Film After BATMAN 3
Author:
Jett
July 14, 2010


By now, we know that the upcoming
BATMAN 3
will be Chris Nolan's last outing in Gotham City -- at least as a director. (You never know, he might get a producer credit from here on out, but he's not going to direct another one.)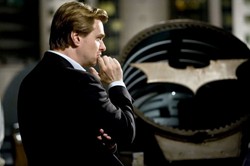 I've been covering Batman on film for over 12 years now, so even with
BATMAN 3
still 2 years away, I am quite curious about the cinematic future of The Caped Crusader. As long as I've run this site, it's been my belief that Batman was Warner Bros.' "Bond," if you will. What I mean by that is that I've long believed that the
BATMAN
film franchise can have the longevity of 'ol 007 on the big screen as long the folks in Burbank handle this prized asset correctly. After 1989's
BATMAN
, they DID NOT, to be blunt. After that comic book movie classic, we got..
* A tremendously weird, depressing, and macabre take on Batman…
* What could have been a great Bat-Flick turned into a 1990s neon disappointment…
* And, one of the worst comic book movies of all time that was an embarrassment to both fans and the character they love.
And then came along one Christopher Nolan who proceeded to save a dead -- and I mean DEAD -- franchise and the rest is history.
So back to the original question: What should Warner Bros. do with Batman on film after B3? I've come up with a few options and here they are in no particular order…
WB HIRES A DIRECTOR AND SAYS: "MAKE US A CHRIS NOLAN BATMAN!"

No director worth his salt would accept this sort of assignment -- I think. Regardless, this is an option that should never even be considered by Warner Bros. There's only one Chris Nolan and whoever ultimately takes over the film franchise will have his own style and way of doing things as well. Now that doesn't mean that the BEGINS/TDK/B3 continuity has to be ignored. Which leads us to the next option...
BATMAN BEGINS IS "YEAR ONE" FOR BATMAN ON FILM

In other words, you still hire quality directors, but future films should adhere to the continuity established by Chris Nolan's three Bat-Films. While it may seem to be sort of stifling creative-wise, it really isn't. The only requirement that a potential Bat-Director would have that the events of previous films must factor into his film.

Will BATMAN BEGINS be to Batman on film
as YEAR ONE is to Batman in comics?
And no black goo, matchbox netherworlds, or magical life-giving cats either.
A SERIES OF BATMAN ON FILM ONE-OFFS

Now this would be interesting.
What if WB hired a quality filmmaker and said, "Make us a GOOD Batman film that's loyal to the comic book mythos, and don't worry about continuity."
I kinda dig it.

Will Zack Snyder ever get a crack at THE DARK KNIGHT RETURNS?
For example, Zack Snyder wants to do THE DARK KNIGHT RETURNS, right? This sort of approach would be right up his alley, don't' you think?
Or say "Director X" wants to do a period piece Batman film set in 1939 (ala DETECTIVE COMICS #27), the 1940s, or even 1966? Nevermind on that last one, it's already been done with dire consequences. Anyway…
Hell, maybe even a one-off BATMAN BEYOND flick? Or MAYHEM OF THE MUSIC MEISTER: THE MOVIE?"
BATMAN IN JUSTICE LEAGUE FILMS INSTEAD OF SOLO FLICKS

Oh hell no! Don't even get me started!
A SERIES OF BATMAN ON FILM TRILOGIES

Now this approach is similar to doing a series of one-offs, but it's expanded a bit -- like, by a decade.
BATMAN 3 will conclude Chris Nolan's Batman on film trilogy, correct? Instead of hiring a director to do only one Bat-Flick, how about getting them to on board for a, well, Bat-Trilogy?
You bring a top-notch filmmaker in -- or maybe even an up-and-comer like Chris was back in '03 -- and say, "How about coming on board the U.S.S. Batman on Film for three movies? Do want you want to do -- except for black goo, matchbox netherworlds, neon, and nipples on the Bat-suit. Oh yeah, don't worry about what Chris Nolan did before -- or Tim Burton, Joel Schumacher, and Leslie Martinson for that matter. What do ya say?"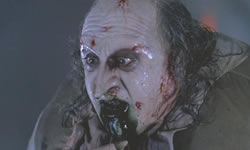 Please, NOOOOOOOOOOOOOOOOOOOOOOOOOOOOOO!
So, what do you think? Would you like to see sets of Bat-Trilogies with their own continuity?
WB STOPS MAKING BATMAN FILMS

Ain't going to happen (*fingers crossed*), so no use discussing it.
A life-long Batman fan, "Jett"
is the founder of
BATMAN-ON-FILm.COM
and resides in the great state of Texas.
BATMAN ON FILM, &copy 1998-present William E. Ramey. All rights reserved.
BATMAN AND ALL RELATED CHARACTERS AND ELEMENTS ARE TRADEMARKS OF AND © DC COMICS. ALL RIGHTS RESERVED.
Read BOF's PRIVACY POLICY.