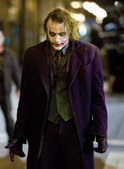 For the first time since Christopher Nolan took the helm of the Batman film franchise, a cloud seemed to be hanging dangerously over the series -- ready to turn into a full-blown storm.
For several months, the whole "Trust Nolan" mantra that has followed the filmmaker seemed to have been shaken by one crucial decision. In what was arguably the most controversial casting in a Batman movie since when, well, Michael Keaton was cast as Batman, Nolan chose Heath Ledger for the iconic part of The Joker.
Even a full Nolan supporter like myself had to at least throw a "What the hell?" at that.
Ledger wasn't in any fan list of who was the ideal actor to play The Clown Prince of Crime. The fans were mostly pointing out names that seemed like more obvious choices for this part -- such as Paul Bettany and Hugo Weaving. Even relatively unknown Aussie actor Lachy Hulme seemed to some to be a better choice. Not to mention anyone who got that part would have to face inevitable comparisons with Jack Nicholson's iconic take on the role in the 1989 Tim Burton movie.
Even though recently coming from an Oscar nomination, Ledger not only had never played a villain before, but also was perceived by some as being "too pretty" for the part -- not to mention all the very immature and homophobic jokes regarding his role as Ennis Del Mar in BROKEBACK MOUNTAIN.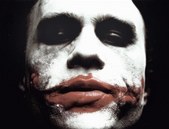 The controversy only got worse when the first image of Ledger as The Joker was released. Some fanboys were truly infuriated by what they perceived as The Joker being portrayed as some sort of gruesome teen horror movie slasher. "Gay emo-Joker" comments were all over the geek areas of the Net.
Later images came and showed the overall look wasn't quite as radically departed as that one pic seemed to imply. The viral marketing campaign, with all its games and delightfully Jokeresque quotes, helped to calm down things a bit -- at least in the writing they seemed to be getting Joker right. Also, fan reports out of Chicago were very positive of what Leger was doing with the character -- in particular the buzz coming out of Wizard World Chicago 2007 where footage was screened.
But still, the suspicions remained. Until actual footage of Ledger playing the part was released, doubts would linger. Could Heath Ledger really pull off playing one the most iconic comic book -- and movie -- villains of all-time?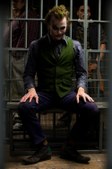 The answer finally came to those who went to see I AM LEGEND and saw the first full trailer -- or at least watched the bootleg version online (hehehehe!). The verdict, thankfully, appears to be a resounding "Yes!"
Heath Ledger is in fact barely recognizable in the part -- his voice, his body language, all seem to have been transformed into some totally different being. Even the most annoyingly nitpicky fanboys seem to have a hard time finding what to bitch and moan about. Not only about Ledger, but the footage as a whole.
This is really where the absolute brilliance of Nolan's decision hit me. Had someone more "stereotypical" for such a role been cast, we'd have a pretty good idea how it was going to be -- not that it would have been bad, but it would be the expected.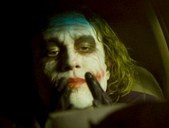 We as a fan base were so blown away because we got an actor so many thought wouldn't have the stuff to pull it off. It was surprising and definitely out of the blue.
Can you get any more "Joker-like" than that?
As for comparisons to Jack Nicholson, it's apples and oranges.
Nicholson was perfect for that particular take on the character. He was simply having fun with it -- playing a wicked, evil, yet goofy clown-villain. As he should have, Ledger went for something else -- a sardonic, fierce psychopath. A demon who escaped from hell.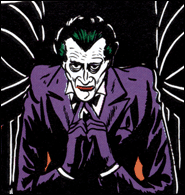 If you've seen the trailer, there's something nearly inhuman, beast-like in his raspy tones, creepy looks, and agitated body language. His laugh has this high-pitch that's almost a shriek. It's a darker take, more on the lines of THE KILLING JOKE, ARKHAM ASSYLUM, or The Joker's very first appearance in BATMAN #1.
Consequently, it is very much on par with Nolan's grittier, more realistic take on the Bat-Universe. It's not that one is necessarily right and the other is wrong -- It's a different interpretation, and one that captures the character in its own -- but very loyal -- way.
And not the LEAST bit "emo" or "mindless teen slasher guy."
Alex Winck, AKA "Ultimatefan," hails from Florianópolis, Brazil.
He's a journalist and advertiser and I writes the scripts and articles for Sesinho, the most popular educational comic book in Brazil. It has one million copies distributed for free in schools and with an estimated readership of four million.