"The Bad Guys & Gals of BATMAN 3" (Part 3 of 3)
Author: Mark Hughes
March 3, 2010


EDITOR'S NOTE: So, who will be the villains -- or villainesses mind you -- of BATMAN 3? BOF's Mark Hughes contemplates the choices, as well as gives us his best guess at how many of Batman's rogues could be "Nolanized." Part 1 of Mark's op-ed can be found HERE and part 2 HERE. - "Jett"
With news and rumors about the third Batman film starting to circulate, and an announcement of some sort expected any time in the coming weeks/months, most speculation has focused on what villain(s) will appear in the film. This has led to much debate about whether or not we are most likely to see some of the best-known villains, and whether in fact such villains "have" to appear.
I'd like to talk about three issues: whether or not we are most likely to see better-known villains, or lesser-known villains; whether or not any particular villains "must" appear (and whether or not the film will be inherently inferior if it lacks any particular characters); and which, if any, villains don't work in Nolan's illusionary realism. Then I"ll take a fun direction, and list a collection of villains that I think can and would work in Nolan's illusionary realism (the list is longer than you might think), and I'll finish up by giving examples of how a few particular villains could work on film.
GET REAL!

You were probably thinking "HUH?" when you read some of the names I listed of villains I believe can fit into Nolan's illusionary realism. So let me offer up some examples of how a few of the least likely candidates might in fact fit surprisingly well into the "Nolanverse."
But keep in mind, I'm not suggesting they should actually focus on some long, elaborate origin tales for the villains. These are simply examples of versions of the characters that would theoretically work in illusionary realism. How much actual time and attention to give to any given details of their background is a different issue, but I do think most of these could be handled without spending too much total time on the villain themselves (although a couple of these, like Mr. Freeze for example, are necessarily an entire plot from which the characterization arises).
So here we go, some examples of how I would portray some characters to fit into Nolan's illusionary realism...
CLAYFACE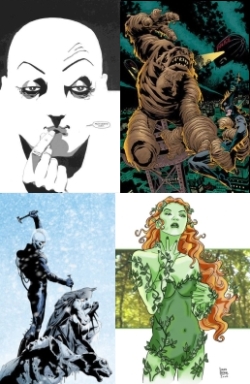 A killer or mob hit-man who is a master of disguise would be a pretty simple version of the character as a supporting villain, and would fit easily into the film world. But what about something a little more in keeping with the character as fans know him nowadays?
Well, an alternative would be to use Preston Payne, a doctor with hyperpituitarism who is seeking a cure for himself. An attempted treatment -- experimental drugs not approved for human testing -- causes his muscles to soften too much and hang almost limp on his face. This allows him to temporarily restructure his muscles and skin using electo-shock stimulation, but his face looks slightly different each time. He creates a cast of his face and wears it to hold his face in place for the shock treatments, but slowly this "freezing" of the muscles and skin wears off, causing his face to slowly droop and shift.
The freezing technique works less well each time, and the increasing near "liquification" of his face muscles from the experimental drug and shock treatments leads him to seek alternative funding for more radical research including temporary skin grafts and drugs to freeze his facial muscles in place after sculpting them to his desired appearance. This could be somewhat similar to the basic concept in the film DARKMAN. Payne is approached by criminals seeking to change their identity etc, and is forced to work on them. But when the treatment kills a mobster's son, Payne goes on the run and commits crimes to pay his way in life while also stealing drugs and equipment he needs to try and repair himself.
The above basic physical conditions could be merged with the killer/gangster version, so that he's a hired killer or leader of a criminal gang, and he uses his physical condition to keep changing his appearance during or after crimes, perhaps. Nothing radical like literally looking just like someone else, but enough change that he doesn't match the description or surveillance photos etc.
POISON IVY

I'd like to see Ivy done as a botanist, working on military projects to develop toxins, viruses, and bacteria that are created to attack only certain genetic traits, in an attempt by the military to develop a virus for example that only kills people of certain races (this is real, FYI, DARPA has been looking into race-based bio-warfare for years).
Maybe Ivy came up with the idea of creating plants genetically modified to give off chemicals, spores, etc that will target certain peoples -- imagine for example the basic idea behind "The Happening" (plants giving off chemical that makes nearby animals -- humans in that films -- lose their sense of self-preservation and kill themselves). The idea being Ivy creates plants that give off different chemicals to cause different reactions in people -- death, fear, mindless anger and aggression (making people like the crazy people in "28 Days Later", but less extreme), and so on.
The secret is that Ivy is actually a radical environmentalist, who joined the military research team as a sort of "spy" for her cause, with the intention of actually using government funding and resources to create entire species of plants that can "defend Earth from humans and help eradicate the plague that humanity has become." So she has all these plants she's genetically modified, and she takes them and plans to spread the seeds around the world to target different nations and people and groups. And Gotham is her first target.
HUGO STRANGE & SOME NEW "MONSTER MEN" (BANE, KILLER CROC, & SOLOMON GRUNDY)

Here is a collection of characters that I feel can work well together as a "set", although Hugo Strange could work without the others -- but this is an example of how, in the correct context, even characters like Solomon Grundy and Killer Croc can fit into the "Nolanverse"...
Hugo Strange is a doctor experimenting to create "monster men" as part of his obsession with human physical perfection. Instead of actual "monsters" and purely bioengineering experiments, they could use the idea of genetics and drugs as the basis of the "monster men". At first, Strange is getting mob funding for his experiments, but then Batman intervenes and Strange becomes fascinated and obsessed by Batman. So Strange becomes an adviser to the task force hunting Batman, and wants to learn Batman's identity. Strange could also work at Arkham, where he continues his experiments on humans.
In relation to the actual "monster men", they could use Bane, Killer Croc, and Solomon Grundy. Croc would need to look the way he appeared in the graphic novel JOKER, instead of actually being some sort of half-crocodile monster, but he would be confused and somewhat "mindlessly" animalistic. During Hugo Strange's experiments, Croc could escape into the Narrows, hiding around the piers and warehouses. He needs to constantly keep his skin wet because it's painful when it gets too dried out, which would make sense, and his eyes are sensitive to light, so he sticks to darker places under the docks and near the water. If Killer Croc goes into the sewers, it should only be if maybe Batman finds Croc in the Narrows, and during their battle Croc climbs into a drainage pipe so Batman chases him into it.
I'd make Bane the other person upon whom Strange experiments, and maybe as a minor subplot Batman could get badly injured in their one encounter. Batman being injured for a portion of the film also helps with some narrative aspects, not to mention making any actual physical confrontation with Strange a bit more believable.
So Bane as a man pumped full of chemicals and growth hormones/steroids etc, with a side effect of rage and uncontrollable bloodlust, would work on film. If he has to constantly keep the chemicals flowing into his bloodstream, that would allow for a scaled-down and more realistic-looking version of his costume.
I could also see Solomon Grundy interpreted as a big, mentally challenged man somewhat like Lennie from OF MICE AND MEN. He would be the subject of a Hugo Strange Experiment using a derivative of the "zombie" potions used in Africa and the Caribbean to make people believe they are the living-dead, and the man would also have his pain receptors in his brain disconnected. These things, combined with his large size and strength enhanced by Strange's use of steroids and other drugs, would make for a good "realistic" portrayal of the character on film.
"Monster Men" is generally relevant to viewers and raises interesting moral themes -- genetics, mutations, bioengineering. The Monster Men, in pursuit of "perfection". Bane and Killer Croc as the results of experiments by Dr. Hugo Strange. The metaphors about Gotham and Bruce/Batman that can be examined with the Monster Men and the pursuit of perfection etc would be great.
MISTER FREEZE

Dr. Victor Fries works for a competitor of Wayne Enterprises. Fries works in that company's applied sciences division, and he focuses on three fields: (1) cryogenic processors for slow freezing that prevents thermal shock; (2) cryogenic fuels, primarily liquified natural gas (LNG); (3) cryobiology, where Fries has made huge leaps in theoretical application of cryogenic freezing of terminally ill patients and is on the verge of applying for permission to conduct human testing.
Wayne buys out the company, and Fox orders shutting down of the cryogenics dept run by Fries. Fox's reasons are (1) Wayne already has its own cryogenics dept in applied sciences, focusing on different more financially and scientifically sound applications; and (2) Fox feels that Fries has undertaken some morally questionable directions in terms of both application and testing.
Fries believes his new advanced cryogenic processor makes his theoretical application of human freezing achievable, and is fanatical about the projects and linking them together. Fox says he is aware that Fries' wife has terminal brain cancer, and that Fries was being influenced by personal concerns in his work and this was making him blind to the dangers and risks etc. Fox notes that as Fries grows more fanatical about those projects and more certain of himself, his work in other areas -- the fuel -- also suffered from his hubris and risky pursuits. Finally, Fox notes that during the buyout, Wayne Enterprises discovered some irregularities regarding Fries' access to some of the experiments with the fuel, and some inappropriate computer file transfers to IP addresses linked to the Pentagon.
Fries had secretly sought military support for his cryobiology experiments, showing how they could theoretically help with injured soldiers. He used his radical new theories on cryogenic fuel for military vehicles as a jumping-off point to argue that it also has applications for different weapons systems. The Pentagon was most interested in the latter, but strung Fries along on the former to keep him supplying them with info etc.
After Fox fires him, Fries tries to get the military to fund him continuing his research. They demand some examples of directly-applied cyrogenic fuel bombs. Fries has to break into Wayne Enterprises, steal components, and gets some military funds to continue his work on that project. But he skimps on the weapons so he can secretly divert some funding for human freezing, for his wife. He successfully freezes her, but afterwards realizes an error in his calculations regarding UNfreezing her. His cyrogenic processor is imperfect for reversing the effects. He informs the military, who not only cut off his funding but also kick him out of the lab they rented for him, and they take his wife away for study. He is also ordered arrested, but escapes by detonating a container of liquid hydrogen. He has stored the other weapons systems elsewhere, and he breaks into Wayne Enterprises and steals even more equipment to construct bigger weapons.
He hides some cryogenic bombs around Gotham, and threatens to detonate them unless his wife is returned to him so he can try to figure out how to eventually unfreeze her. He even tries first to break into the hospital and steal her back, using a liquid nitrogen sprayer and some other simple weapons, but fails and is injured by his close contact with the nitrogen. He has to done a protective suit when handling etc the weapons and such, and partially freezes part of himself where his flesh and organs are severely damaged by contact with the nitrogen and from some gunshots, etc.
One of the military applications Freeze developed is an underwater mine that would freeze waterways to assist in naval blockades. He builds a prototype, and part of his attempts to get his wife back involves him dropping the mine into Gotham harbor and it freezes the water solid, but it is beyond even his own calculations and the freezing keeps gradually spreading outward (like "Ice-Nine"). He lies and claims to have the ability to reverse it, as part of the blackmail to get his wife back. Ultimately, he DOES get her back and figures out how to unfreeze her -- Batman tries to stop him, but he argues that if he isn't allowed to proceed, he won't be able to reverse the mine's effects and stop the freezing that's spreading into the ocean. So Batman has to let him unfreeze his wife to make sure it works, and then that successful test allows the water freezing to be stopped.
THE MAD HATTER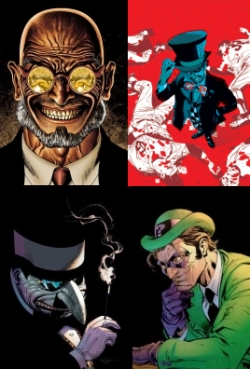 Jervis Tetch as a neurologist who develops a way for paralyzed patients to regain motor control by rewiring portions of their brains to take over those functions, with electrode implants in the brain stimulating their nerves to function. However, the electrodes eventually damage the brains, and Tetch creates a way for patients to remote-control their motor functions with an external device. The brain damage, however, leads to him being disgraced. So he creates a military application for the device, for prisoners of war, that allows controlling them and making them answer any questions etc, but eventually it has spread into a sort of "Manchurian Candidate" program for unsavory covert intelligence applications. Tetch is part of the program's R&D, overseeing the project. When a test subject's "trial run" (assassinating Jim Gordon) fails due to Batman's intervention, Tetch and his cohorts realize Batman is investigating, and send out a team of mind-controlled subjects to kill Batman. Tetch would also happen to collect rare books, including Lewis Carroll's works, and at some point he is dubbed "The Mad Hatter" due to the devices he's created.
An alternate version would be for Tetch to be a psychiatrist experimenting with neurological drugs and hypnosis, who is using his young patients as a way to extort their parents, or to get wealthy businessmen and politicians etc to do things like provide insider-trading tips, vote on legislation favorable to Tetch, etc.
CALENDAR MAN

The best option would be to actually merge Calendar Man with the Holiday Killer, into a single characterization. Prior to TDK, when we didn't know Dent was going to die, I foresaw a third film that focused on Dent waging a war against organized crime and murdering gangsters left and right. That basic theme could be applied to Calendar Man, by having him start out as a criminal obsessed with dates and preying on more street-level criminals to rob and kill them. When mobsters try to set him up and kill him, he goes on a killing spree to target higher up the ladder of criminal enterprises, carrying out the crimes on holidays and significant dates. The mobsters might even have to beg Batman to help protect them.
CATWOMAN
Catwoman could actually work on film in a number of different ways, such as her portrayals by Frank Miller and Ed Brubaker. The socialite-thief version is not one I'm personally fond of, but it does hark back to some noir elements and is certainly an alternative that works within illusionary realism.
The backstory I'd use would be for her to be the daughter of a great thief (jewelry, banks, etc) who worked for Falcone, running a heist crew. Selina grew up learning a lot about the heist "trade" despite her father trying his best to keep her out of it. She secretly mentored to become a pro, under the tutoring of her father's best friend and partner. Her father found out and was furious, and ends the "lessons". So she went out and finished learning all on her own, and was becoming an even better thief than her father. Falcone secretly reaches out to Selina and offers her a few small jobs. Her dad finds out, and "drops a dime" on her so she'll get caught and go to jail for a little while, to get her away from Falcone and (her father hopes) teach her a lesson. Falcone tells Selina her dad tipped the cops because he was afraid she'd take his place as the top thief, and Selina believes it.
She gets out of jail and refuses to have anything to do with her father. She takes a job working for a security company that helps wealthy people, museums, etc protect against heists and thieves. Her father, meanwhile, has a very strained relationship with Falcone at this point, and refuses to do a big heist that he feels is to risky. But Falcone threatens to have Selina hurt or killed, so her dad is forced to do the heist. It goes bad and he gets caught, and Falcone fears that the bad blood between them will lead the dad to giving the cops information on Falcone. So Falcone has Selina's father killed while he's in jail.
The dad's friend (who used to tutor Selina) comes to Selina and tells her that Falcone had her father killed, and that her dad only did the job because Falcone threatened to hurt Selina. Selina uses her skills to break in to Falcone's home and offices, planting bugging devices and taking some documents. She uses this information to find out certain major heists that Falcone's crews have planned, and starts tipping off the cops and businesses so the heists fail. Falcone figures out that someone has been informing on him, and suspects it is the friend of Selina's father. Falcone has the guy beaten and tortured, and he finally tells them it's Selina, and that she plans to kill Falcone. Falcone sets a trap for Selina, and when she comes to his house to kill him, she's captured and tossed off a bridge into the water to die (getting rid of her body to cover up the last links to Falcone).
This is the point at which the events of BEGINS and TDK take place, so Falcone goes to prison for a while but is eventually released. Selina, meanwhile, survived and escaped the water, and went into hiding. She's trained physically and hid on the streets under a new name. She poses as a dominatrix, to get close to a low-level pimp employed by one of Falcone's low-level gangsters. Her clients are mostly businessmen and mobsters, and she often gets little bits and pieces of information from them, slowly preparing to finally come back for her revenge. She lives in a run-down apartment with Holly, a teenage prostitute and a lot of stray cats (Selina likes the stray cats because they remind her of herself now, plus the connection to "cat" burglar amuses her). Selina also uses her connections and information from her new job/employers to start doing burglaries of high profile people in Gotham, slowly building a reputation for herself.
She wears a simple outfit for her burglaries, dressed in black camo-type pants (lots of pockets for tools of the trade), black boots and gloves, big belt with lots of pouches etc, a harness to repel down the side of buildings, a small backpack, and a simple black stocking mask. While robbing one particular mobster, however, her thieving happens to coincide with Batman showing up, and she intervenes to help him (perhaps she saves him when a gangster is about to shoot Batman) before making a quick exit (climbing out a window onto the ledge, jumping down into trees, and disappearing into the night). The mob now thinks Batman has a "helper", and that he's tied to the series of burglaries targeting mobsters and corrupt businessmen/politicians. Due to her exit from the scene, they refer to her as a "cat-woman" since she's with "bat-man". The name sticks, the press gets the story, and Selina finds it funny and alters her mask to add some ears -- she also remarks that the increasing number of freaks in weird costumes etc in Gotham means you have to be flashy to get any attention.
The way to tell the story is to start with her already out of prison and working the security job, when her dad's former partner comes to tell her her dad's dead etc. Little bits of conversation and the scenes of her going after Falcone will be enough to quickly establish the basics of her past. So Falcone drops her in the river and then later we see her hiding out as the dominatrix and getting information out of a client, before she heads home to Holly and the cats. She changes into her burglar outfit and heads out for a score, and later we see her encounter Batman and earn her new name as Catwoman. I think it could be set up with a relatively small number of scenes and a few short conversations and news reports, so it wouldn't be a big "origin tale" but rather a small subplot that brings her into the main story. Any story would fit, so long as at some point Falcone comes back into the picture for her to try and get her revenge.
THE PENGUIN

This character has become linked in my mind with The Riddler, so I'll follow up this description of my version of The Penguin with a related version of The Riddler that I think works great in conjunction with The Penguin.
I would prefer that The Penguin be a British mob figure (as opposed to the oft-mentioned Russian mobster) who dusts off the remains of Gotham's crime families and unites them under the control of someone who knows how to operate organized crime in a city defended by Batman. He would bring a freakish nature into the seat of power, but he'd be a sort of "hybrid" between the mob on one hand and the total freaks on the other. Have him utilize overt terrorist methods via employment of former fighters on the differing sides of the conflict in Northern Ireland. He's a fan of opera and the symphony and goes to one or the other almost every night wearing a tux. Perhaps give him a hand deformed from an attempted bombing assassination by a rival in the UK, and it's one of the many reasons why he's called "The Penguin," as an intended slight by his opposition (but he in fact embraces it).
I think it would be important to demonstrate that there is something twisted and fearful deep inside him, and that's what carried him to the top of his organization. This is why I love the idea of having him be an arms dealer who used to support and fight with some violent Protestant faction in Northern Ireland or something like that -- show him as a guy who rose up from the streets and was ruthless and powerful, and who is now applying his methodology and skills to organized crime. His obsession with appearances and culture etc arose perhaps because he grew up in working-class neighborhoods and always hated it, always loved opera and art, was mocked for it as a young kid maybe, that sort of thing.
The Penguin should represent an organized crime reaction to "the freaks" as represented by The Joker's rise. The mob as it had been is incapable of understanding or dealing with the new realities in Gotham (Batman first, then the freaks). But along comes The Penguin, who sees an opportunity to turn traditional organized crime on its head by utilizing the freaks against Batman in an organized fashion, which means bringing them into the fold and controlling them and using them. He himself is considered a bit of a "freak", of course.
I like the idea of him trying to get Batman off his back by first unleashing a wave of "freak" crimes on Gotham, then telling Batman, "This is the alternative, Batman. But I can control them, rein them in and restore order to the crime in this town. The old mobs are obsolete and you know it. You can either accept a city awash in insanity, where men dressed like nightmares parade down your streets with the severed heads of your elected officials and bombs rip your schools to shreds. Or you can accept me and the order I'm trying to restore."
I really like the idea of Batman feeling caught in a gray area, with the mobs collapsing and resulting in turf wars and smaller street-level gangs and criminals getting out of control while there's a surge of "freaks", and The Penguin's offer seems like the only way to quickly end the situation and save more lives in the short-term.
Ultimately, of course, Batman cannot make a deal with him, but Penguin feels obliged to be polite and offer one anyway. I think he should be willing to keep his word if and when he promises to stop this or that criminal/mobster from crossing a line or whatever, but also willing to use terrorism and turn Gotham into a mirror of Northern Ireland at the height of bombings and war in the streets. When city hall officials won't take Penguin's bribes, he simply blows up city hall, just like that. And he uses "normal" mobsters and such for his day-to-day operations, but has an entire second tier of operations like the bombings that are carried out by recruits from the ranks of Gotham's "freaks," to add an element of horror and fear to those crimes.
THE RIDDLER

I thought that in conjunction with the above sort of characterization of The Penguin, The Riddler would work as a former IRA bomber and cypher expert, computer hacker, etc. This could set up an interesting sort of situation where The Riddler arrives in town and eventually a "war" erupts between him and The Penguin, and The Penguin increasingly reverts to his most violent and ruthless behavior and his public persona starts to crack amid the bombings and warfare.
I think The Riddler being motivated to kill The Penguin (The Penguin's gang perhaps killed The Riddler's family or friends or something, so he's come to the U.S. to get revenge) sets up a cool situation where his obsession at first is Penguin, but as Batman proves himself capable of beating The Riddler's bombs and solving his cyphers (left as part of Riddler's plan to get to The Penguin, amid crimes and attacks that are each part of a larger puzzle/plan), The Riddler starts to shift his obsession to Batman instead, out of vanity and pride b/c Batman is solving the crimes and cyphers/whatever when The Riddler fancied himself unbeatable and the smartest man around.
An alternative to The Riddler arriving in Gotham on a hunt to kill The Penguin,The Riddler could be someone operating in a fashion similar to "Project Mayhem" (from the film FIGHT CLUB) but if it were run by the character Simon from DIE HARD WITH A VENGENCE. Make him a former IRA technical expert -- and he starts off working for Penguin, hacking police and government computer files on the mob etc, building bombs, but gets more and more beyond Penguin's control while pursuing his own personal plans. He uses Penguin and then betrays him. He sets out on a course creating at first mischief like shutting off Gotham's lights and changing the traffic light patterns etc, he almost blows a nuclear power plant, stuff like that.
But each crime is accompanied by a riddle, and there are always two answers -- one obvious, one a pun or something. BUT, the answers themselves all add up to a bigger puzzle, the answer to which is in fact a huge red herring to disguise his main objective which is a grand theft of some sort. Unlike The Joker, The Riddler is very much motivated by some type of personal gain. I've grown fond of the idea of him having a limited amount of tattooing on his arms and/or face, and he uses his past in the IRA as one of the red herrings that misdirects Batman's attention from his real goal.
He plans far in advance, having his whole scheme set up step by step before he ever goes out and starts enacting it. He beings with simply disrupting airline traffic and street traffic (in something akin to LIVE FREE OR DIE HARD but just in Gotham), and that progresses to shutting off alarms at all the banks in the city, turning off security cameras everywhere, making ATMs spit money out like rain, etc. The plans grow more disruptive and destructive, but it's all connected to an actual bigger scheme that's coming up, despite the seeming random nature.
When The Riddler in this scenario goes "off the reservation" one time too many, The Penguin tries to have him whacked, but The Riddler survives and now he targets Penguin and a war erupts in the streets of Gotham. It turns out The Riddler had planned on going solo all along, and was using the Penguin as part of his bigger long-term scheme, but now he adds in a personal vendetta and attacks The Penguin as well, making his actions seem even more random when there is really a method to the madness.
The Riddler's name is simply his code-name among the IRA, the only name anyone -- including Penguin -- ever knew for him. The question-mark motif comes in when he starts sending his first messages to Penguin (along with a bombing), as the way Riddler signs the message (just a question-mark, as a challenge to The Penguin). I think this allows Riddler to wear his military green clothing and a derby or herringbone cap perhaps, but without question-marks on the clothing. Eventually, when he confronts the Penguin, maybe he displays a single question-mark on his shirt or something, smiling and using it to let Penguin know that it's him.
The Riddler is leaving clues that only Batman picks up on and realizes there's a pattern involved, that messages are being left that seem like coincidences until several pile up and it's clearly clues to a puzzle. I would make each crime have a different type of "puzzle" aspect -- one would be a cypher, one a problem that must be solved to prevent a bomb or something, each time the type of puzzle gets more complex and the stakes go up. Solving them requires skill, but then adding them to the previous puzzles reveals clues leading the NEXT crime, and so on, to build puzzles within a bigger puzzle.
And always, there is one seeming answer but the real answer is something much bigger. However, the wrong answers that seem right ALSO are a puzzle, and Batman is on the wrong track and finally realizes it, goes back and reworks the puzzles and starts to find the RIGHT answers. The Riddler actually is committing TWO sets of crimes each time, the ones that stem from the wrong answers and which Batman and the cops are following, but his REAL crimes are another separate set of much more subtle events not linked to him for a long time.
In fact, the way Batman and the cops react to the previous crime due to their following the wrong trail is what is setting up The Riddler's ability to pull his next "real" crime that's important to him. The police reaction to the first puzzle is what he wanted, and then he sends the cops on another wild goose-chase, and so on. So each crime the cops are following in the wrong line of puzzles leads to the police "preparing" for the next crime by doing something that is setting in place a whole string of other events that add up to giving The Riddler the opportunity he really wants
Longtime BOF'er and site contributor Mark Hughes is a screenwriter living in Maryland.
He is an avid film fan and a longtime collector and reader of comics.
BATMAN ON FILM, &copy 1998-present William E. Ramey. All rights reserved.
BATMAN AND ALL RELATED CHARACTERS AND ELEMENTS ARE TRADEMARKS OF AND © DC COMICS. ALL RIGHTS RESERVED.
Read BOF's PRIVACY POLICY.