With news and rumors about the third Batman film starting to circulate, and an announcement of some sort expected any time in the coming weeks/months, most speculation has focused on what villain(s) will appear in the film. This has led to much debate about whether or not we are most likely to see some of the best-known villains, and whether in fact such villains "have" to appear.
I'd like to talk about three issues: whether or not we are most likely to see better-known villains, or lesser-known villains; whether or not any particular villains "must" appear (and whether or not the film will be inherently inferior if it lacks any particular characters); and which, if any, villains don't work in Nolan's illusionary realism. Then I"ll take a fun direction, and list a collection of villains that I think can and would work in Nolan's illusionary realism (the list is longer than you might think), and I'll finish up by giving examples of how a few particular villains could work on film.
Next, we come to the question of which villains best fit into Nolan's "illusionary realism," and whether some villains simply cannot work in the "Nolanverse." While it's true that there are some characters who don't easily fit into the existing world of Batman on film, the number who do is far bigger than most people realize.


"Ain't HAPPENING!"
The villains who seem to me to most obviously not lend themselves to interpretation through illusionary realism would include Man-Bat, Gorilla Boss, Corrosive Man, and perhaps a couple of other one-appearance types, as well as alien beings and characters whose entire existence depends on supernatural elements that can't be removed without stripping them of their entire characterization. There are far more characters who would technically fit into illusionary realism, but who would just be silly or lame -- like Condiment King, for example.
What doesn't work in Nolan's illusionary realism are elements that are so far removed from existing science that audiences could only consider them advanced science fiction, or elements that can only be described as overtly supernatural and lacking in any other interpretation. There is plenty of room, however, for stretching the boundaries of science and realism, as the rooftop chase sequence in a tank from BATMAN BEGINS or the sonar device from THE DARK KNIGHT make readily apparent. Even some of Batman's seemingly most outlandish characters, such as Mr. Freeze or Poison Ivy, could be portrayed on film well within the boundaries of illusionary realism.
It might be better if people started to consider pseudo-realism in Batman films not as a limitation, but rather as a challenge to be more creative and re-imagine new angles on traditional characterizations. It is no easy feat to take a character like the Ra's al Ghul or Two-Face and give the appearance that they could plausibly exist in the real world ("the appearance", since of course the events are not actually literally realistic, they are simply presented as if they were and we accept them as such). It takes ingenuity and bravery to adapt those characters into the "Nolanverse", and one could even argue in fact that it takes more creativity to re-imagine them and fit them into illusionary realism than to simply present them as-is from the source material.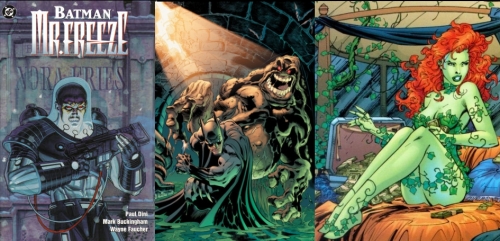 "DON'T Dismiss!"
So who are some villains that can in fact fit into Nolan's illusionary realism? Here is a sample list of characters who would work on film, and who demonstrate the depth of Batman's gallery of villains...
Hugo Strange
The Monk
Talia al Ghul
Mr. Freeze (Victor Fries)
Bane
Killer Croc
Solomon Grundy
Black Mask
Deadshot
Deacon Blackfire
Doctor Death
Clayface
KGBeast
Magpie
Wrath
Calendar Man
Poison Ivy
Catwoman
The Penguin, AND...
The Riddler!
Did I miss anyone?