At the end of each year, I usually do some sort of retrospective in which I look back on events of the "BOF World" which occurred over the last 364ish days. To be honest, I hadn't planned on doing such an article for 2012 as I'm sorta sad to see this year come to an end. This is the first time since the close of 2003 that a Batman film wasn't on the horizon.
And no, I don't count a Justice League movie as a "Batman Film."
When it comes to the next solo incarnation of Batman on film, the key word here is when, not if. Thus, I can't say for sure if I'll ever get to experience anything like "The Dark Knight Trilogy" again in my lifetime. I assume I probably will, as I'm only 47 and in pretty damn good shape. I figure I've got a few years ahead of me (knock on wood). But as it is with life, nothing is guaranteed.
Below you'll find the highlights of 2012 as viewed through the Batman on film prism…
THE DARK KNIHGT RISES' Prologue Premiere
OK, this actually took place in December of 2011, but to me, it essentially the 20012 kickoff of THE DARK KNIGHT RISES.
BOF at the RISES Prologue Premiere

PODCAST: BOF at the RISES Prologue Premiere
BOF's THE DARK KNIGHT RISES Set Visit
Like the Prologue, my visit to the Pittsburgh, PA set of THE DARK KNIGHT RISES, also took place in 2011. However, due to an embargo, I was not able to reveal anything until mid-2012. This was one cool set visit – mainly because we got to see Bane (Tom Hardy) blow up Gotham Rogues Stadium (Heinz Field)!
RISES Set Visit Part 1

RISES Set Visit Part 2
BOF's SoCal RISES Extravaganza!
In early July of 2012, I traveled out to Beverly Hills/Hollywood/Los Angeles, CA with my lovely wife for a 3 day THE DARK KNIGHT RISES extravaganza!
On Day 1, I met up with my top 2 trusted BOF contributors – Sean Gerber and Mark Hughes – at Barney's Beanery (LOVE that place!) in West Hollywood. Good times were had by all!
Day 2, began in Hollywood where the wife and I were invited to Chris Nolan's "Cementing Ceremony" at Grauman's Chinese Theater.

L to R, Sean Gerber, Me, Mark Hughes at Barney's Beanery (July 2012)
Cemented Nolan" Preview

Cemented Nolan Podcast w/Interviews

Cemented Nolan Full Report w/Video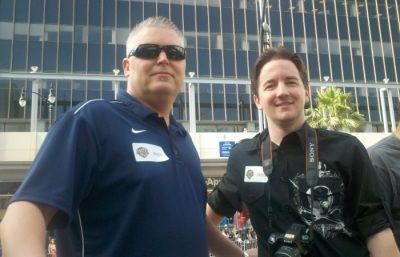 L to R, Me & Sean Gerber at the "Nolan Cementing Ceremony" (July 2012)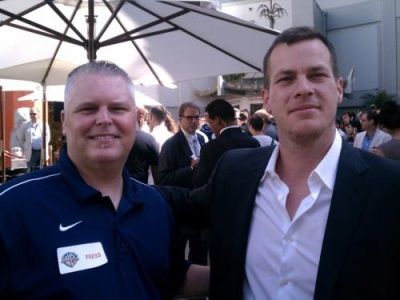 L to R, Me & Jonathan Nolan at the "Nolan Cementing Ceremony" (July 2012)
Day 2 came to an end with a trip to the IMAX theater at Universal City Walk where I finally got to see THE DARK KNIGHT RISES. Afterward, we went to the nearby Hard Rock Café and celebrated!
Cool story: We had to check our phones in prior to entering the theater for the screening. Afterwards, I didn't turn my phone back on until we were sitting at the bar at the Hard Rock. Once on, I discovered that I had received a text from Emma Thomas while I was actually watching the film. Basically, she said that by the time I read her text, I would have seen RISES and they (her and Chris) hoped that I liked it. Word.
My Review of THE DARK KNIGHT RISES

BOF's THE DARK KNIGHT RISES Podcast
Day 3 was spent at The Beverly Hilton where we attended THE DARK KNIGHT RISES presser with the cast and crew. After the hour-long event, the wife and I visited the hotel's bar for a few beers as we were still enjoying the coolness of the entire trip. As we were sitting there, I notice Emma Thomas and Chris Nolan coming down the hallway with an entourage of publicists on their way to yet another interview. I was able to catch Emma's eye and she motioned for me to come over to them. That was the first time I got to tell both of them – especially Mr. Nolan – how much I loved the film as well as thank him for the entire "Dark Knight Trilogy."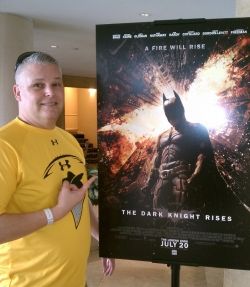 Me at The Beverly Hilton, THE DARK KNIGHT RISES Presser (July 2012)
Interview w/Michael Caine

Interview w/Christian Bale

Interview w/Anne Hathaway
BOF in NYC for TDKR
Just little over a week after that fantastic trip out to LA, I was on a plane again – this time heading east to New York City to attend the premiere of THE DARK KNIGHT RISES as well as the after party at the New York Public Library! (A big THANK YOU goes out to The Nolan's and the great Michael Uslan for greasing the skids!)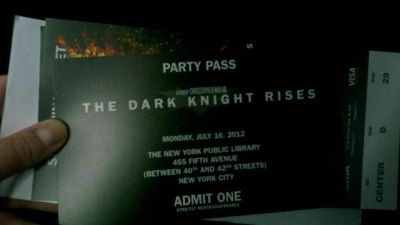 BOF's RISES Party
As I did previously in 2005 and 2008 for BATMAN BEGINS and THE DARK KNIGHT respectively, I had a watch party for RISES here in Texas. Luckily, I have an IMAX about two miles from my house and the theater has a full bar. Good times were had by all!

Me and the wife at BOF's RISES Party (July 2012)
BOF on the Radio
I was a guest on several radio shows in 2012 talking about, obviously, THE DARK KNIGHT RISES. Here's the list of appearances if you care to listen…
"The Film Freak" w/Leo Quinones 1/Los Angeles, CA

Q102 FM/Rome, GA

"The Rod Ryan Show"/Houston, TX

"The Film Freak" w/Leo Quinones 2/Los Angeles, CA
BOF in MAXIM
No, I was not asked to pose for the magazine, but they did ask me to write an article about THE DARK KNIGHT RISES.
"How THE DARK KNIGHT RISES Might End" by Bill "Jett" Ramey
BOF and MTV
MTV's Splash Page put together a list of their 5 "Heroes of the Year" from the comic book film community. I was asked to honor director Christopher Nolan and I gladly accepted. It was a privileged and one of the highlights of my BOF career.
"MTV's Heroes of the Year: Chris Nolan" by Bill "Jett" Ramey
BOF's Michael Uslan RISES Interview
Michael Uslan is one of my heroes and and a good friend of BOF's as well! I had the chance to speak to MU at length about RISES, the Batman film franchise, and the "genius" of Christopher Nolan.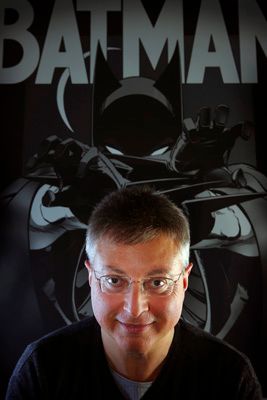 Michael Uslan
Michael Uslan RISES Interview
BOF's Chris Corbould RISES Interview
Chris Corbould -- F/X supervisor of "The Dark Knight Trilogy" -- is also a good friend of BOF's. Chris was not at the presser for RISES, but he was kind enough to agree to an exclusive interview about his work on the film.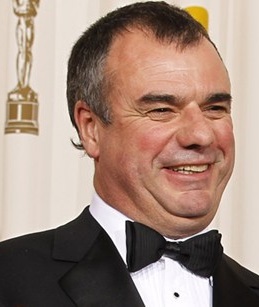 Chris Corbould
Chris Corbould RISES Interview
RISES Blu-ray Release
One of the perks of this job is that I get free copies of Batman on Blu-ray early for reviewing purposes.
So sue me.
A couple of weeks before THE DARK KNIGHT RISES was actually released, I found a package on my front doorstep containing a copy of the film. To date, I've seen it more times than I can count.
BOF's THE DARK KNIGHT RISES Blu-ray Review
Thanks from Christopher Nolan
You read that right, "from," not "to."
This has to rank #1 on my list of cool things that BOF has afforded me over the years: A handwritten "Thank You" letter from Chris Nolan.
Chris, "Thank You" for the thank you! Your letter is framed and proudly on display in my office!
BOF's 2012 Retrospective Podcast
So, as 2012 comes to an end, I can honestly say that I took my own advice that I gave unsolicited to fans over a year ago: Enjoy the HELL out of everything THE DARK KNIGHT RISES in 2012.
Did YOU? I certainly hope so!
I must thank the following people: My wife, Rachel; My 3 kids for putting up with their "Weird Dad;" Anne Chun and Darren Olcsvary; Sean Gerber and Mark Hughes; Chris Nolan, Emma Thomas and Jonathan Nolan; The Great Michael Uslan – one of my personal heroes and a kindred spirit; AND last but certainly not least, all of the BOF'ers out there who've supported the site over the last (nearly) 15 years! - Bill "Jett" Ramey