THE WOLVERINE
Author: JoAnne Hyde
July 26, 2013

SYNOPSIS: Hugh Jackman returns as Wolverine in this sequel to the member of the X-Men's first solo outing. Mark Bomback and The Usual Suspects' Christopher McQuarrie penned the script, which takes its inspiration from the Chris Claremont/Frank Miller Marvel miniseries from the 1980s dealing with the character's adventures in Japan as he fights ninjas in the ceremonial garb of the samurai.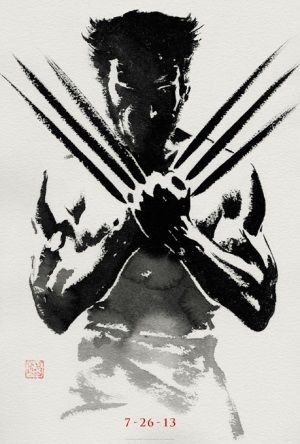 The Wolverine – wow! Not what I expected.
Of course, I expected plenty of ripping, slicing, and dicing action from my favorite X-Man, but I didn't expect such a complex and emotional story. Hugh Jackman can do no wrong in my book, but this film gives him the chance to showcase his range as an actor and his amazing dedication to creating the character. The character's personal struggle with who/what he is becomes as important as all of the inevitable physical conflicts that come barreling at him.
The Wolverine begins with a flashback to the bombing of Nagasaki, which Logan witnesses as a prisoner of war. He's been confined in a deep well due to his "special" anatomical features, and saves the life of a young Japanese soldier Yashida (Ken Yamamura). Logan drags Yashida into the well even as the other Japanese officers are committing hara-kiri because of their loss of honor. Together, they witness the unspeakable devastation of the atomic bomb. The older Yashida (Hal Yamanouchi) becomes the most powerful industrialist in Japan and will later seek out Logan for more than one reason.
Director James Mangold has said that he considers The Wolverine to be a sequel to X-Men: The Last Stand (2006) which cleared up a bit of confusion for me about how The Wolverine begins. Last Stand ended with Logan demoralized and devastated because he reluctantly complied with Jean Grey's (Famke Janssen) plea to kill her and destroy her evil alter-ego Phoenix. The opening of the current film finds Logan hiding out, hermit-like, in the Northern wilds, shunning human contact and suffering in silence. On a rare trip into town to purchase supplies, he observes some obnoxious hunters drinking heavily and spouting off about their hunting prowess. A later confrontation with them brings Logan into contact with Yukio (Rila Fukushima), a scarlet-haired little whirlwind who's been sent to find him. She informs him that Yashida is dying and wishes, as a final gesture of gratitude, to say good-bye to Logan in person. He reluctantly agrees, and his sojourn into Japan begins.
The review continues after the jump!

The majority of the film takes place in Japan, although it was shot mainly in Australia, and brings Logan into conflict with some dangerous humans and a new, deadly mutant Viper (Svetlana Khodchenkova). She's posing as Yashida's oncologist, but in reality, both she and Yashida have a secret agenda. Viper can poison anyone simply by touching them, but she, herself, is immune to all poisons. She is also a skilled chemist who can implant a device into Logan that will make him simply mortal, and therefore, vulnerable. Logan now needs help to stay alive from both Yukio and Yashida's granddaughter, Mariko (Tao Okamoto). Yashida has left his entire estate to Mariko, making her a target of her own father Shingen (Hiroyuki Sanada). Also trying to protect her is her childhood friend Harada (Will Yun Lee), an expert archer and the leader of a lethal cadre of ninjas. How will Logan save himself and Mariko if he can be injured just like anyone else?
Logan encounters an unexpected villain for the film's final, spectacular battle. Indeed, a number of spectacular stunts allow Jackman to showcase his talents as a physical actor, including one breath-taking sequence atop a speeding bullet train. Jackman has said in interviews that, in this film, he finally achieved Wolverine's perfect physique. He consulted actor/wrestler Dwayne Johnson to bulk up to his desired appearance. He consumed 6000 calories a day, mainly protein and brown rice, and used a body builders' trick of drinking no liquid for 36 hours before a shirtless scene to achieve the character's amazing muscle definition.
Judging from the preview audience's reaction, I'm not certain how this particular story line played out with fans. I personally liked it very much, but I like emotional complexity in my films. I consider The Wolverine to be a don't-miss film. - J.A. Hyde
GRADE: A



comments powered by