THE CALL
Author: JoAnne Hyde
March 15, 2013


SYNOPSIS: When veteran 911 operator, Jordan (Halle Berry), takes a life-altering call from a teenage girl (Abigail Breslin) who has just been abducted, she realizes that she must confront a killer from her past in order to save the girl's life.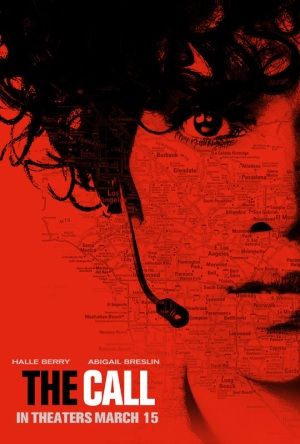 The Call, the new film starring Halle Berry and Abigail Breslin, is, for once, a thriller that really thrills. Sure, there are a few scenes that defy logic, but you'd do well to ignore them and just enjoy a real, grown-up crime drama. Believe me, this film will have you squirming in your seat – especially if you have a teen-aged daughter. I've rarely heard so much verbal response to a film, and I didn't have the usual peeved reaction because I was thinking the same thing!
Halle Berry brings her A-game to her portrayal of 9-1-1 operator Jordan Turner. She works in the enormous LAPD 9-1-1 call center where she's heard just about everything – until one awful day when she answers a call during a home invasion and abduction. Jordan stays on the phone with victim Leah (Evie Thompson) trying to figure out a way to keep her safe until the police arrive. Unfortunately, even though she's an experienced dispatcher, Jordan makes a mistake that causes the situation to end in tragedy. As a result, she leaves the call floor and becomes an instructor for trainees. She has a sympathetic, police-officer boyfriend, Officer Paul Phillips (Morris Chestnut), and an understanding supervisor, played by Roma Maffia, but her responsibility for the girl's death is just too much for her.
Fast forward six months. Jordan is giving a new group of trainees a tour around the call center when a new employee gets a call she can't handle. It's eerily similar to Jordan's botched call. Despite her panic, she takes over the call, determined not to mess up this time. This scene marks the beginning of the film's core story, and brings the welcome introduction of Abigail Breslin's character, Casey Welson. Halle Berry is good in the film, but Abigail Breslin is outstanding. The chemistry between their two characters drives the powerful tension in this life-or-death situation and helps keep the audience from questioning some of the less logical actions in the story.
We first meet Casey at the Food Court of a local mall, having lunch with her very worldly friend Autumn (Ella Rae Peck). The conversation establishes Casey as a "nice girl", and sets the plot in motion when Autumn abruptly leaves but forgets the prepaid cell phone she's bought to keep her parents in the dark about a forbidden boyfriend. Casey sticks the phone in her back pocket, intending to return it to Autumn, but instead, it provides a way of communicating after she's abducted. No truly, first-class suspense narrative can succeed without a first-class villain. Michael Eklund provides us one in eel-brained, psychopathic serial killer, Michael Foster. His choir-boy good looks hide his identity, even from his own wife and kids.
At this point, the cat-and-mouse game between Casey, Jordan, and the killer begins. Jordan must fight her own self-doubts and summon all of her ingenuity to stay in contact with Casey, who's locked in the trunk of the killer's car. To the film's credit, there are no false scares. All the tense scenes occur because of the real events of the abduction. There are a couple of "almost" rescues, but they're worked into the story line so well that they add to the horror.
A few weaknesses arise in the depiction of the police as barely competent. It's hard to believe that LAPD would do such a poor job that the final confrontation with the killer ends up being with Jordan. When the call is finally disconnected, she's been ordered to go home, but she goes off on her own looking for clues. The bond between her and victim Casey has grown so strong that it's believable – but barely. It's also true that the wounds inflicted on a number of characters would have produced a lot more blood, but I, for one, was grateful for that. A little too much reality might have distracted the audience from the core relationship between Jordan and Casey.
Over all, The Call is a taut, well-acted, high-wire act. It shows the strengths of the fascinating, high-tech call center and the world of the 9-1-1 dispatchers, but it also reveals the weaknesses of the system and the toll on those who work there. The beginning is much stronger than the end of the film, but the preview audience didn't care! They found the ending quite satisfying – even though I thought it was a bit of a stretch. - J.A. Hyde
GRADE: B


comments powered by