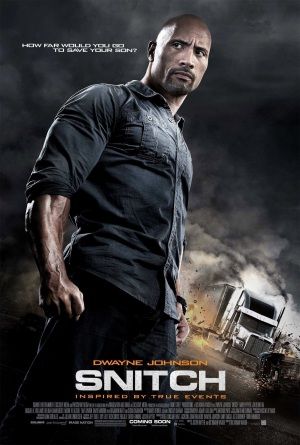 Dwayne Johnson doesn't want to be known as "The Rock" anymore, outside the world of WWE. He wants to be taken seriously as an actor. He's most definitely bankable in action movies
(G.I. Joe
) or silly, fantasy ones (
The Tooth Fairy
), but in
Snitch
, he wants to be
real
. His problem is two-fold: his physical appearance doesn't fit with playing a regular guy, and he lacks the ability to give true depth to a character as a trained, skilled actor can. Okay – I'm not saying that the WWE wrestlers aren't actors! They're just not likely to appear in anything more serious than
Smack-Down
.
In Snitch, Johnson portrays John Matthews, owner of a successful construction/trucking company and resident of an up-scale suburb. He lives in a beautiful, spacious house with his second wife and their daughter. His son by his first wife Sylvie Collins (Melina Kanakaredes), Jason Collins (Rafi Gavron), naively agrees to "hold" a package of drugs for a friend. He gets busted and is sentenced to 10 years in federal prison. He and his distressed father are told that the only way he can get a reduced sentence would be to set up some of his friends in future drug busts. Jason refuses, and, as you might guess, does not do well in the Big House. Now, John Matthew's story really begins.
Matthews contacts the U.S. Attorney in his state, Missouri, Joanne Keeghan (Susan Sarandon). She also happens to be running for Congress, so she reiterates her inflexible stand on drug crimes. She is limited by what she can do, anyway, by the mandatory sentences for federal drug-related crimes – not that she particularly wants to help Matthews. Matthews, after talking to DEA Agent Cooper (Barry Pepper), decides to go after a local drug dealer named Malik (Michael Kenneth Williams) to trade for his son's early release. Knowing next to nothing about the world of drugs, Matthews goes through his employees' files until he finds one who served time for drug-related crimes, Daniel James (Jon Bernthal). Daniel has done a 180 in his life and has promised his wife that he'll stay on the straight and narrow for the sake of their son. He's determined to stay clean, but he also needs money to get out of the sketchy neighborhood where they live. He knows Malik from his former street life, and agrees to hook John up with Malik as a one-time thing. His paycheck? $20,000. John has not told Daniel the truth about why he's suddenly interested in running drugs, and all this deception is going to come back to bite them both in the a**.
Of course, no one believes John can set Malik up successfully, and only Agent Cooper really cares about his safety. A series of events that I'll not reveal here lead John and Daniel into the very dangerous world of a Mexican drug cartel run by El Topo (Benjamin Bratt). John, Daniel, and their families are now in grave danger, and John resolves to find a way out, no matter what he has to do. I'll leave the outcome for you to discover.
Jon Bernthal, as Daniel, provides the stand-out performance in this film. He's got the ex-con, gangsta body language thing down pat. Benjamin Bratt, with very little screen time, manages to be quite menacing as El Topo. He and Bernthal bring much-needed authenticity, and therefore suspense, to the story. The same cannot be said, however, for Michael Kenneth Williams as Malik. The gangsta lingo just doesn't seem natural coming out of his mouth: he got no flow! When I looked up his background and found that he was a dancer/choreographer, I was mystified by his being cast as Malik.
Susan Sarandon, usually reliable performance-wise, phones this one in. She's playing a shallow character, but that's no excuse for giving a shallow portrayal. Barry Pepper, as Agent Cooper, however, not only looks the part of an under-cover DEA operative, he manages to flesh-out the character and bring a little humor to the story.
Dwayne Johnson is not able to morph physically as actors like Christian Bale or Russell Crowe can, so it's never believable that his character wouldn't be able to take out a couple of these thugs by himself! Johnson still looks like a "Rock". He tries mightily to be businessman Matthews, setting up golf dates with his peers and working long hours, but he doesn't have the acting skills to off-set his hulking physical appearance. He's not bad in the role – just mediocre. In fact, that pretty much sums up the film – it's not bad, just mediocre. - J.A. Hyde