SIN CITY: A DAME TO KILL FOR
Author: J.A. Hyde
August 22, 2014

SYNOPSIS: Co-directors Robert Rodriguez and Frank Miller reunite to bring Miller's visually stunning "Sin City" graphic novels back to the screen in 'SIN CITY: A DAME TO KILL FOR.' Weaving together two of Miller's classic stories with new tales, the town's most hard boiled citizens cross paths with some of its more reviled inhabitants. 'SIN CITY: A DAME TO KILL FOR' is the follow up to Rodriguez and Miller's 2005 groundbreaking film, 'FRANK MILLER'S SIN CITY.'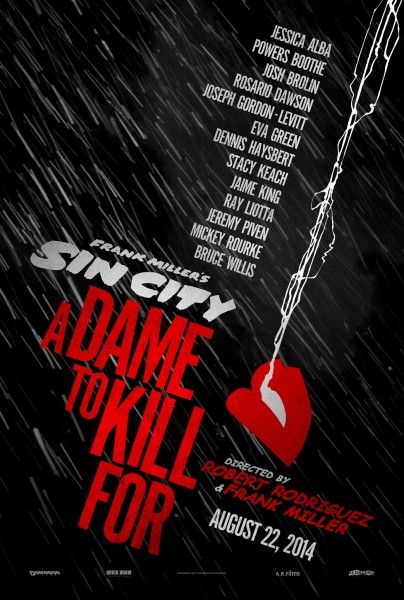 Sin City: A Dame to Kill For, Robert Rodriguez's latest film based on Frank Miller's graphic novels, delivers exactly what you'd expect. You don't go to one of his films expecting Mary Poppins, but you do go expecting his trademark, intensely violent, neo-noir style. I like to call the style noir-on-noir because it's so very dark. That being said, much of the violence is stylized in a graphic mode so that the most brutal fights look more like video game sequences. Not much of the blood is red. In fact, if you saw Sin City, you know that much of the film is shot in black and white with splashes of color added from time to time. Miller's dialogue, although exaggerated, pays homage to the film noir genre of the late 1940's through the 50's.
Like the first film, this one is an amalgamation of four Miller story lines. They're separated by several seconds of black screen, but some of the same characters appear in each. The film's sub-title, A Dame to Kill For, comes from the story line that centers around the characters Ava (Eva Green) and Dwight (Josh Brolin). Thematically, dames to kill – or die- for come in several different forms. There's the wealthy, amoral seductress, the stripper, the hooker, and one who isn't a human dame, but just as deadly, "lady luck".
Powers Boothe returns as the gleefully sociopathic villain you love to hate, Senator Roark. Mickey Rourke also returns as the monstrous Marv, a relentlessly tough enemy of anyone who doesn't live up to his own personal code of behavior. Although he's often on the wrong side of the law, he sees himself as the protector of Nancy (Jessica Alba), a dancer at Kadie's Bar in dangerous and corrupt Old Town. Alba has a much larger part in this installment. She brings a sizzling sexuality to her dancing and a deep despair to her off-stage persona. Even with Marv's protection, she's broken emotionally as she mourns the "only man she ever loved,"Hartigan (Bruce Willis).
One story line follows Johnny (Joseph Gordon-Levitt), an uncannily lucky gambler who has the bad luck of getting on Senator Roark's bad side. Johnny has a hidden agenda when he works his way into Roark's long-standing poker game. Of course, if you try to go against Roark, you're asking for trouble. Gordon-Levitt does a fine job with the character, whether he's being the cocky, young gambler, or the absolute face of suffering after challenging Roark. Christopher Lloyd shows up as the delightfully kooky backroom doctor who tends to Johnny.
Rosario Dawson reprises her character Gail, one of the prostitutes who control and defend Old Town. She also has a soft spot for Dwight and comes to his aid when he's in trouble – and that's most of the time. She runs a lethal group of women who wreak havoc on anyone who crosses them or tries to frequent Old Town without "permission" – especially cops. Jamie Chung takes over the role of Miho, a ninja-style fighter who may be the deadliest of the group.
It's a bit difficult not to be distracted by a lack of consistency as the multiple story lines unfold. However, two enticing questions run through all the stories: "Who is the real Ava?" and "Will Nancy get the chance to avenge Hartigan's death?" There are no happy endings in Sin City, but I think you'll find one outcome in particular to be quite satisfying. - JoAnne Hyde
GRADE: B+


comments powered by