POMPEII
Author: J.A. Hyde
February 21, 2014

SYNOPSIS: Global action star Liam Neeson stars in NON-STOP, a suspense thriller played out at 40,000 feet in the air. During a transatlantic flight from New York City to London, U.S. Air Marshal Bill Marks (Neeson) receives a series of cryptic text messages demanding that he instruct the government to transfer $150 million into an off-shore account. Until he secures the money, a passenger on his flight will be killed every 20 minutes. NON-STOP, which reunites Neeson with UNKNOWN director Jaume Collet-Serra and producer Joel Silver, co-stars Golden Globe Award winner Julianne Moore and will be released by Universal Pictures on February 28, 2014. The StudioCanal production is also produced by Andrew Rona and Steve Richards. - &copy Universal Pictures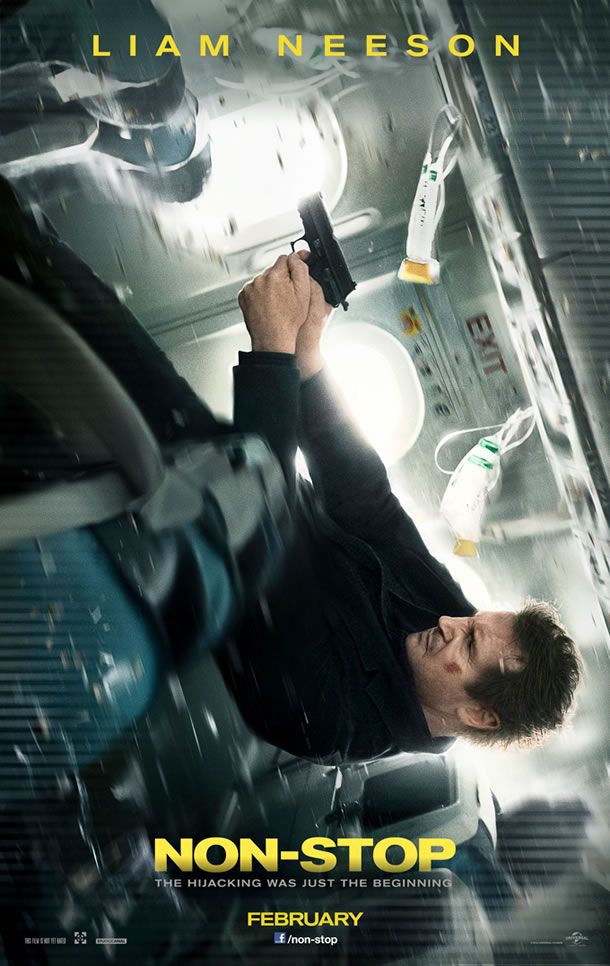 Non-Stop, starring Liam Neeson as depressed and embattled Federal Air Marshall Bill Marks, is a decent thriller. Sure, there's some disbelief you're going to have to be willing to suspend, but that's usually the case in these kinds of every-man hero films. Neeson's character is far from perfect – in fact, he's an alcoholic – but you suspect immediately that he still has the heart of a hero. Never mind that I'd watch Neeson read the phone book, he turns in a reliably good performance – even when the lines are corny.
After having a couple of nips in his parked car, Agent Bill Marks (Neeson) boards a trans-Atlantic flight for what he believes will be a routine job. Seated next to him is Jen Summers (Julianne Moore), a woman who's a bit reluctant to share information about herself. Bill is friendly with the head flight attendant, Nancy, played by Downton Abbey's Michelle Dockery. He also seems well-acquainted with the pilot, Charles Wheeler (Frank Deal), and the co-pilot, Kyle Rice (Jason Butler Horner). Now, here's where you may begin to question the plot line a little: everyone seems to be well aware of Bill's drinking problem. So, you have to ask yourself why he hasn't been fired or at least suspended and sent to rehab. He also smokes in the lavatory, disabling the smoke detector with duct tape, which I don't think is really possible. I suppose his obvious flaws are necessary to cast suspicion on him because, sooner or later, everyone on the flight – passengers, crew, and Bill himself – could be the perpetrator.
Not long after take-off, Bill receives a text on his secure network that unless $150 million is wired into a numbered account, every 20 minutes someone on the plane will die. It's a clever variation of a hijacking plot line. Of course, there are some stock characters on board: a bookish scatter-brained type, an African-American punk, a Middle Eastern man, a loud mouth, a newly-wed couple, an elderly couple, and an unaccompanied minor. With the exception of the little girl, everyone begins to look like a suspect to Bill. At first, he exempts Jen because she's sitting right beside him and was not using her phone, as well as Nancy, whom he seems to know well. The film takes full advantage of the new leniency for using wi-fi on board planes. Many passengers are using phones or other network devices, so it won't be easy to identify the guilty party.
Yes, there are deaths aboard the flight, but they occur in unexpected ways. I won't reveal who dies, but I will say that it involves everyone on board the plane. After the initial set-up of the story, the action remains tense throughout, and of course, there's a big finish.
The film benefits from an excellent cast. Liam Neeson is such a reliable performer, and Julianne Moore is delightful, as usual, in a quirky role. Academy Award nominee Lupita Nyong'o does well in a very small role. The film's weaknesses mainly concern the "could-he-really do that" situations, but if you like the action/thriller genre, or if you're a fan of Liam Neeson, you will enjoy Non-Stop. - JoAnne Hyde
GRADE: B


comments powered by