MONEY MONSTER
Author: JoAnne Hyde
Date: May 13, 2016

SYNOPSIS: Lee Gates is a bombastic TV personality whose popular financial network show has made him the money wiz of Wall Street. But after he hawks a high tech stock that mysteriously crashes, an irate investor takes Gates, his crew, and his ace producer Patty Fenn hostage live on air. Unfolding in real time, Gates and Fenn must find a way to keep themselves alive while simultaneously uncovering the truth behind a tangle of big money lies.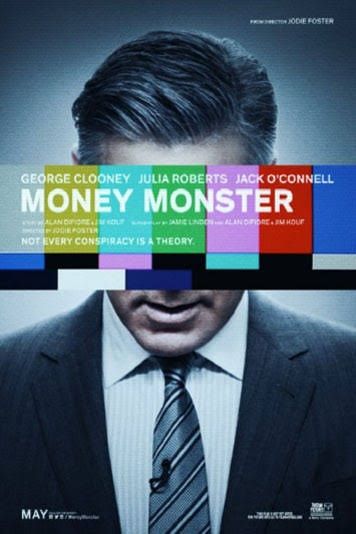 Money Monster, Jodie Foster's new directorial effort, almost seems like two movies. On one level it's a thriller about manipulation of international financial markets by the rich and powerful. On another level, it's a satire about unqualified television showmen handing out information that impacts the lives of ordinary people, often with devastating effects. Audiences will find both humor and pathos in the unfolding of the story.
George Clooney stars as Lee Gates, a flamboyant television host of a stock market advice show called Money Monster. An arrogant huckster, he cares little about the accuracy of the information or the effects on his audience. His attitude is much the "win some/ lose some" cavalier attitude that makes hapless viewer Kyle Budwell (Jack O'Connell) come after him.
Julia Roberts also stars as producer/director Patty Fenn, who does care about accuracy and winces when Gates goes off script, which is often. She does her best to corral Gates, the loose cannon, and deal with his emotional immaturity. They spar verbally nonstop which makes for some very amusing banter.
The tone of the film changes in a nano-second when Kyle bypasses the studio's lax security and crashes the set wielding a gun and a bomb-containing vest. Knowing he's on live television, he forces Gates to put on the vest while he holds a dead man's detonator. Since Gates is known for outrageous, over-the-top bits, it takes everyone a moment to realize this isn't part of the show. Panic sets in, and those behind the scenes desperately try to come up with ideas to save the studio and themselves.
Kyle's beef is that, based on a "sure" tip from Gates to buy stock in IBIS, a high speed trading site, he invested all the money he inherited from the sale of his mother's house, $60,000. The day before the current show, IBIS lost $800,000,000 due to what they call a "computer glitch – obviously a cover-up of some kind. Gates barely remembers what he said on the show in question, and tries to deflect blame, but Kyle isn't having it.
Kyle demands to talk to the CEO of IBIS, Walt Camby (Dominic West) who's presently off the grid somewhere in one of his private jets. The company sends its communications officer Diane Lester (Caitriona Balfe) to smooth over the situation. Kyle, however, isn't impressed with her scripted answers and threatens to accelerate his violent intent. Diane does have a conscience and determines to get to the bottom of the scandal. That will be easier said than done. She allies with Patty, but I'll leave it to you to discover how they do it. They're aided by assistant producer Ron Sprecher (Christopher Denham), a Korean mathematician Won Joon (Aaron Yoo), and a couple of Icelandic hackers. Not at all helpful is Kyle's pregnant girlfriend Molly (Emily Meade).
Once the truth emerges, Gates and Kyle, with SWAT bearing down on them, become unlikely allies and set out together to confront Camby, who has finally turned up. Again, I'll leave it up to you to discover how they do it and what outcome follows.
Money Monster is a decent thriller with some excellent performances and a number of edge-of-your-seat moments. Although the script is a bit clichéd in parts and some of the characters are more caricatures, you'll get plenty of bang for your buck with this one! - JoAnne Hyde
GRADE: B

comments powered by