KINGSMAN: THE SECRET SERVICE
Author: J.A. Hyde
February 12, 2015

SYNOPSIS: Based upon the acclaimed comic book and directed by Matthew Vaughn (Kick Ass, X-Men First Class), Kingsman: The Secret Service tells the story of a super-secret spy organization that recruits an unrefined but promising street kid into the agency's ultra-competitive training program just as a global threat emerges from a twisted tech genius.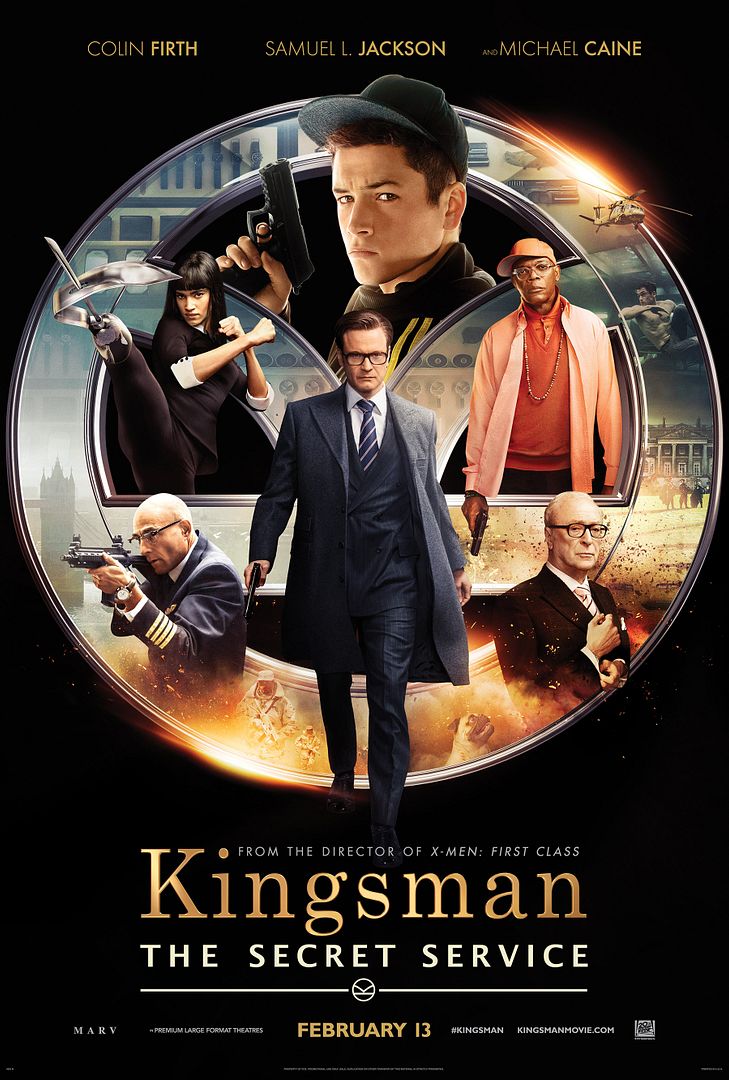 Director Matthew Vaughn follows in the tradition of his 2010 film Kick-Ass with his new offering Kingsman: The Secret Service. Like Kick-Ass, it's super violent, irreverent, and not meant, for one minute, to be taken seriously. Vaughn also uses the same source material for Kingsman – a Mark Millar comic, "The Secret Service". The only preview audience members disappointed by the film were those who expected something sophisticated with subtle humor. The humor is broad and bawdy, and sophistication takes a backseat to outrageousness.
The Kingsman group of aristocratic super-agents headquarters itself in a Saville Row tailor shop of the same name. They are, of course, impeccably dressed and avail themselves of an impressive cache of preposterous weapons. The members of the exclusive team code-name themselves after members of King Arthur's Round Table. How they came to be and were financed is efficiently explained in exposition by Colin Firth's character Harry Hart , code-name Galahad. Hart designates them as the "new knights", and their classy double-breasted, tailored suits as the "new armor". Firth, remarkable as always, trained for 6 months to prepare for the role and is said to have done 80% of his own stunts. I must say that it was gratifying to see "Mr. Darcy" do some daunting butt-kicking!
Newcomer Taron Egerton plays Hart's protégé, Eggsy Unwin. Eggsy is a working-class lad, unemployed and living with his mother and oafish step-father. So how does an unrefined fellow like this get to be considered for the elite Kingsman? There's a history there integral to Hart's motivaton, but you'll have to see the film to find out what that is. Egerton is an enormously appealing actor whose chemistry with Firth makes the absurd believable.
Vaughn has said that Kingsman: The Secret Service is meant to be a homage to the early Bond films and television series, like The Avengers (1961), which sparked his imagination as a child. Unique and monstrous villains were their trademark, and Samuel L. Jackson fills the role in this film. He plays Richmond Valentine, billionaire megalomaniac who claims to want to save the world, but in Bond-villain fashion, really wants to take it over. Jackson goes for an over-the-top performance, giving his character a silly lisp and a horror at the sight of blood. Of course, there's plenty of blood in the film. His bodyguard/companion/chief dispatcher of enemies is an acrobatic, beautiful young woman with prosthetic legs. Prosthetic legs, you say? Yes, and they are inventively weaponized in the tradition of Bond villains such as Jaws or Odd Job. Algerian actress Sofia Boulella plays the extremely lethal Gazelle with agility and menace.
Michael Caine portrays the current head of the Kingsman group, Arthur – as in King Arthur. Mark Strong plays Merlin, the group's go-to gadget guy and pilot. Both give excellent performances. Mark Hamill has a small, but pivotal, role as Professor Arnold.
Kingsman: The Secret Service is spoofy, but not overly so. So, what's not to like? Yes, the film is meant to be outrageous, but I felt that over-use of f-bombs and s**t weakened the script. A few such words are funny, but too many become tedious, especially when gentlemen the caliber of the Kingman group would certainly find a more eloquent way to express the same idea.
Violent and crude, Kingsman: The Secret Service is a bit of a guilty pleasure. It's a hilarious bit of escapism, not meant for the high-minded or easily offended. Be sure to stay through the credits for an entertaining afterthought scene. - JoAnne Hyde
GRADE: B


comments powered by